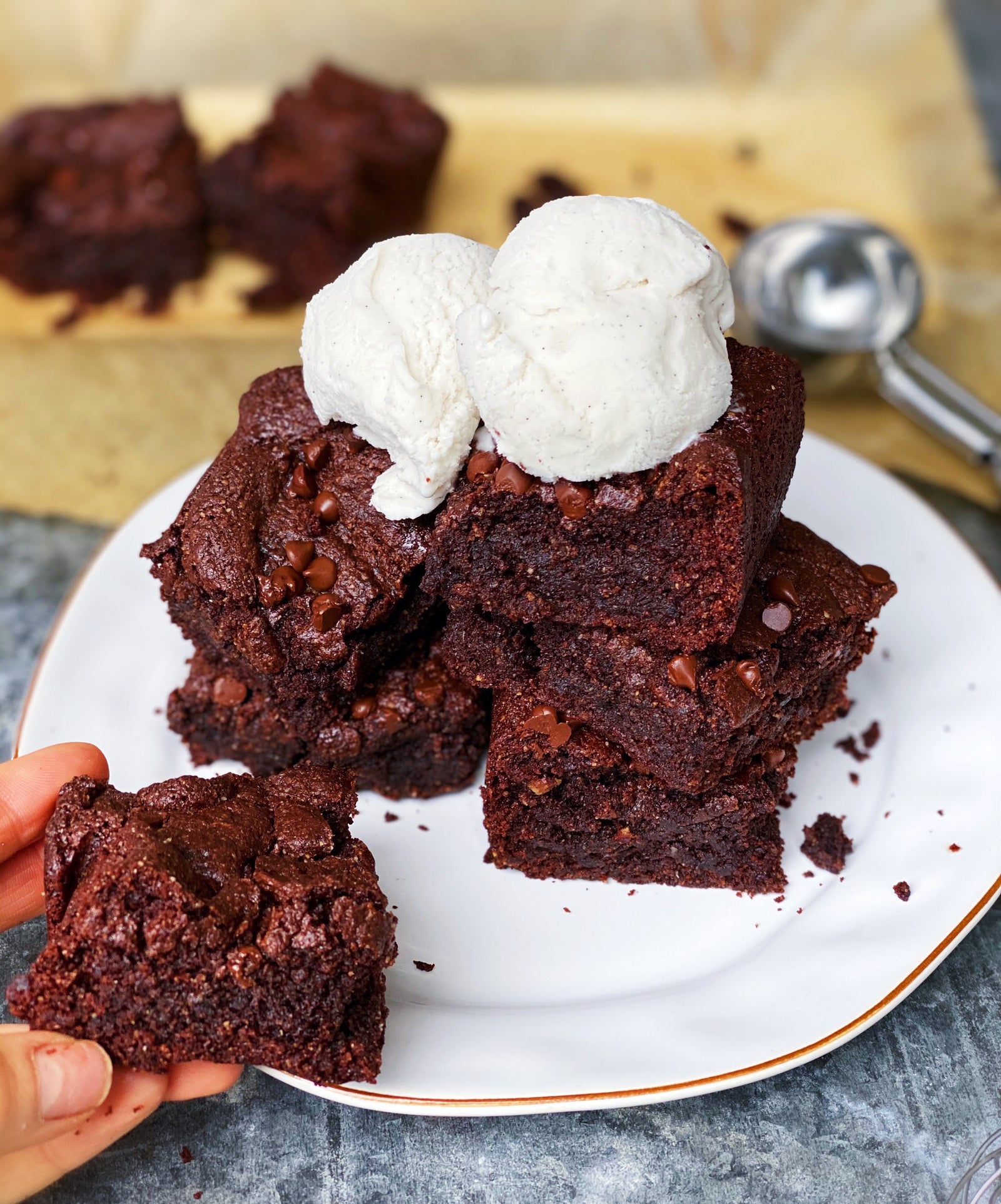 Is there a better combo than warm, gooey, fudgy chocolate brownies under a mound of  cool (slightly melty) vanilla bean ice cream? The combo has been my favorite dessert since I was little. You can thank my dad for that, as it is too his favorite... and also why 'a la mode' was one of my first words.
Well with this nostalgia comes a true dedication to perfecting the brownie...no hidden ingredients , no drizzles or anything fancy, just pure brownie goodness. I needed gooey insides, crispy edges, and a blended balance of cacao and chocolate. 
I would never make this statement lightly, but I have in fact done It. These remind me of my childhood in a way I can't explain, and I highly recommend they be consumed with a ( or two ) scoops of vanilla ice cream. 
DRY
1/2 cup almond flour
1/2 cup almond meal
1/2 cup cacao powder
1/2 cup coconut sugar
2 tbsp arrowroot powder
1/2 tsp baking powder 
1/2 tsp bakind soda 
1/4 tsp sea salt
WET
2 flax eggs ( 2 tbsp flax meal + 1/4 cup water mixed ) 
3 tbsp coconut oil, scooped out at room temperature
1/4 cup creamy cashew butter
1/4 cup chocolate chips ( + more for topping) 
3 tbsp maple syrup
1 tsp vanilla
2 tbsp warm water
D i r e c t i o n s
Preheat your oven to 375F. Line a loaf pan with parchment paper. 
Prepare your flax egg in a small bowl and set aside. 
In a large mixing bowl, add all your dry ingredients and whisk until all combined. 
In a small sauce pot, add your coconut oil over low heat. Once melted add your cashew butter and whisk into the coconut oil until one thin mixture remains. Turn off burner and add your chocolate, maple syrup, and vanilla. Whisk until chocolate is all melted and everything is one uniform mixture. 
Add your wet mixture into your dry, along with your flax eggs, and 2 tbsp warm water. Now mix everything well until your brownie batter has formed. 
Lay your batter into your loaf pan and spread evenly, top with desired amount of chocolate chips. Bake for 25-27 minutes or until toothpick comes out clean and edges are slightly crispier. 
Allow to cool completely before slicing and serving! They will continue to firm up as they cool.
Store in a sealed container in fridge!