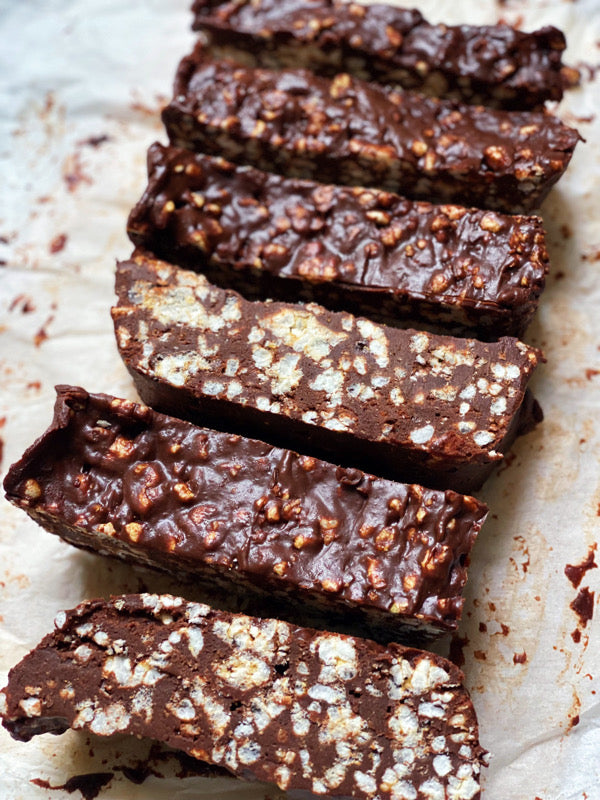 Chocolate Caramel 'CRUNCH' Bars
Chocolate Caramel 'CRUNCH' Bar is all you need to know. Homemade caramel , melted chocolate, crispy rice puffs all mixed together to create a childhood favorite!
These bars are absolutely ADDICTING, incredibly easy, and a must make. 


Caramel
12 medjool dates, pitted
3/4 cup coconut milk
1/4 cup cashew or almond butter
3 tbsp maple syrup
1.5 tsp vanilla
1/4 tsp sea salt
Add all ingredients into a food processor. Process on high speed until smooth and creamy, scraping down sides as needed. Process until no clumps remain. Measure out 1 cup for the recipe below and save the rest in a container!
Crunch Bars
2 cups chocolate chips
1 tbsp coconut oil, melted
5 rice cakes, crumbled by hand (measures about 3 cups)
1 cup caramel ( from above)
Line a square 8x8 pan ( for thinner bars ) or a loaf pan (for thicker bars) with parchment paper.
In a large microwave-safe bowl add your chocolate chips and coconut oil. Microwave your chocolate in 45-second increments and stir in-between. Repeat until completely melted.
Add in your crumbled rice cakes and one cup of caramel. Stir until everything is evenly mixed
Spread batter evenly into your pan and press into an even layer. Place in freezer to set for a minimum of four hours.
When ready to eat, slice and serve!