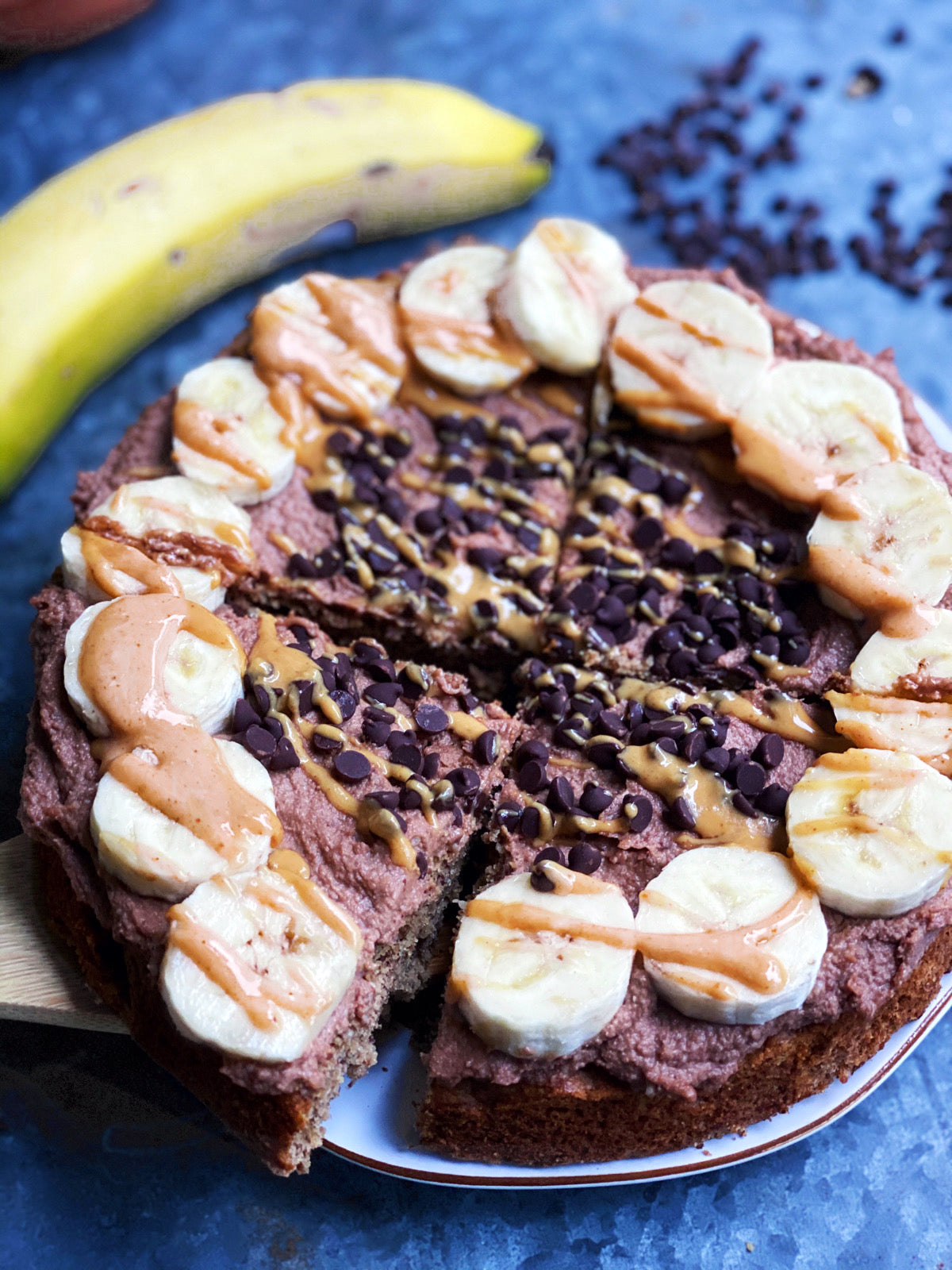 Chocolate Chip Banana Bread Cake
I know what you are thinking... yet another banana bread recipe... but I promise you, this one is worth saving. This cake is honestly my favorite banana bread recipe to date -- perfect to elevate with a little chocolate icing and some banana slices and serving at your next birthday or dinner party! 
Want to seem real impressive? Double the recipe and go for the double layer Chocolate Chip Banana Bread Cake style!
Ingredients
Dry
3/4 cup almond meal
3/4 cup gluten free oat flour
1/4 cup tapioca flour
1/2 cup brown rice flour
3 tbsp coconut sugar
2 tsp ground cinnamon
1 1/2 tsp baking powder
1 tsp baking soda
1/2 tsp salt
Wet
1 flax egg ( 1 tbsp flax meal + 2 tbsp water)
3 bananas, over ripe and spotty
1/4 cup maple syrup
1.5 tsp vanilla
3 tbsp coconut oil
½ cup chocolate chips
2 tsp apple cider vinegar
Toppings:  
Icing of choice ( Simple Mills makes a great one!) OR you can use this icing recipe like I did!
Chocolate Chips 
Banana Coins 
Peanut Butter Drizzle
Icing Ingredients  ( double for a thick icing layer )
½ cup cashew/or almond butter (runny and stir-able)
2 tbsp almond milk
2 tbsp maple syrup
2 tbsp cacao powder
½ tsp vanilla extract
Pinch sea salt
Directions
Preheat your oven to 350 F. Line a round 8" cake dish with parchment paper.
In a large mixing bowl add your dry ingredients. Mix well and set aside.   
In a small bowl, prepare your flax egg by mixing 1 tbsp flax meal + 2 tbsp water. Set bowl aside and allow to coagulate.
In a separate large bowl mash your bananas with the back of a fork. Whisk in your vanilla and coconut oil (not your apple cider vinegar). Once your flax egg is ready (after 10 minutes of setting) whisk it into your wet ingredients.
Fold your wet ingredients into your dry until all combined. Add in your apple cider vinegar and chocolate chips. Mix.
Pour your batter into your cake pan. Bake for 30-32 minutes or until golden brown and toothpick comes out clean.
Allow cake to completely cool if you are going to decorate. Once cool add icing of your choice! Top with more chocolate chip and fresh banana slices.
Icing Directions
 In a small bowl vigorously mix all of your icing ingredients together until one thick chocolate frosting is formed. Taste and adjust sweetness to your liking! Refrigerate for at least 30 minutes to set.