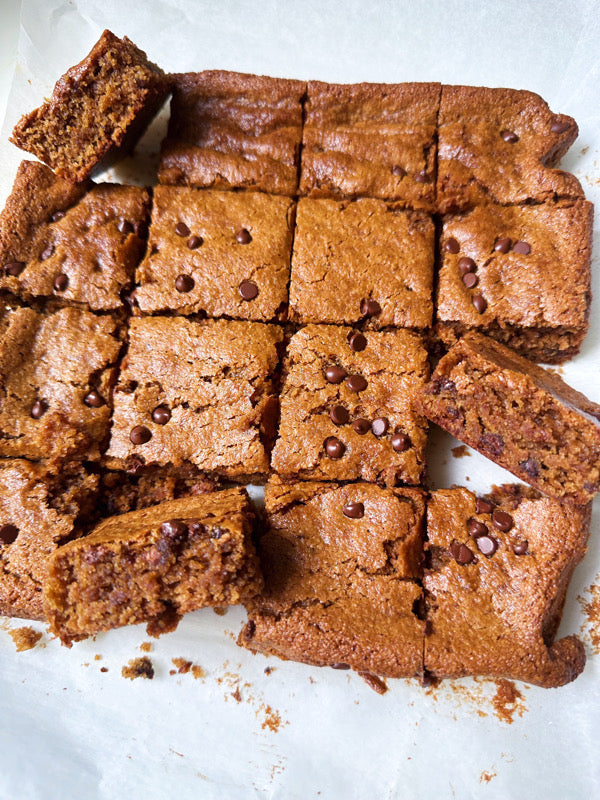 Chocolate chip cookie meets blondie meets a little piece of heaven. 
Whether you are a chewy cookie lover or a crispy one — these blondies cover all bases. They get crispy on the outside and extra doughy on the inside. 
Slice them into bars, eat straight out of the pan, or add a scoop ( or two ) of ice cream on top. Whichever way you choose, these blondies are about to become your new favorite dessert. 
Dry Ingredients
1 3/4 cup almond flour 
3/4 cup tapioca flour 
3/4 cup coconut sugar 
1/2 tsp baking powder 
1/2 tsp baking soda
1/2 tsp sea salt 
Wet Ingredients 
1 Flax egg ( 1 tbsp flax meal + 2 tbsp water ) 
1/4 cup coconut oil, measured solid 
1/3 cup cashew butter 
2 tbsp maple syrup 
1/2 cup almond milk 
Vanilla extract 
1/2 cup + chocolate chips
Serves:
16 blondies 
Equipment:
9x9 baking dish 
sauté pan 
oven
Preheat oven to 350F and line a 9x9 baking dish with parchment paper
Mix all dry ingredients into a large mixing bowl.  
In a separate small bowl prepare your flax egg. Stir flax meal and water together and set aside to solidify. 
Add coconut oil, Cashew butter, and maple syrup to a small skillet and turn to low heat. Continue to stir your mix until everything is melted and cohesive. Remove the skillet from heat and then stir in vanilla extract and almond milk. 
Add your wet ingredients into your dry ingredient mixing bowl and stir to combine. Stir in the desired amount of chocolate chips. 
Pour batter into prepared baking dish and spread out batter evenly. 
Bake for 22-25 minutes or until golden brown and a toothpick comes out clean. 
Cut into squares and serve. Store in a sealed container in the fridge.