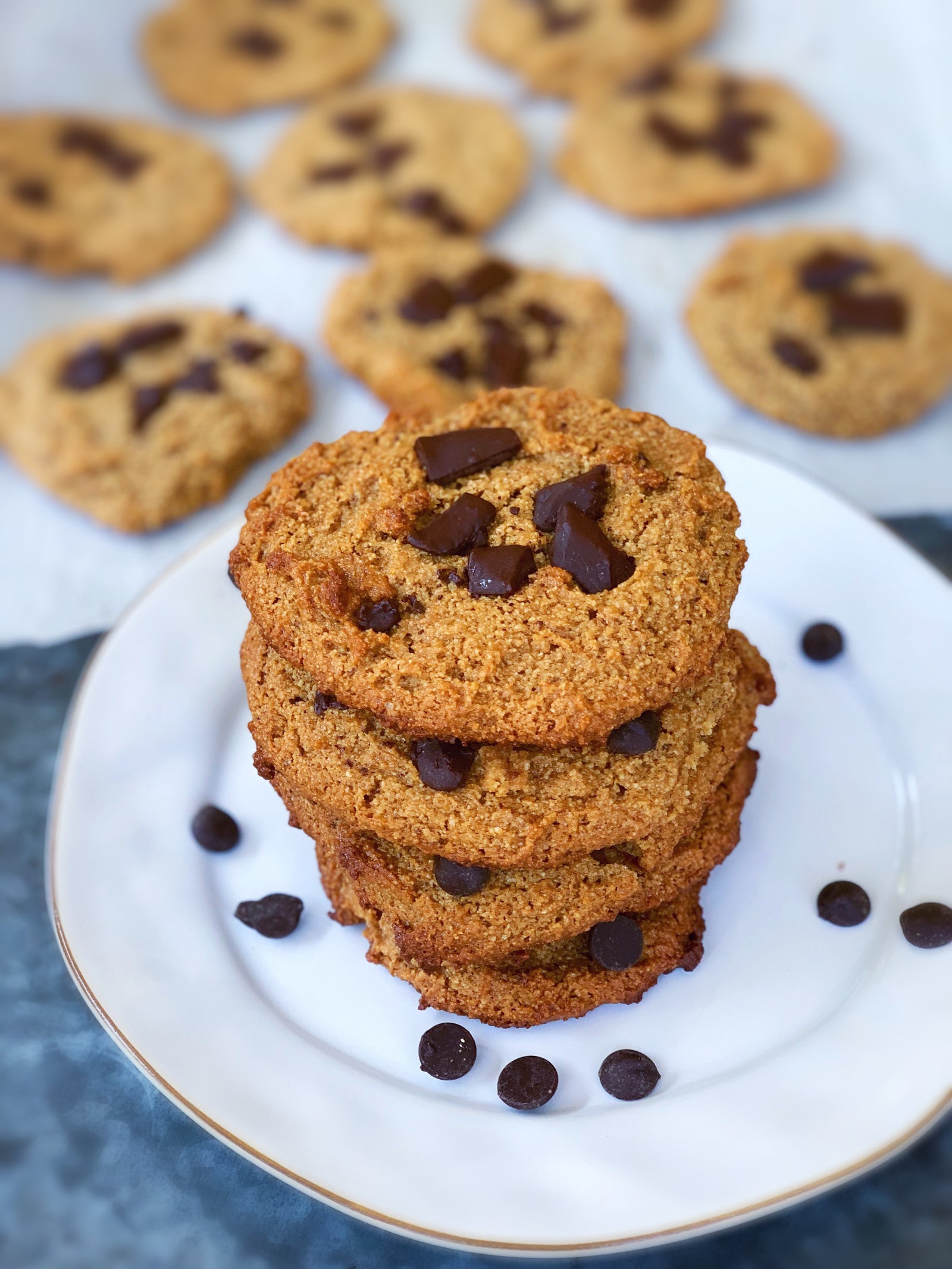 The worlds easiest... gooey-est... crispiest ... most delicious-est...CHOCOLATE CHIP COOKIE. Right here, right now, and just for you. 

When you only have 15 minutes, one bowl, minimal ingredients, and a MAJOR Chocolate Chip Cookie hankering do yourself a favor & make these. 

Sweet & doughey inside with the perfect crispy outside. Honestly— good luck actually getting them into cookie form bc the dough is quite addicting and perfectly acceptable to be spooned into your mouth. Just saying. 
I n g r e d i e n t s
1 Flax egg ( 1 tbsp flax meal + 2.5 tbsp water) 
2.5 cups almond flour 
1/2 cup coconut sugar 
1/2 tsp sea salt 
1/2 tsp baking powder 
1/2 tsp baking soda 
1/2 cup cashew butter 
1/4 cup raw honey 
1/4 cup unsweetened applesauce 
2 tsp vanilla 
1 tbsp almond milk / cashew milk 
1 Hu Kitchen Chocolate Bar (rough chopped)  , or 3/4 cup chocolate chips 
D i r e c t i o n s
Preheat your oven to 350F and line a baking sheet with parchment paper. 
Prepare your flax egg in a small bowl and set aside for 10 minutes. In a large mixing bowl add your almond flour, coconut sugar, sea salt, baking soda, and baking powder. Whisk to combine. 
Add in your cashew butter, applesauce, honey, vanilla, flax egg , and almond milk. Stir and fold in all ingredients,  mixing extremely well. 
 Scoop dough onto parchment paper (about two tbsp dough per cookie ) and shape with a spoon. I got roughly 12 cookies. 
Bake for 12 minutes, and then carefully remove cookies from oven. Quickly add your chocolate chip chunks to each cookie and place back in oven for 3-4 minutes, or until cookies look golden brown and chips are slightly melting. 
Allow to cool completely, they will continue to firm up as they cool. 
Best when fresh! However, you can save in a sealed tight container in your refrigerator. They will lose a bit of their crispiness in the fridge but remain delicious and doughey!
Enjoy!