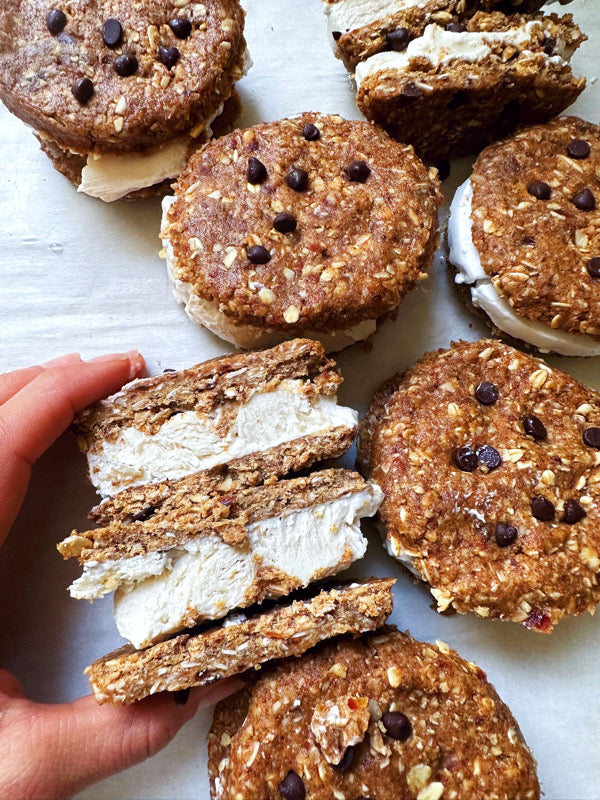 Chocolate Chip Cookie "Ice Cream" Sandwiches
Chocolate Chip Oatmeal "Ice Cream" Cookie Sandwiches...
But we are making them gluten-free, dairy-free, and adding some protein because I'd like to enjoy these every day all summer. My guess is you would too. 
The ice cream is made with creamy coconut yogurt and the cookies are made in the food processor with minimal wholesome ingredients .. aka you really can have your cake and eat it too. 
Coconut Yogurt Ice Cream 
1 16 oz creamy coconut yogurt of choice, ( I used CocoJune but greek yogurt should work here too! ) 
1 scoop protein powder 
2 tbsp maple syrup (add an extra tbsp if you used 2 scoops protein ) 
1.5 tsp vanilla extract 
Chocolate Chip Oatmeal Cookies 
2 cups gluten-free oats 
3/4 cup almond butter 
10 medjool dates ( soaked in hot water for 10 minutes to soften them up) 
1/4 cup coconut sugar 
1.5 tsp vanilla extract
1 tsp cinnamon 
1/4 tsp sea salt 
1/4 cup coconut oil, melted 
Chocolate chips for topping, measure with love 
Open your yogurt and add some protein powder, maple syrup, and vanilla extract directly into your container. Stir vigorously until yogurt is smooth and creamy, with no clumps! Feel free to fold in some berries, chocolate chips, etc…. Make it your own! ( See note below before this step. ) Put the lid back on and place in the freezer until completely frozen, about 3-4 hours. 
**NOTE: Be sure you can cut directly into your yogurt container once frozen with a sharp knife to achieve the ice cream circles. If not do not freeze your mixed yogurt in the container and instead re-chill your yogurt so it is slightly firm and just assemble your sandwiches as best you can by scooping the unfrozen yogurt onto your cookies and freeze the assembled cookies on a baking sheet.
While your yogurt freezes prepare your cookies. 
Add oats to a food processor and pulse a few times so the oats begin to break down. Drain and de-pit your dates. Add them to the food processor along with the coconut sugar, vanilla extract, cinnamon, and sea salt. Process until you achieve a crumble. 
Add in your melted coconut oil and process until your cookie dough is all mixed and sticky. 
Lay out a large piece of parchment paper onto a baking sheet or sheet pan. 
Roll dough out into one rectangle, using your hands or a roller. 
Keep your dough about 1 inch thick, or as thick as you want your ice cream cookies! 
Using a cookie cutter or a kitchen cup, begin to carve out your cookie shapes from your dough. Any leftover dough you can re-roll out and repeat until all the dough is gone! 
Line the parchment paper with the cookies. You want to assemble the sandwiches when your cookies are at room temperature, if you aren't making them right away, store in the fridge or freezer but make sure they are room temperature when assembling. 
Once the yogurt is completely frozen, slice directly into your yogurt carton with a knife to achieve perfect circles. You can choose the thickness of your circles but try your best to have an ice cream circle for each set of cookies. 
Once assembled, press the cookies into the yogurt so they stick together. You want to eat the sandwiches when the yogurt has thawed to ice cream consistency! Store in the freezer and enjoy !