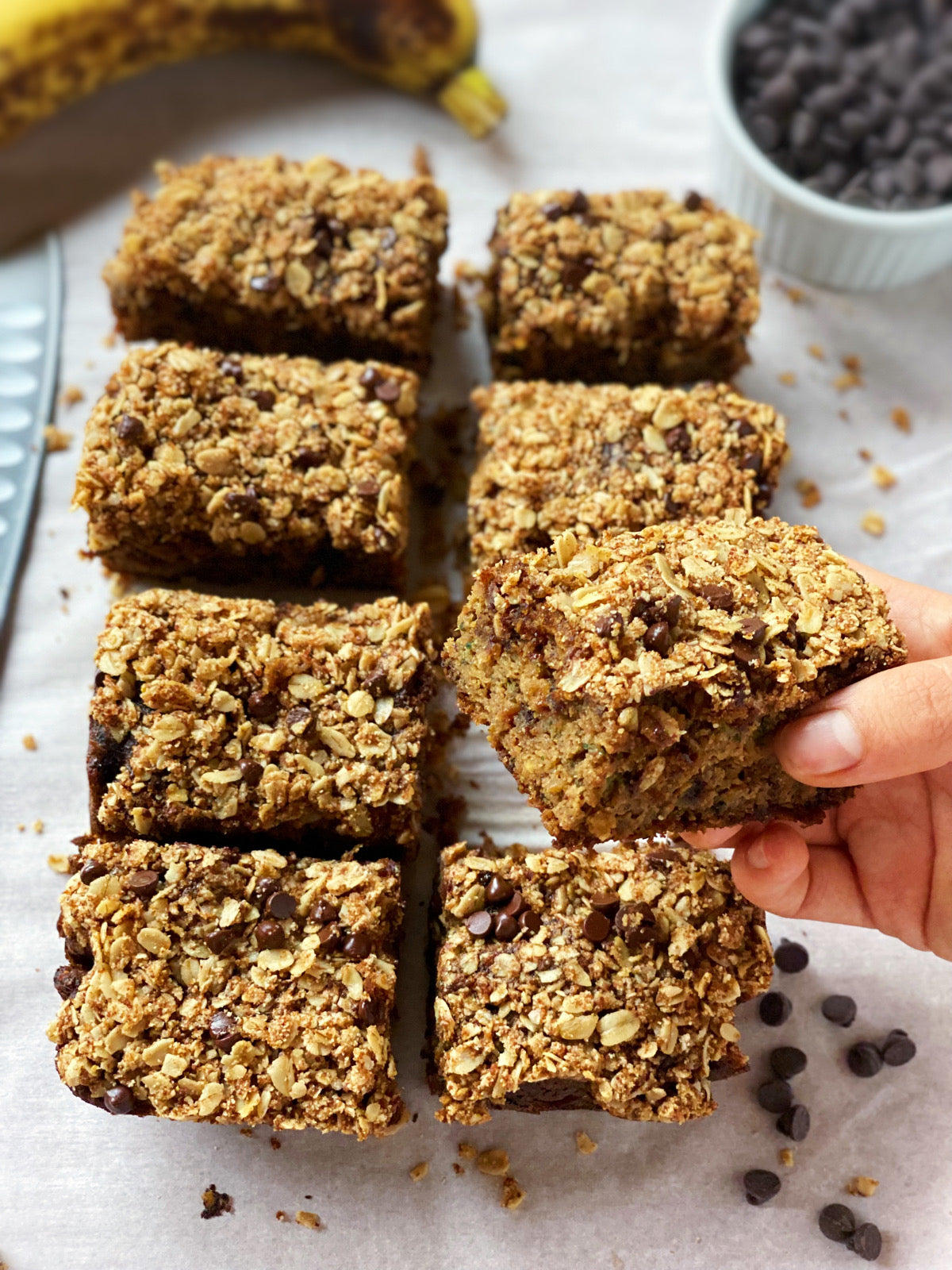 Chocolate Chip Crumble Zucchini Bread

What is it about Sunday's that bring on the baking mood. This was the epitome of "when the baby naps I'm going to do a load of laundry…turns the oven on instead type of afternoon. I tell Boyd it's my job to dirty a kitchen in under 30 seconds and to that he says I deserve a gold medal…he is not wrong.
I mean its national zucchini week ( or so I read on every other food bloggers Instagram ) and so I had to do one of my favorite ( and now Harper's) vegetables the honor.
This recipe came out of pure love – and what I mean by that is – I had no idea what I was doing. Just threw some things in a bowl and thankful I remembered it all for you, because it turned out INCREDIBLE.
The perfect Sunday, make in your pj's, enjoy nibbles all day type of bread.
Equipment
8x21 pyrex dish or loaf pan should work 
Parchment paper
2 mixing bowls
Oven
Ingredients
Wet
2 flax eggs ( 2 tbsp flax meal + ¼ cup water)
1 large zucchini, yields one cup when grated
1 banana, yields one cup when mashed
¼ cup maple syrup
¼ cup cashew/ or almond butter
2 tbsp almond milk
1 tsp lemon juice
 Dry
1 cup almond flour
½ cup GF oats, pulsed well so not whole oats
2 tbsp coconut sugar
½ tbsp cinnamon
1.5 tsp baking soda
½ tsp sea salt
OTHER: 1/3 cup chocolate chips
Crumble
½ cup GF oats, pulsed well
¼ cup almond flour
2 tbsp coconut sugar
½ tsp vanilla
Pinch sea salt
3 tbsp coconut oil ( melted )
Directions
Preheat your oven to 350F. 
Prepare your Pyrex dish or loaf pan with a layer of parchment paper.
In a large mixing bowl prepare your flax eggs and set aside.
Grate your zucchini ( peel on ) into a mesh strainer. Should yield a full cup. Using a dish cloth or nut milk bag, squeeze out any excess water from the grated zucchini.
Now add your zucchini and banana mash into the bowl with the flax egg. Mix with a baking spatula.
Add in all other wet ingredients EXCEPT your lemon juice. Mix well.
In a separate bowl mix your dry ingredients from almond flour – sea salt. Stir well.
Now, add your dry ingredients into your wet, and mix. Do not over mix. Set aside.
Add your crumble ingredients from GF oats – sea salt into your dry ingredients bowl and mix well. Add your coconut oil into the bowl and work the mixture with the back of a fork. Should appear crumbly – if too dry add another dash of coconut oil.
Lastly add your lemon juice into your baking mix ( not your crumble )  and stir. Now fold in your chocolate chips.
Pour your batter into your baking dish, spreading evenly throughout. Spread an even layer of your crumble on top, pressing the crumble into the batter slightly with your fingertips. I had a little crumble left over.
Bake for 50 - 55 minutes or until a fork comes out clean. Depending on your oven cooking time may vary.  
You MUST let this bread cool for one hour before slicing through.
Enjoy!