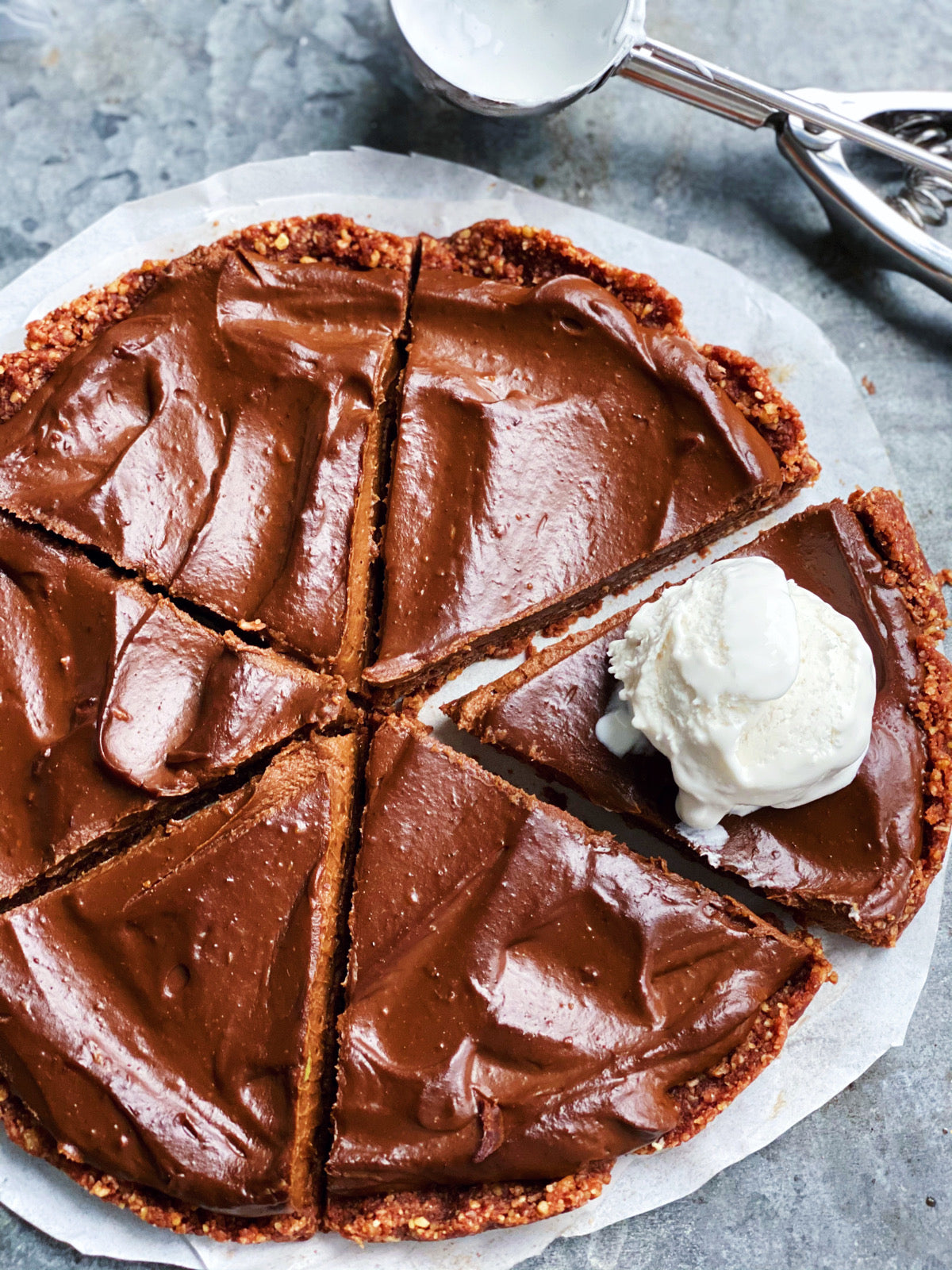 Chocolate Espresso Pudding Pie
When you still have a sweet tooth, but it's the first week of the New Year...
Insert this raw chocolate avocado pudding PIE to save the day. Yes pie. 
It's no secret ripe avocados can help to make a decadent chocolate pudding, so I wanted to take it one step further. 
Top with a little coco whip and have yourself a moment. 
Happy New Year from this kitchen! 
Ingredients
CRUST
3/4 cup raw walnuts
3/4 cup raw peanuts ( any raw nut will work)
1/2 cup coconut shreds
3 tbsp maple syrup
2 tbsp cacao powder
2.5 tbsp coconut oil, melted
1.5 tsp vanilla extract
1/2 tsp sea salt
CHOCOLATE PUDDING LAYER
2-3 ripe avocados ( 1 full cup mash )
1/3 cup maple syrup
1/4 cup cacao powder
3 tbsp coconut oil, melted
1 tsp instant espresso ( optional) 
1.5 tsp vanilla extract
1/2 tsp sea salt
Directions
Add your nuts into a large food processor. Process until large crumbles. Add in all other ingredients and process until one "crust" mixture forms. You want It crumbly and slightly sticky.
Line a cake pan with parchment paper. Using your hands , press mix into bottom of pan, forming a crust layer. You want the crust to be uniform throughout, pinching up the sides slightly.
Place in freezer while you prepare the pudding.
No need to clean processor.
In the processor add your avocado flesh ( about 1 cup ) and the rest of your pudding ingredients. Process on high for a few minutes , scraping down the sides as needed. You want this to resemble pudding — smooth and creamy! Taste and adjust sweetness and chocolate level to your liking. 
Remove crust from fridge. Pour pudding into cake pan and spread evenly over crust. Place in fridge to set for a minimum of 3 hours.
Leftovers store in refrigerator for up to 7 days.