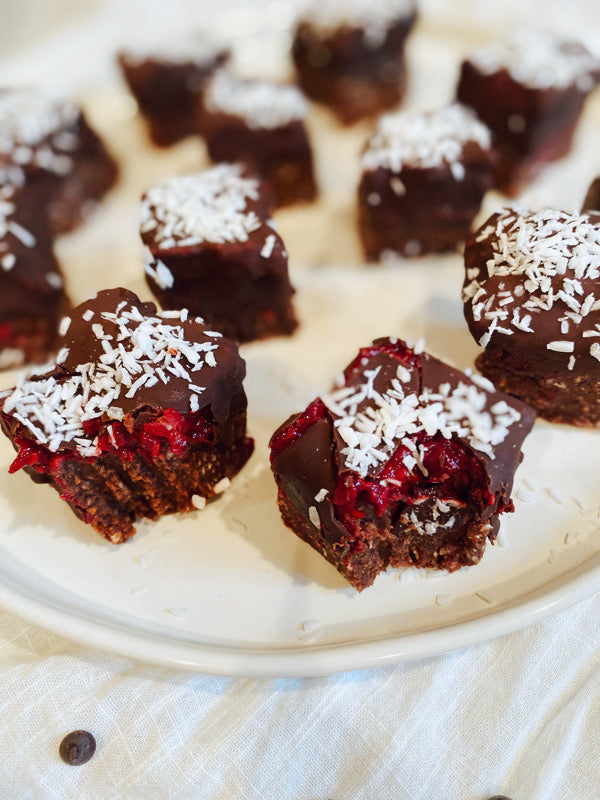 Chocolate Raspberry Brownie Love Bites
There aren't many combos that can outdo chocolate raspberry.
Especially when those raspberries are cooked down into a sweet jam, to then cover a decadent brownie crust, and then all to be dipped into melted chocolate. 
Yep, the perfect Valentine's Day ( or any day) dessert.  
I'll also have you know these guys are packed with antioxidants. So technically we are working on our glow with every bite. I'm happy to put that kind of work in. 
Servings: 16 + ( preference when slicing ) 
Equipment 
loaf pan 
parchment paper 
mixing bowl 
large food processor 
sauce pan 
Raspberry Jam
2 cups frozen raspberries ( any berry will work )
1 tbsp maple syrup or raw honey ( optional ) 
1 tbsp lemon juice
1 tsp vanilla 
pinch sea salt 
2 tbsp chia seeds
Heat raspberries in a small saucepan over medium-high heat, stirring occasionally, until the fruit begins to break down and bubble.  Use the back of a fork, spoon, or potato masher to mash the fruit to your desired consistency.
Stir in your lemon juice, vanilla , sweetener and sea salt.
Remove from heat. Then stir in your chia seeds. The jam will continue to thicken as It cools. 
Brownie Base 
Ingredients
1 cup walnuts
1 cup gluten-free oats 
1 cup shredded coconut 
1 cup almond flour 
1/2 cup cacao powder 
1/4 tsp sea salt 
15 Medjool dates, soaked in hot water for 10 minutes, depitted 
1/2 cup almond milk 
3 tbsp maple syrup 
2 tbsp cashew butter
2 tsp lemon juice 
Chocolate Sauce
1/3 cup chocolate 
2 tsp coconut oil 
In a large food processor add your walnut and oats. Process until in flour form. Add your mix to a large mixing bowl. 
Whisk in your almond flour, shredded coconut, cacao, and sea salt. Set aside for now. 
Rinse your dates and make sure there are no remaining pits. Add the remaining ingredients into the food processor -- Medjool dates, almond milk, maple syrup, cashew butter, and lemon juice. 
Process on high for a few minutes, scraping sides when needed. Process until no large clumps remain. 
Once your dates paste forms, add back in your dry flour mix. Process until one cohesive dough remains. Should be sticky but not too wet. 
Spread your brownie layer evenly into a parchment-lined loaf pan.
Spread the desired amount of jam on top of the brownie base.
Place in the freezer for 30 minutes - 1 hour while they set. 
While brownies are freezing melt your chocolate
In a microwave-safe bowl, add your chocolate chips and coconut oil. 
Melt in the microwave in increments of 30 seconds, stirring well in between each one. Repeat until all is melted and smooth. 
Remove the brownie base from the freezer. Remove them from the loaf pan by using the parchment paper. Place on a cutting board. 
Cut into desired shapes. I sliced into small, bite-size squares. 
Dip the brownie bites into the melted chocolate jam side down using your hands. Dip halfway and then flip back over and place on your parchment paper. Repeat until all brownies are dipped. 
Place in the freezer for another 10 minutes to set. Serve when ready! 
Store them in a sealed container in the freezer.