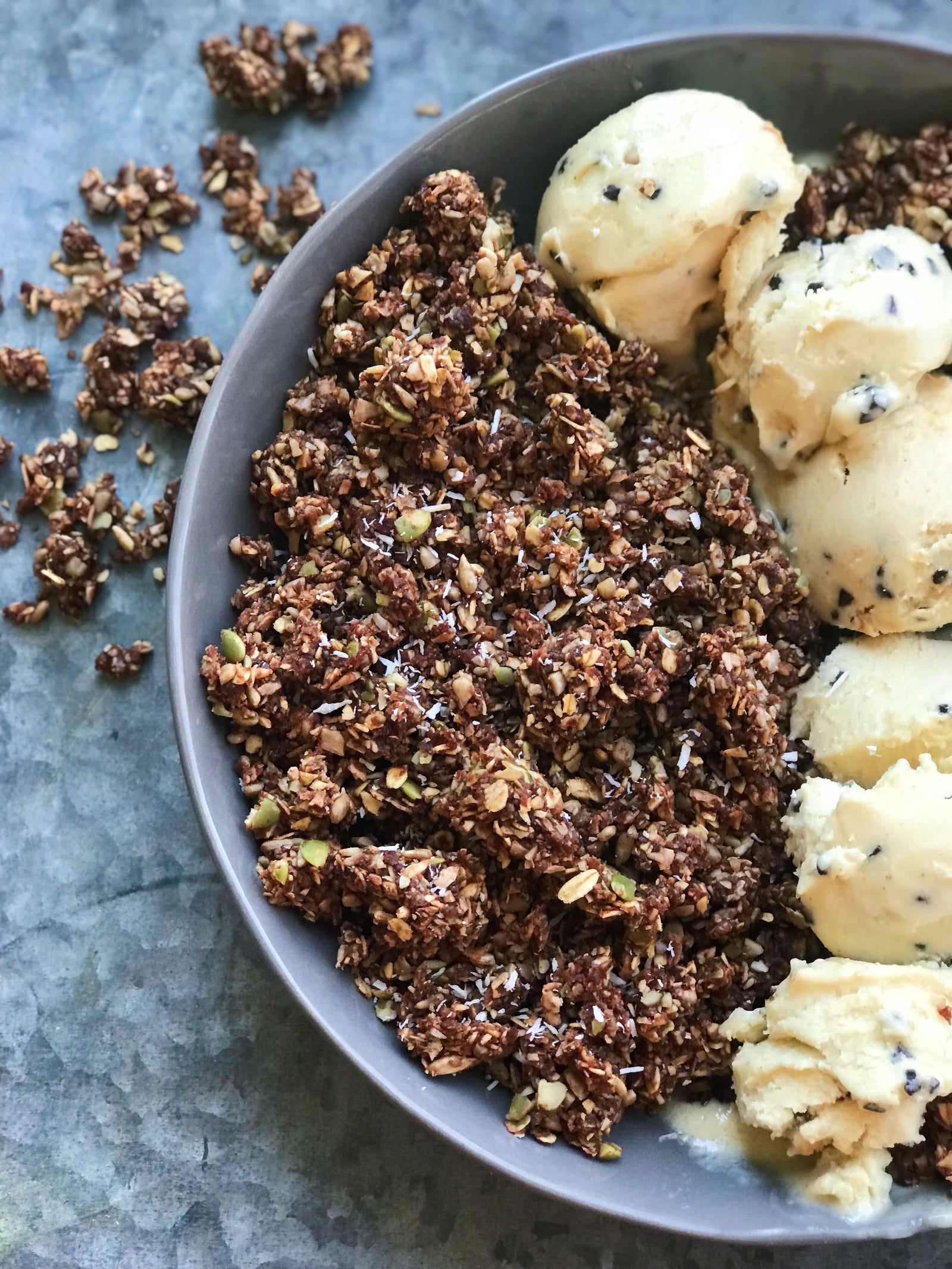 You know the dilemma where you excitedly open the pantry for a handful of granola and then... shoot. You realized you finished It yesterday. AND just like yesterday you dont have an hour in your schedule to make It? WHO CAN GO WITHOUT GRANOLA? Well It might not be this dramatic for you (It is for me ) but I have forever solved your problems. 
Meet the granola for EVERY occasion. 
Need a brownie fix? Rawnola. 
Need to spice up your overnight oats? Rawnola. 
Need a healthy ice cream sundae topper for the kids? Rawnola. 
Need to cut down on your oil intake? Rawnola. 
Just need to LIVE YOUR LIFE? Rawnola.
And not just any rawnola, THIS Chocolate Tahini Rawnola. 
Why? 
Because its absolutely magical. And its oil free. And refined sugar free. 
Got 5 minutes? Then you have time to make this for the week! No cooking, baking, freezing. 
I n g r e d i e n t s
1/2 cup sunflower seeds
1/3 cup pumpkin seeds
1 cup oats ( gluten free if necessary) 
3/4 cup coconut chips
2 tbsp cacao powder 
1/2 tsp sea salt 
10 Medjool dates , (soft ones, pitted) 
3 tbsp tahini ( runny is very important-- Whole Foods 365 brand is amazing! I do not refrigerate) 
1.5 tsp vanilla extract 
D i r e c t i o n s
Add your the first 4 ingredients into a food processor. Pulse a few times until large crumbles. Now add SIX of your dates, cacao powder, tahini, vanilla extract, sea salt. Process on low speed. Now add dates two at a time until you get a chunky crumbly texture. Scrape down the sides of the food processor as needed!