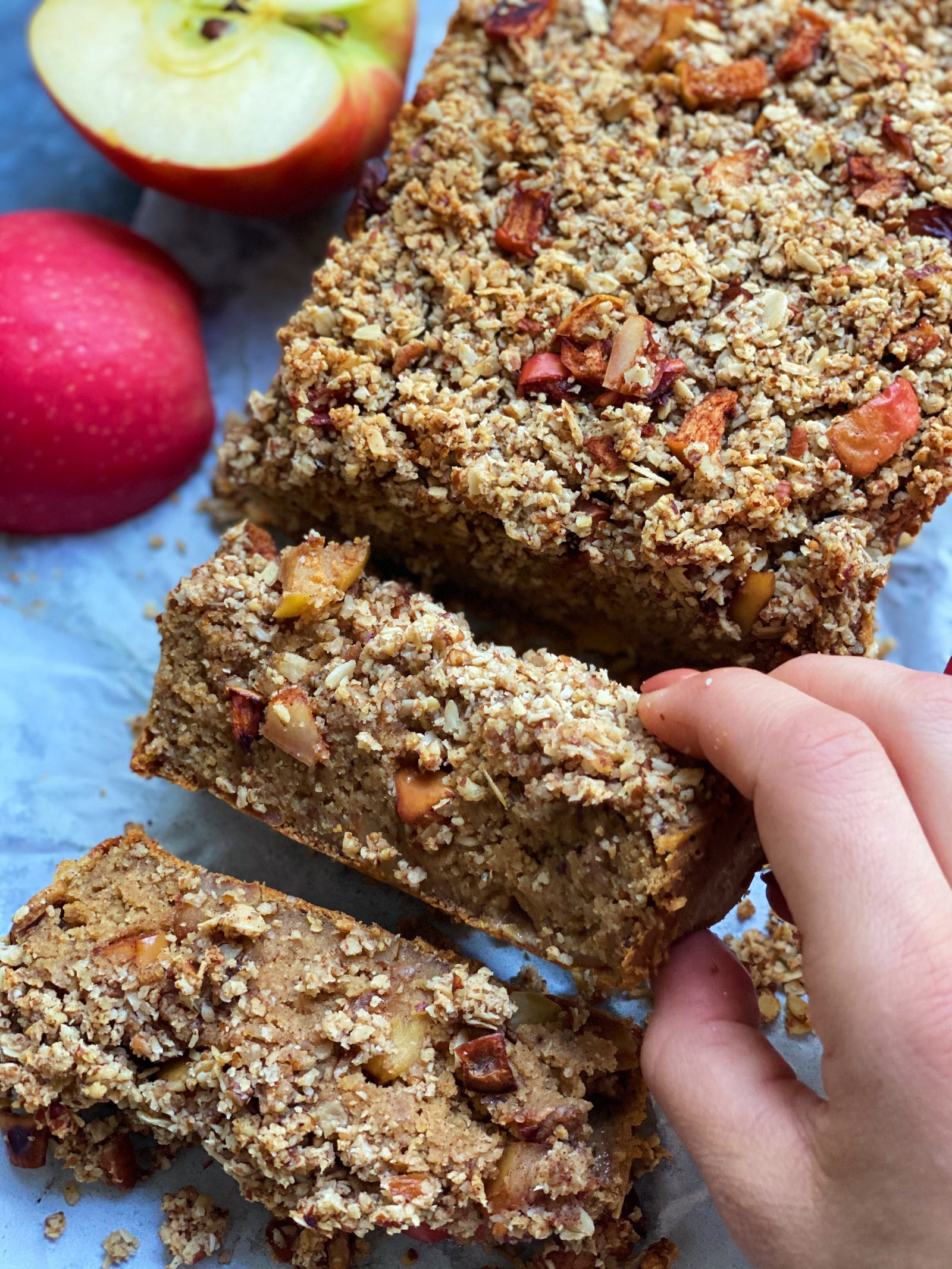 Cinnamon Apple Loaf w/ Pecan Maple Crumble
I have gone a little crazy on the apple testing... but can you blame me? It's not that I don't enjoy pumpkin.... I just have a love affair with apples. Bottom line. 
I wasn't sure if I should come up with a whole new category of desserts with this one --- Can you get behind a cake loaf? Because this fall forward, cinnamon apple, sweetly maple, pecan crumble heavenly loaf .... also in fact also tastes like cake, is moist like cake, and hits the spot like cake. But is also light and fluffy enough to call a bread. So what's a girl to do.
Ill let you decide once you try It!  
Ingredients
Sauteed Apples 
2 tsp coconut oil 
2 apples, diced 
1 tsp cinnamon 
Dry 
1 cup GF oat flour (blend your oats until a fine flour)
1 cup blanched almond flour
¼ cup tapioca flour
2 tbsp coconut sugar
2 tsp cinnamon
2 tsp baking powder
½ tsp baking soda
½ tsp salt
Wet
2 flax eggs ( 2 tbsp flax meal + 1/4 cup water mixed in a small bowl)
1/2 cup sweet potato puree ( I used canned)
1/2 cup unsweetened applesauce
1/4 cup maple syrup
2 tbsp almond milk
1.5 tsp vanilla 
2 tsp apple cider vinegar
Crumble 
3/4 cup gluten free oats
3/4 cup raw pecans
1.5 tbsp coconut oil
1.5 tbsp maple syrup
1/2 tsp vanilla extract
few pinches sea salt
Directions
Preheat oven to 350F . Line your loaf pan with parchment paper. 
Prepare your flax egg in a small bowl and set aside.
In a saute pan warm your coconut oil over low heat. Once warm, add your apples and your cinnamon and stir to combine. Saute on low for about 20 minutes or until apples are nice and soft, stirring frequently. While apples saute prepare the rest of the bread. Once apples are done, move off hot burner. 
In a large bowl mix all dry ingredients, whisk until all combined. 
In a separate large bowl add all remaining wet ingredients  ( sweet potato puree - vanilla) EXCEPT your apple cider vinegar. Whisk well. Now whisk in your flax eggs. 
In a blender or food processor begin to make your crumble. Add your oats and pecans and pulse a few times. Add remaining crumble ingredients and pulse 3-4 times more so all is combined. 
Slowly stir your wet into your dry ingredients. Once mixed, fold in 3/4 of your sauteed apples. Pour batter into your loaf pan and spread evenly. 
Sprinkle your crumble evenly on top of your batter along with remaining apples. Press crumble lightly into the top of the dough to secure the crumble. 
Bake for 42-44 minutes or until top is golden brown and toothpick comes out clean. 
Allow to completely cool before slicing! This bread sets even more in the refrigerator.