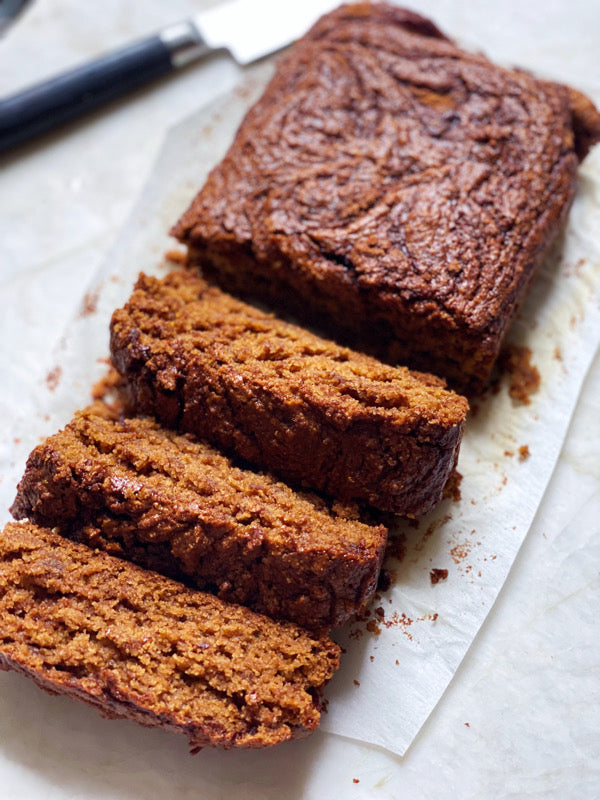 This bread tastes like Cinnamon Toast Crunch in bread form, with a cinnamon sugary swirl in every bite.
It is moist and perfectly sweet. It has an almost golden and caramelized crust and it is quite possibly the best bread I have ever made. 
The perfect back to school sweet to keep stocked in the fridge!
Serves: 6+ 
Equipment: 
Loaf Pan 
Oven 
Mixing Bowls 
Parchment Paper 
Ingredients
Dry
2 cups oat flour 
1/2 cup coconut sugar
2 tsp baking powder
1 tsp baking soda 
1/2 tsp cinnamon
1/2 tsp sea salt 
Wet
1/2 cup cashew yogurt 
1/4 cup coconut oil, melted
1/4 cup nut milk 
1/4 cup maple syrup 
1.5 tsp vanilla extract 
2 tsp lemon 
Swirl 
2 tsp cinnamon 
2 tbsp coconut sugar 
Line a loaf pan with parchment paper and preheat your oven to 350F. 
Add your dry ingredients in a mixing bowl, whisk, and set aside. 
In a separate bowl whisk together all the wet ingredients, except your lemon, and set aside. 
Add your dry ingredients into your wet and stir. 
Use your empty dry ingredients bowl to mix your cinnamon and coconut sugar swirl. 
Add your lemon to your batter and stir. 
Pour 1/2 your batter into your lined loaf pan. Sprinkle half your cinnamon sugar mix onto the batter. Add the rest of your batter on top and sprinkle the rest of the cinnamon sugar. Using a knife or a toothpick swirl the cinnamon sugar into the batter. 
Bake for 35-45 minutes or until a toothpick comes out clean. 
Allow to cool completely before slicing. 
Store in a sealed tight container in the fridge to extend life!