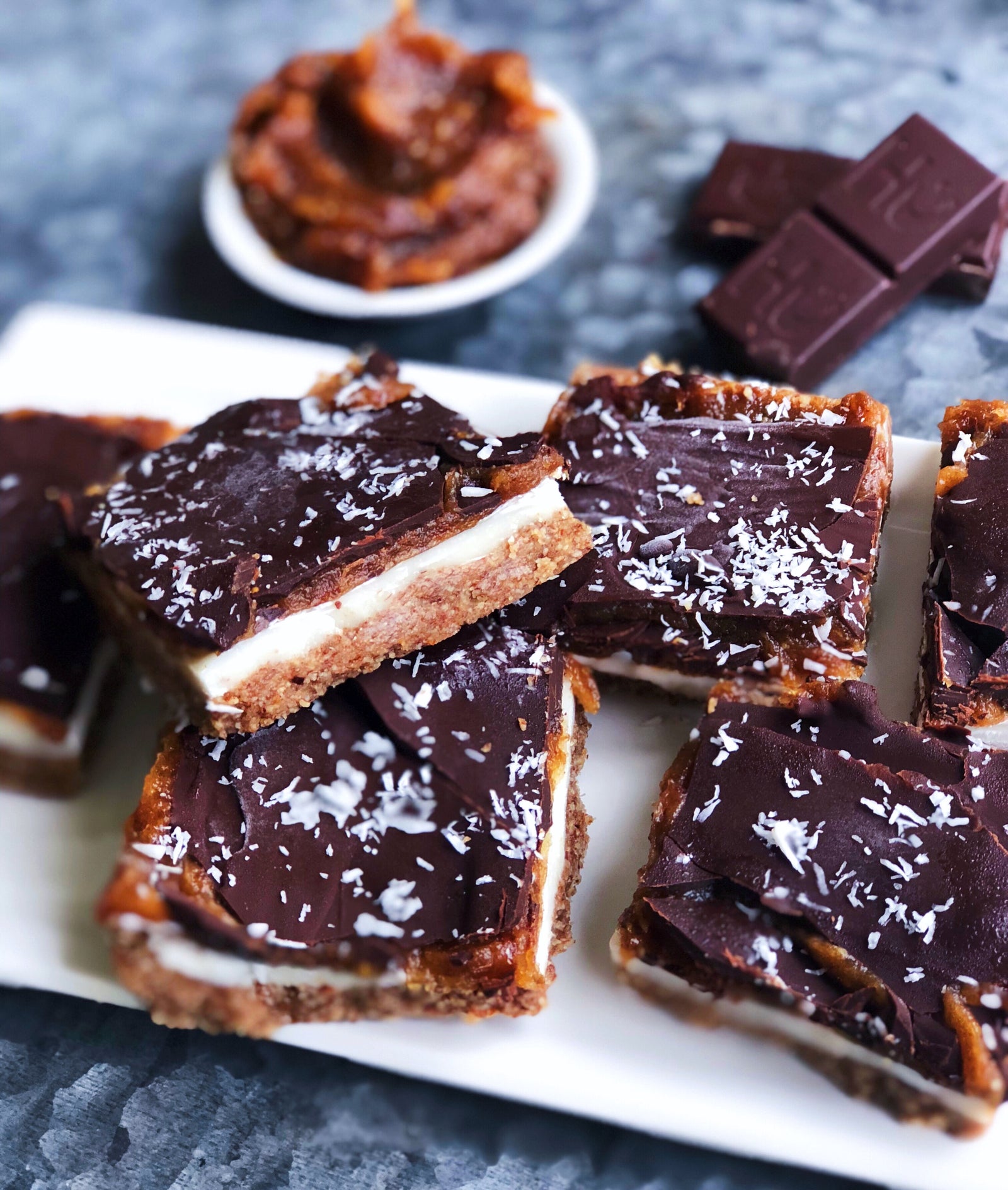 COCONUT BUTTER SMORES WITH A GRAHAM CRACKER CRUST
I cant explain my excitement when I see a dessert that has layers on layers on layers. Especially when those layers happen to make up a vegan SMORE!!! 
This TAF take on a classic is made up of a graham cracker crust, a caramel date layer, creamy coconut butter , and a hard chocolate shell to top It all off. 
One bite and  you will be wishing you were singing around a campfire! 
This weekend is ending on a sweet tune! Hope yours is too! 
GRAHAM CRACKER CRUST 
1 cup pecan meal ( process or blend pecans until they become a fine meal) 
1 cup almond meal 
4 tsp coconut oil, melted
1/4 tsp sea salt 
2.5 tbsp raw honey 
1/2 tsp cinnamon 
COCONUT BUTTER LAYER
1/2 cup + 2 tbsp coconut butter

DATE FILLING
13 large Medjool Dates
1/4 cup water 
CHOCOLATE TOPPING
3/4 cup dark chocolate chips 
2 tsp coconut oil 
Line a loaf pan with parchment paper. Add your dates to a large bowl and cover with hot water. Set aside.  
Pulse your pecans in a food processor until a fine meal. Add in your almond meal and pulse a few times to combine.
Add your pecan and almond meal to a saute pan. On low to medium heat, toast the  meal until fragrant and It has had slight change in color. About 4-5 minutes, stirring frequently to ensure no burning. As soon as It is done, move It off of the hot burner to cool.  You will use the saute pan again, so dont bother cleaning It yet.  
Once It has cooled add your meal back into your food processor and add your honey, melted coconut oil, cinnamon, and sea salt. Process until a crust like consistency forms. It should be but if not sticky enough add a tsp more coconut oil. 
Using your hands, press the crust into the bottom of the loaf pan until one even layer is created. Pinch along the sides so that they slightly come up the pan. Place the crust in the freezer. 
Drain your dates. Make sure you have removed the pit. Add your dates + water to the food processor and process until dates become a thick paste. You will have to scrape the sides a few times. You are looking for a spreadable consistency! This should take a few minutes. 
Grab your crust from the freezer and spread a layer of date paste on top. You do not have to use all of the paste! Place back in freezer. 
Add your coconut butter to the same saute pan. Melt over low-medium heat. Stir frequently until fully melted. Turn off burner. Allow to slightly cool. 
Once your coconut butter has slightly cooled pour It over the date paste layer. Place back in freezer. Allow to freeze for 10 minutes or until hardened. In the meantime melt your chocolate. 
In a microwave safe bowl add your chocolate chips. Melt them in 45 second increments, always stirring them in between. This will help It not burn! After melted stir in your coconut oil. Stir until fully melted and combined. 
Once the coconut layer has hardened pour over your chocolate! You can sprinkle coconut flakes on or swirl in some nut butter or leave as is! 
Cover with seran wrap and place back in the freezer and allow to sit at least 30 minutes before eating! Allow 5-8 minutes thaw time when ready to eat! Slice and store in a sealed tight container in the freezer.