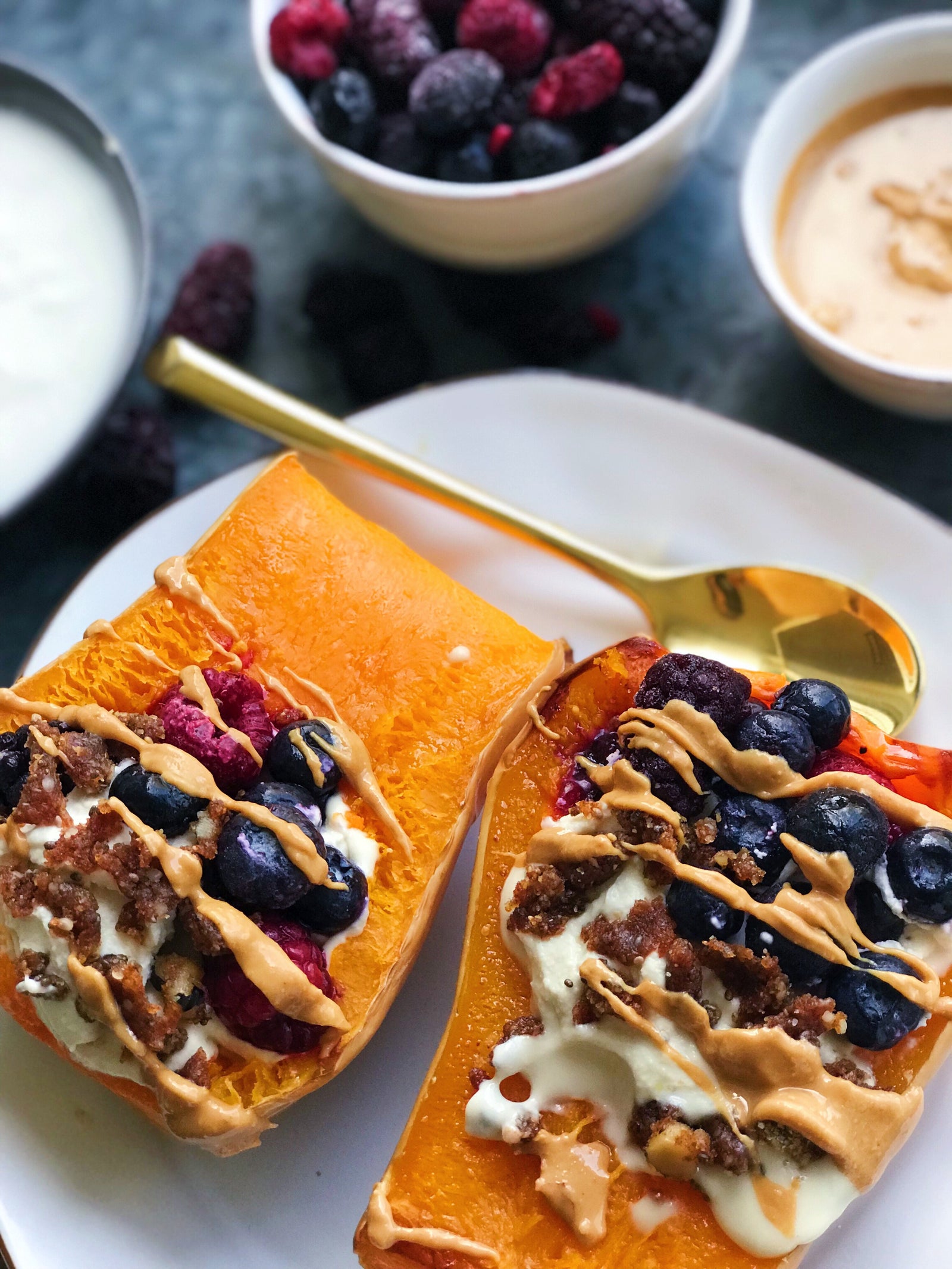 Coconut Cashew Yogurt Butternut Squash Parfait Bowls
BUTTERNUT SQUASH BOWLS
Preheat your oven to 375F. Slice your butternut squash lengthwise. Scoop out seeds with a spoon and discard. Drizzle a small amount of coconut/olive oil on the flesh + a sprinkle of cinnamon. On a parchment lined baking sheet, lay your butternut squash flesh up. Roast until fork tender and caramelized, about 35-40 minutes. 
COCONUT CASHEW YOGURT
1 cup raw cashews, soaked in water a minimum of 4 hours
1/2 - 3/4 cup coconut cream, from a full fat coconut milk can that has been refrigerated overnight - I prefer Whole Foods 365 Brand , yields the most coconut cream in my opinion!
1/3 cup desiccated coconut ( this is the finely shredded coconut)  
1/3 cup almond milk 
2 tbsp maple syrup  ( honey will work too ) 
1 tbsp lemon juice (more or less to taste) 
1 tsp vanilla 
1/4 tsp sea salt 
D i r e c t i o n s 
Drain your cashews and give them a quick rinse. Add to blender. Open your coconut milk can and scoop out all of the cream, careful to only use the cream and leave liquid in can. (Little tip: freeze the liquid in an ice tray for smoothies later) 
Add your cream to the blender with the cashews, and then add all of the other ingredients. Begin to blend, scraping down sides as needed. If you need more liquid for blending, add a tbsp more almond milk at a time! 
You want to blend until your mixture is extremely smooth! No clumps whatsoever. Once blended pour your yogurt into a sealed container and place in refrigerator. It will thicken A LOT within the next few hours/ overnight!  
** if you prefer less thick once out of the fridge, just warm in 15 second increments in a microwave safe bowl! 
Squash Bowl
Warm your butternut squash bowl. Scoop 1/4 cup coconut cashew yogurt into "bowl" of butternut squash. Add 1/3 cup fresh or frozen organic berries, one crumbled  Blender Bomb, or 1/4 cup granola. Drizzle 1/2 tbsp nut butter on top! 
Additional toppings: flax seed meal, hemp seeds, cacao nibs, anything goes!