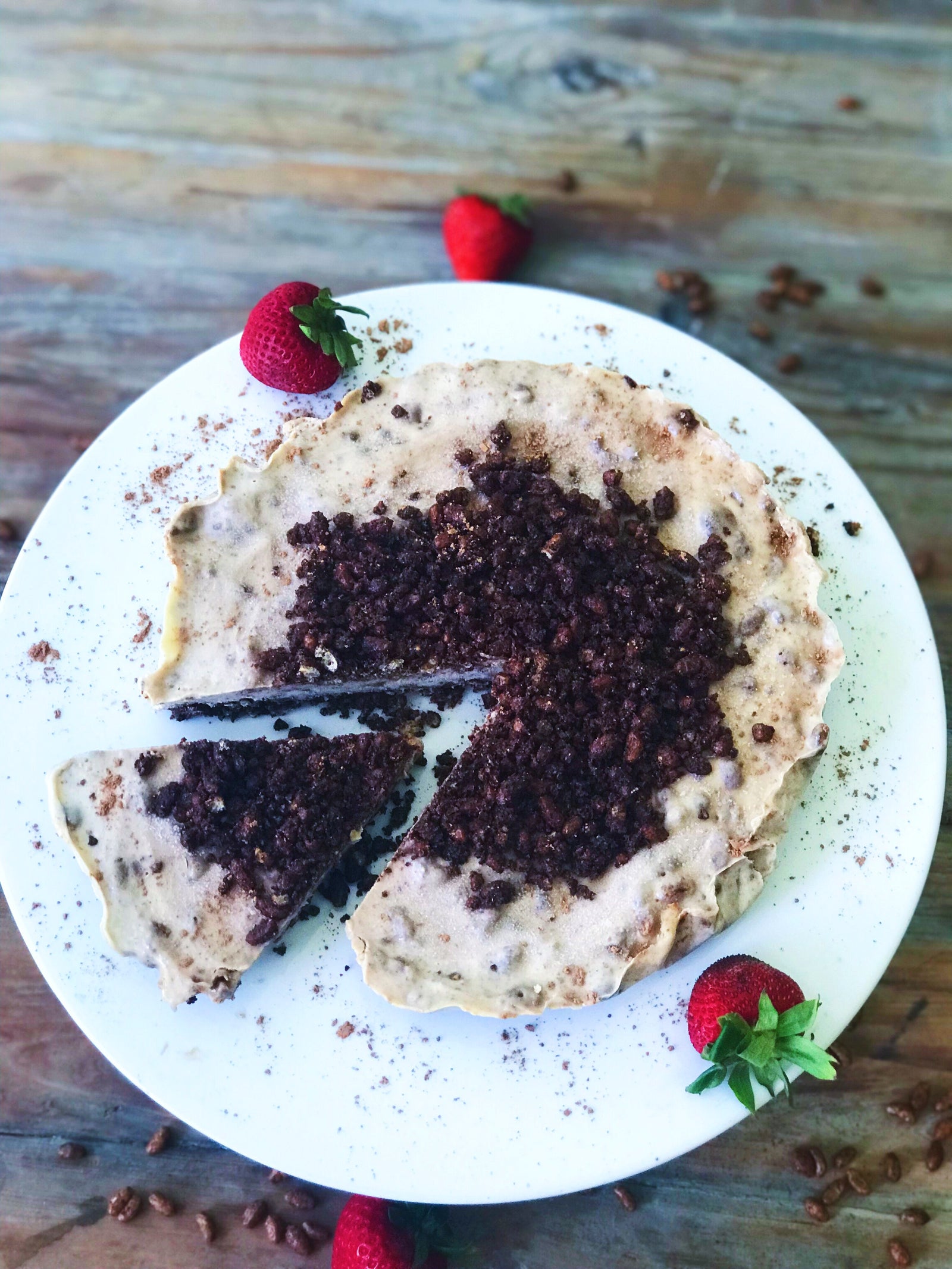 COOKIES AND CREAM CHEESECAKE
Want to know my absolute favorite dessert growing up? The thing I would request for every birthday, holiday, or 'just because' day?? BREYERS OREO ICE CREAM CAKE. In the blue box... if you know you know. All those layers-- from the oreo crust, ice cream middle, and cookie topping --I could (would) seriously finish one of those babies off in one sitting. 

Using only 7 ingredients, this cookies & cream "ice cream" cake came out better than I could have ever dreamed. All the layers, all the flavors but none of the dairy, refined sugar, or artificial flavoring.

Im obsessed. Your turn.


I n g r e d i e n t s 
Crust, Filling & Topping 
3.5 cups One Degree Organics cacao brown rice cereal 
1/3 cacao powder 
1/3 cup + 2 tbsp coconut oil, measured melted
Cookies & Cream Filling 
1.5 cups cashews , soaked for 6-8 hours or 1 hour soaking in almost boiling water,
1/4 cup honey 
cream off the can of a chilled coconut milk can OVERNIGHT ( about 1/2 cup- I use either Thai Kitchen or 365 brand)
2-3 tbsp of the leftover liquid in coconut milk can
1 tbsp melted coconut oil
1 tsp vanilla
pinch sea salt.


D i r e c t i o n s 
Line a pyrex or cake dish with parchment paper. Add your cereal to a food processor or a large ziploc bag. Pulse a few times until crumbled or crush with a rolling pin. You do not want It to be too fine, so only pulse until broken into small pieces.

Add cereal to a large mixing bowl. Add your cacao powder & coconut oil. Mix until well combined! Press about HALF the mixture into the base of your cake pan or pyrex, pressing firmly into the base to mold the crust. Place in the freezer while you make the cream ( allow at least 20 minute in freezer).

Drain cashews & pour into blender. Add your coconut cream, leftover liquid from can, melted coconut oil, honey , vanilla, and a pinch sea salt. Blend until creamy and thick! Taste and adjust.
.
Pour in HALF of the rest of your cookie crumble mixture ( the rest will go on top of the cake) into the blender, and using a spoon, lightly stir in the crumbles. .
Remove your crust from freezer. Pour your cream right over the crust and add the rest of cookie crumble to top! Cover & freeze at least 4 hrs.
**recipe inspired by Feasting on Fruit!