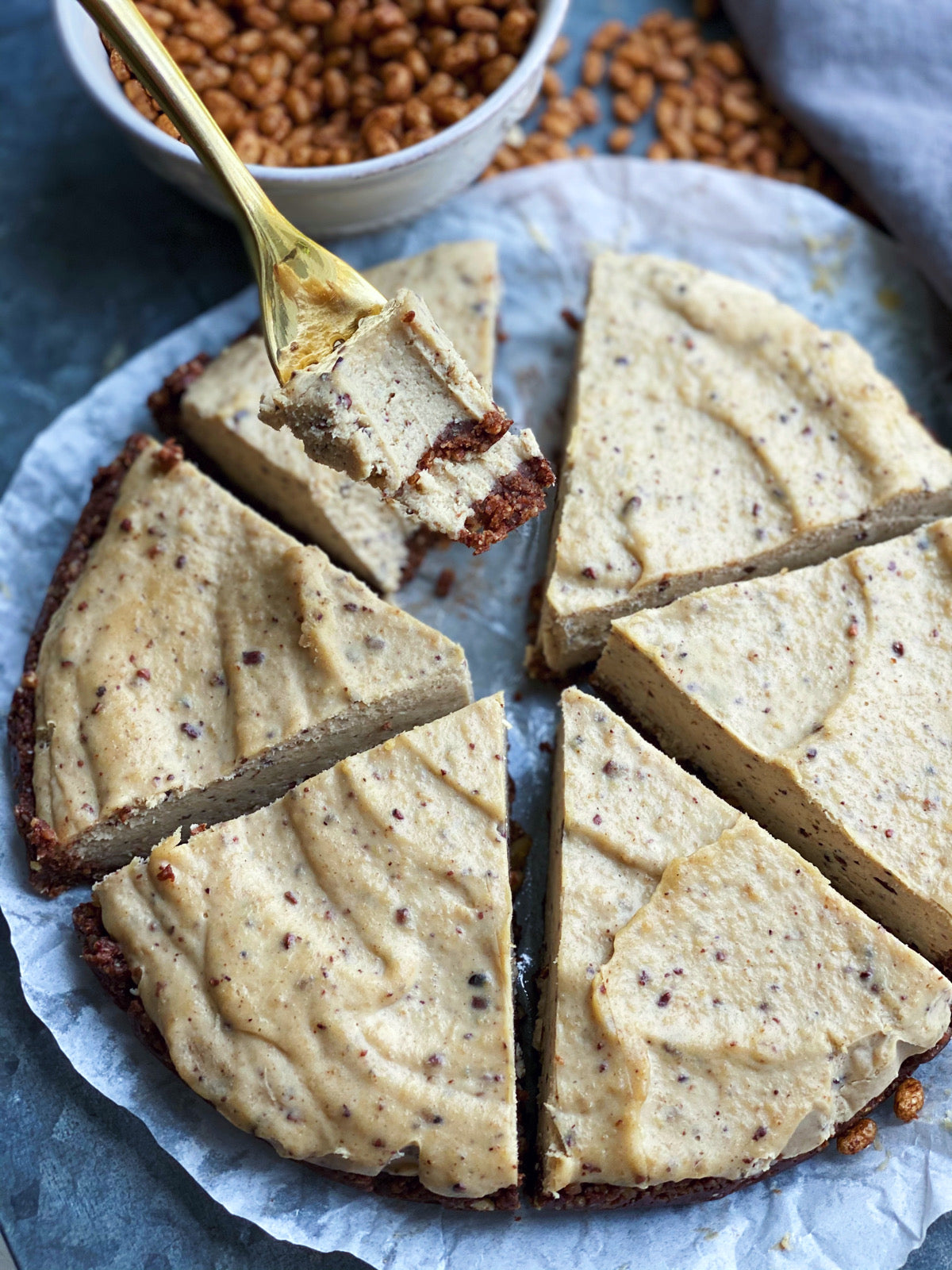 Cookies and Cream Cheesecake
My love of cheesecake runs deep. The only thing that might run deeper is my love for all things COOKIES AND CREAM! It was my only ice cream order growing up and still stand by it. 
This cheesecake reminds me of the oreo breyers ice cream pies my mom used to buy us on a weekly basis. Smooth, creamy, chunks of chocolate cookies -- It just always hit the spot... and so will this! 
I did add one secret ingredient to help achieve this dense and smooth texture, and that secret ingredient also boosted the health benefits hidden in this cheesecake. Win for all! 
Ingredients
Filling 
1.5 cup raw cashews ( soaked in cold water, minimum 6 hours) 
2/3 cup full fat coconut milk ( from a can) 
1/4 cup maple syrup
1/4 cup coconut oil 
1 cup roasted Japanese sweet potato ( no skin) 
1.5 tsp vanilla extract 
1/2 tsp sea salt
1 cup cacao brown rice cereal
1/4 cup cacao nibs
Crust
1/4 cup gluten free oats
3/4 cup walnut
3/4 cup pecan ( any raw nut will work ) 
3 tbsp cacao powder
2 tbsp coconut oil
2 tbsp maple syrup
1 tsp vanilla extract
1/2 tsp sea salt
Equipment 
Large Food Processor 
High Speed Blender
Cake Pan 
Parchment Paper 
Directions
Line your cake pan with parchment paper. 
Crust: In a large food processor add your oats, pecans, and walnuts, Pulse until large crumbles form. Add in all other ingredients and process until a sticky crust forms. If too "wet" process in a tbsp more oats or oat flour. 
Press crust into the bottom of your cake pan forming an even layer using your fingertips. Pinch the crust up the sides of the pan to create an edge. 
Place crust into the freezer while you prepare your filling. 
Rinse and drain your soaked cashews. Place in the blender. Add coconut milk, coconut oil, maple syrup, vanilla extract and sea salt. Blend on high until smooth and creamy, scraping down the sides of the blender as needed. Now pulse in your cereal and cacao nibs for 30 seconds. Taste and adjust. 
Remove crust from freezer. Pour filling into cake pan and smooth out with a spatula. 
Cover with saran wrap and freeze cheesecake for three hours minimum. Allow twenty minutes before serving to thaw on counter or thaw in refrigerator. 
Slice and serve! Store leftovers covered in the freezer.