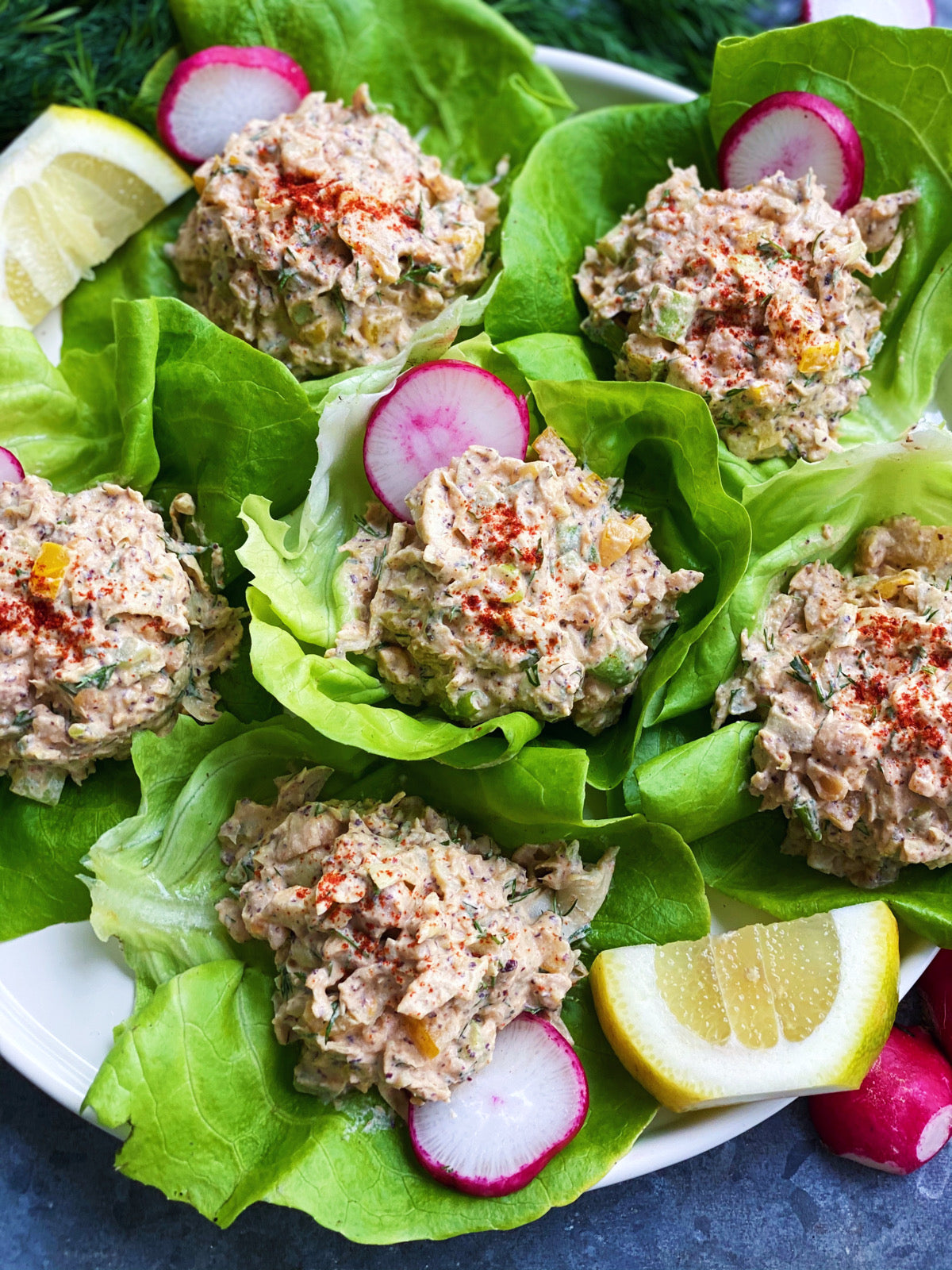 Spring is here and I've been craving everything light, crunchy, and colorful. This recipe is a take on a classic crab salad and it turned out better than I could have ever imagined.
Ya'll already know I love a recipe that can be prepared in a million different ways and this is one of those. Scoop It into a lettuce wrap, on a salad, in some toast, scoop with veggies.... you get the idea. 
Whichever way you eat It, I promise It wont dissapoint! 
Vegan Crab
Ingredients
1 heaping cup cashew mayo ( see recipe below— sub any vegan mayo )
1 can chickpeas
1 can quartered artichokes
1/4 cup fresh dill, chopped
2 tbsp lemon juice
2 tsp honey
3 tsp dulse granules ( I used this one — helped achieves the "crabby" flavor)
2 tsp old bay seasoning 
1 tsp paprika
1/2 tsp garlic powder
1/2 tsp mustard seed powder
1/4 tsp sea salt
1/4 tsp pepper 
Other
1 celery rib, diced
1 small yellow pepper, diced
1/2 cup green onion
Cashew Mayo
3/4 cup raw cashews, soaked in cold water overnight ( should yield about 1 cup once soaked) 
1/3 cup avocado or grapeseed oil ( you need a neutral oil here)
1/4 cup water
1 small garlic clove
3 tsp lemon juice
2.5 tsp apple cider vinegar
1 tsp raw honey ( optional ) 
1/2 tsp mustard powder
1/2 sea salt to start, + more to taste
Directions
Prepare your cashew mayo first. Drain and rinse your cashews. Add all ingredients into a blender and blend on high until a mayo consistency is achieved. This will take a few minutes! Set aside. Now prepare your crab. 
Drain and rinse your chickpeas and artichokes in a large strainer. Pat dry with paper towels and add into your food processor. Pulse a few times until artichokes look "shredded" and chickpeas are broken down. Set aside.
In a large mixing bowl mix your old bay, paprika, garlic powder, mustard seed powder, sea salt, and pepper. Stir well.
Measure out your cashew mayo and add into bowl with your spices. Add in your lemon juice and honey. Stir until all is combined.
Now add your chickpea/artichoke mixture, peppers, green onions. And fresh dill to the bowl. Now mix all together really well with a spatula. Taste and adjust salt, pepper, and lemon. 
Serve in a lettuce cup , in a wrap, or on a salad!