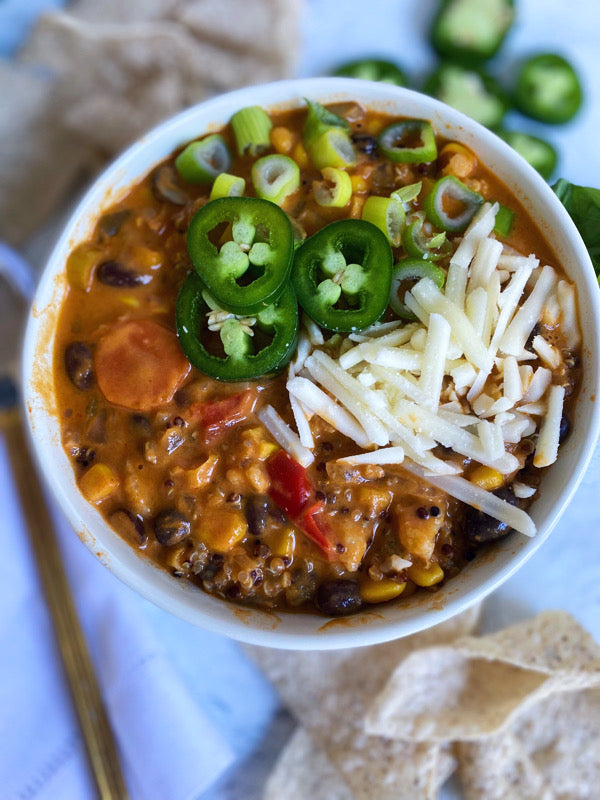 If there was ever a weekend for soup in the south, this weekend would reign supreme. If you find yourself in your comfiest sweats, curled up next to your fire, wondering what's for dinner…get this enchilada soup on the stove! 
This is just about the coziest bowl of soup you will ever have! Incredibly hearty and satisfying while still packed with veggies. 
Toppings are optional, but not really. 
Servings: 5
Equipment:
High-Speed Blender
Stove
Dutch oven or soup pot 
Enchilada Sauce 
1/2 cup cashews ( soaked in chilled water overnight or a minimum of 4 hours) 
½ cup water or broth
2 tbsp tomato paste
2 tbsp vegan cream cheese
1 can Rotel tomato 
2 tbsp arrowroot flour
2 tablespoons Chili Powder
1 teaspoon Cumin
½ teaspoon Onion Powder
1 teaspoon honey or maple syrup 
1 tsp apple cider vinegar 
3/4 tsp sea salt 
Soup Ingredients
2 tbsp olive oil 
1 onion, diced
2 Carrots, peeled and diced
1 Jalapeno, seeds removed ( optional ) and sliced,
2 garlic cloves, minced
Red bell pepper, diced 
green bell pepper, diced 
½ large cauliflower, florets finely chopped  
1 8 oz container baby Bella mushroom, destemmed and quartered
1 32 oz broth 
1 can black beans, rinsed well
1 can sweet corn, rinsed well
1 tbsp sriracha ( optional ) 
½  lime ( use other half for serving wedges) 
Salt to taste 
Directions
Begin by making your enchilada sauce. 
Rinse your soaked cashews. Add your cashews and all other sauce ingredients into a blender. Blend until smooth and creamy, scraping down the sides of the blender as needed. Set aside. 
In a large dutch oven or soup pot, warm your olive oil over medium heat. Add your onion and saute for two minutes. Add in your carrots, jalapeno, garlic, red and green pepper, and saute a few minutes more. 
Add in your cauliflower and stir to combine. Saute all together for about a minute. 
Add in your broth and mushrooms and stir.  
Bring your soup to a boil and then reduce to a simmer. 
Now stir in your sauce, beans, and corn. Allow simmering for another 15-20 minutes, stirring occasionally. 
Lastly, stir in your lime juice. Taste and adjust salt to taste. 
Topping suggestions:
Quinoa or brown rice 
Vegan cheese or cheese of choice
Jalapeno slices
Lime wedges 
Tortilla Chips