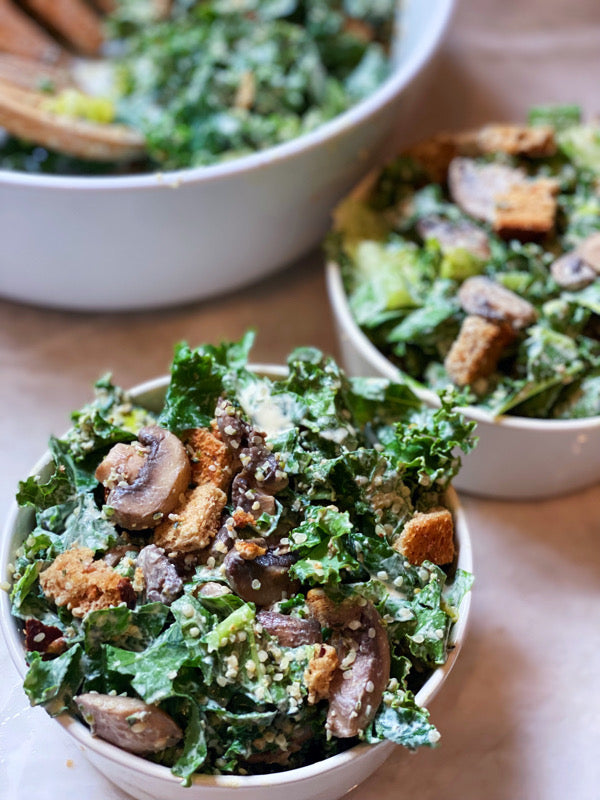 Creamy Greens & Mushroom Caesar Salad
One of my favorite salad to ever come out of the Tasty As Fit kitchen. She's flavorful, she's creamy, she's simple, and she's a powerhouse of nutrition.
Hearty greens massaged in a creamy caesar dressing topped with homemade croutons, sautéed tamari mushrooms, and hemp seeds! You will welcome this one into your salad rotation with open arms. 
Ingredients
Salad
1 large bunch kale , de-stemmed and chopped
1 large head romaine, chopped 
2 pieces sourdough or bread of choice 
1/2 tbsp olive oil 
1, 16 oz container white mushrooms, sliced
1 clove garlic, minced 
1.5 tsp tamari 
1/4 cup hemp seeds
Himalayan sea salt for seasoning 
2 avocados, sliced or cubed 
Dressing
1/2 cup sunflower seeds ( soaked in water overnight or minimum 4 hours)
1/2 cup cashews ( soaked in water overnight or minimum 4 hours)
1/4 cup avocado oil or olive oil 
1/4 cup almond milk 
2 tbsp fresh lemon juice ( 1 small lemon ) 
2 tsp capers
2 tsp Dijon mustard  
1 tbsp nutritional yeast
1/2 tsp sea salt ( to start) 
1/4 tsp garlic powder
1/8 onion powder
Water to thin ( start with 2 tbsp )
For the Dressing: Rinse and drain your sunflower seeds and raw cashews. Add to blender along with the rest of your dressing ingredients. Blend on high until smooth and creamy. You can add more water based on thickness preferences but you want to keep the dressing thick and creamy! 
Taste and adjust salt/lemon/water! 
For the Salad: Add your chopped kale and romaine into your large salad bowl. Season with a little sea salt and toss. Add desired amount of dressing to your salad and massage really well into your greens. Set aside to prepare the rest. 
Add two pieces of bread to a toaster or place in the oven at 325 F until nice and golden brown. Once ready, set aside to cool. 
Add a dash olive oil to a sauté pan and warm over medium heat. Add in your garlic and sauté for one minute. Add your mushrooms and lightly sauté until fork tender but still with a bite to them. Move your skillet off hot burner. Add your tamari and stir. 
Once your toast has completely cooled slice both pieces into tiny cubes ( like croutons ) . 
Add your croutons, mushrooms, and avocado into your large salad bowl . Lightly toss. 
Serve!