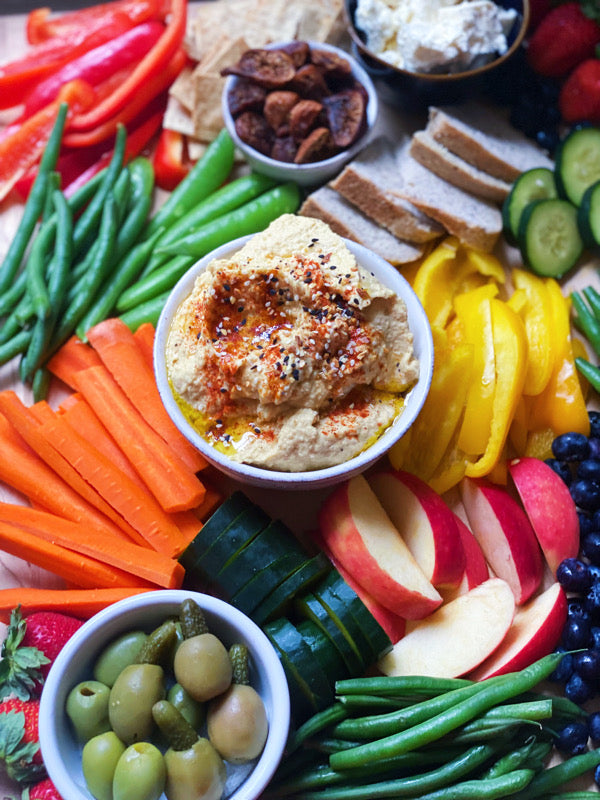 It's party platter season people, and what better star of the show than some homemade hummus? 
Tailgating typically means a sea of dips, chips, and fried food, but why not throw some color into the equation. This hummus is incredibly creamy, fluffy, packed with flavor, and could not be any easier to master. The perfect addition to any tailgating spread, I don't care who your audience ( or team ) is! 
Equipment 
food processor 
Serves 
10+ 
Ingredients 
4 cups cooked chickpeas 
1/2 cup lemon juice, fresh squeezed 
1/3 cup runny tahini
1/4 cup cold water
2 garlic cloves 
1 tsp baking soda 
1 tsp cumin 
1/2 tsp sea salt ( to start ) 
1/2 cup olive oil 
Toppers:
paprika 
Everything But The Bagel Seasoning
Olive Oil  
Add all ingredients except olive oil into a large food processor. Process on high for a minute to break down all the chickpeas. Scrape down the sides of your food processor. 
Drizzle in your olive oil in as you start back up your food processor and your hummus churns. 
Continue on high, scraping down the sides when needed, until your hummus is incredibly creamy. 
Taste and adjust lemon and sea salt ( I added more sea salt ). 
Pour into a container and allow the flavors to meld together in the fridge for a few hours. 
When serving add a drizzle of olive oil and a sprinkle of paprika.