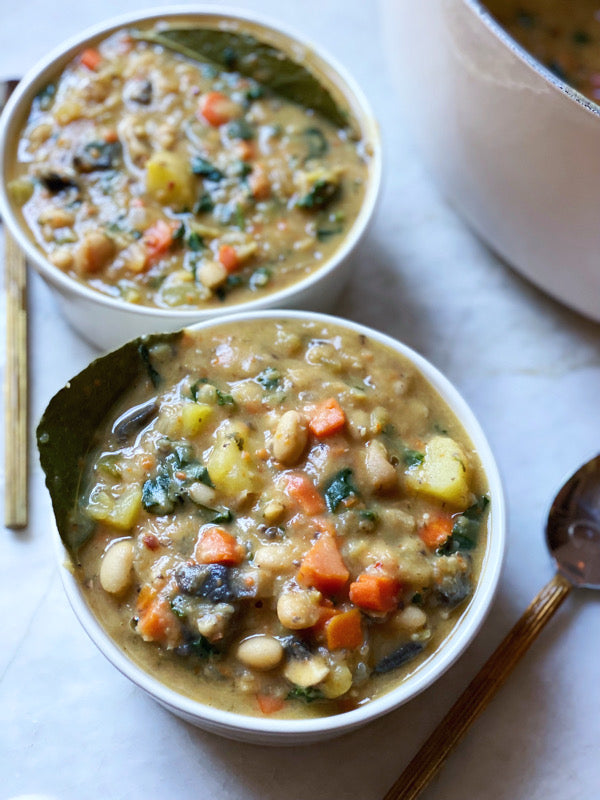 Creamy Potato, White Bean, & Kale Soup
I feel like certain soups have a way of leaving a lasting impression on people and I think it's because they can be so nourishing and yet so satisfying at the same time. Every bite feels like it is doing something good for your body and your taste buds at the same time. 
This creamy potato, white bean, and kale soup is one of those. It is creamy and decadent while still light and nutrient-packed. 
Blending potatoes and white beans into soup is one of the best tricks to keeping things creamy without any cream or dairy. 
I hope you make this soup, and better yet, I hope you remember It forever! 
Ingredients 
1.5 tbsp olive oil / ghee / vegan butter 
1 onion
3 large carrots, diced
2 sticks celery, diced
3 garlic cloves, chopped finely
1/2 teaspoon red pepper flakes
2 tbsp nutritional yeast 
4 cups broth
2 cans cannellini or great northern beans, rinsed and pat dry 
3 small red or white potatoes, peeled and chopped
8oz white mushrooms, de-stemmed & chopped
2 bay leaves 
2 sage leaves 
1 tsp sea salt (to start) 
1/2 tsp pepper 
2 cups kale, finely chopped 
1.5 tbsp lemon juice 

Optional:
Vegan Parmesan 
Heat oil/ghee in a large dutch oven or soup pot over medium heat.  Once warm, add your onion, carrots, and celery. Cook until the onions are translucent and the carrots have softened, about 6-8 minutes. 
Add your garlic, red pepper flakes, and nutritional yeast, and cook for 1-2 minutes more. 
Add your broth, beans, potatoes, mushrooms, bay leaves, sage, sea salt, and pepper into your pot. 
Bring your mixture to a boil and then reduce to a simmer for another 20 minutes. 
Discard your sage leaves and bay leaves. 
Add half your soup mixture into a blender and pulse a few times. Now add your pulsed soup back into your soup pot. 
Stir in your shredded kale, lemon, and more salt/pepper. 
Top with vegan parmesan or more nutritional yeast. 
Store in a sealed container in the refrigerator for up to 3 days.