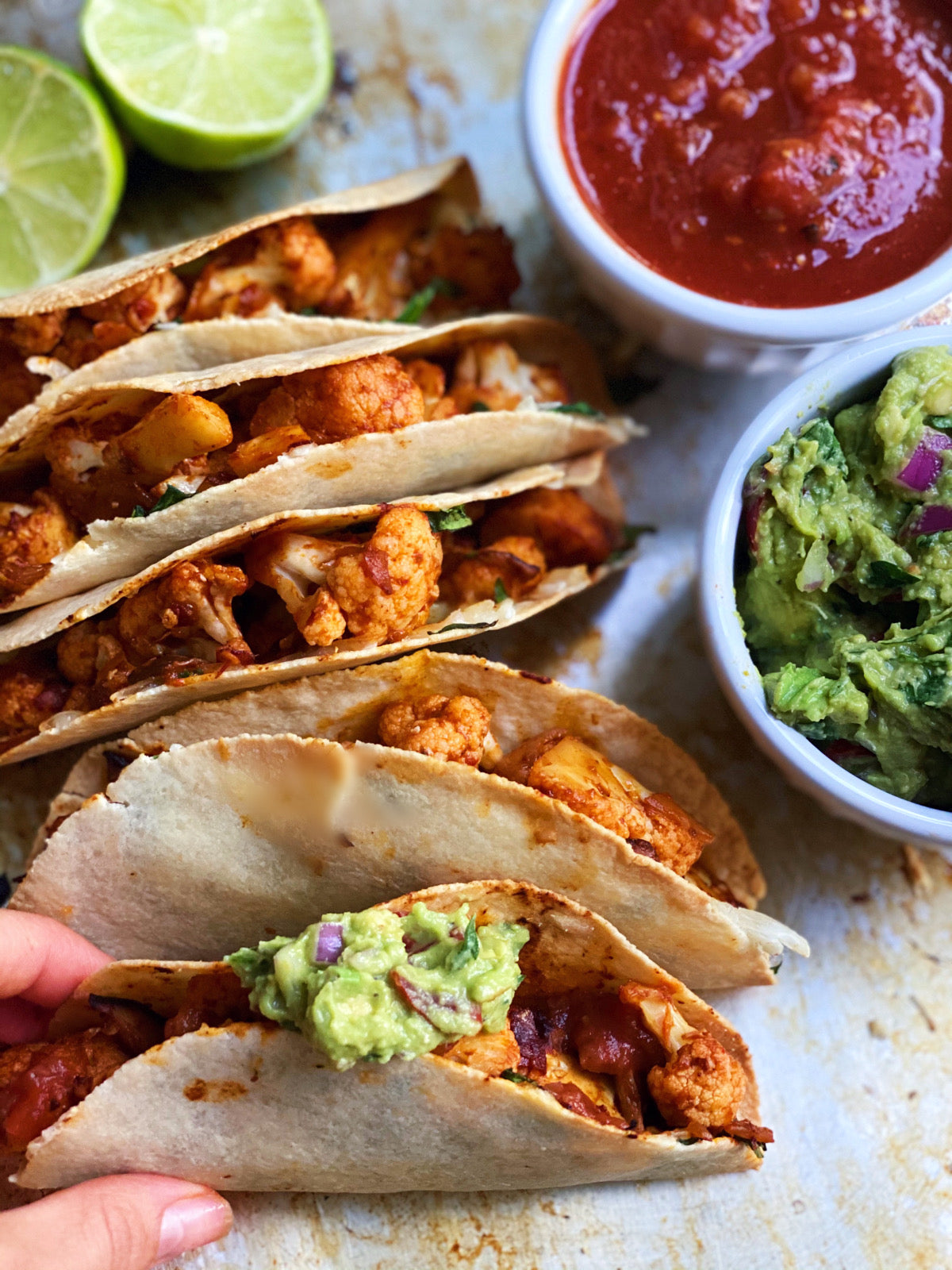 Crispy Chipotle Cauliflower Tacos
Who puts up a taco recipe two days after Cinco De Mayo ...apparently THIS GIRL. For those that know me well, know I'm always a bit late, so It just feels right ya know? 
Hopefully your festive feasts gave you even more of an appetite for tacos -- and that is exactly what I am giving you today. Just some damn good tacos. 
These tacos are CRISPY ( thanks to finishing them off in the oven ) , the cheese is melty, and the cauliflower is sauteed in the most delicious chipotle enchilada sauce. Serve alongside some guacamole, salsa, and some dip chips and you are good to go! 
NOTE: All recipes on Tasty As Fit's website are for personal use only. Any commercial or professional use of these recipes for profit will be subject to legal repercussions. 
** this recipe was inspired by Half Baked Harvest 

Ingredients
2 tbsp extra virgin olive oil
1 shallot, diced
1 small head cauliflower, chopped into similar size florets
1 cup shitake mushrooms, rough chopped
3 chipotle peppers in adobo ( do not omit )
1/2 cup + 2 tbsp red enchilada sauce ( I used Siete Foods brand)
1/3 cup water
1 tbsp tamari
Sea salt
Other:
1/2 -3/4 cup shredded vegan cheese
6-7 tortillas
Served best with
Guacamole
Salsa
Shredded lettuce
Fresh lime
Equipment Needed
Large skillet
Chefs Knife
Spatula
Baking Sheet
Blender
Directions
Preheat your oven to 425F and have a large baking sheet handy.
Heat the olive oil in your large skillet over medium-high heat. When your oil has warmed, add your shallot and cauliflower florets. Stir occasionally until the cauliflower becomes tender on the inside and slightly charred/ golden brown on the outside , about 6-7 minutes.
Add in your mushrooms and saute all together, a few more minutes.
While sautéing , add your enchilada sauce, chipotle peppers, and water into the blender. Blend on high for 15 seconds.
Pour the sauce into the saute pan coating the cauliflower mixture. Stir well to ensure all mix is coated.
Turn burner to low and allow the sauce to slightly thicken, stirring occasionally, for about 5 minutes.
If not super pliable, microwave your tortillas to warm. Rub the side of each tortilla directly facing the baking sheet with a dab olive oil to help brown.
Layer desired amount of cheese and cauliflower onto each tortilla. Fold the tortillas over , pressing into the edges to help hold shape.
Place baking sheet into the oven, for about 6-8 minutes. Then flip and repeat — watching closely so your tortilla does not burn.
Remove from oven, layer with lettuce, salsa, guacamole, and a squeeze of lime!