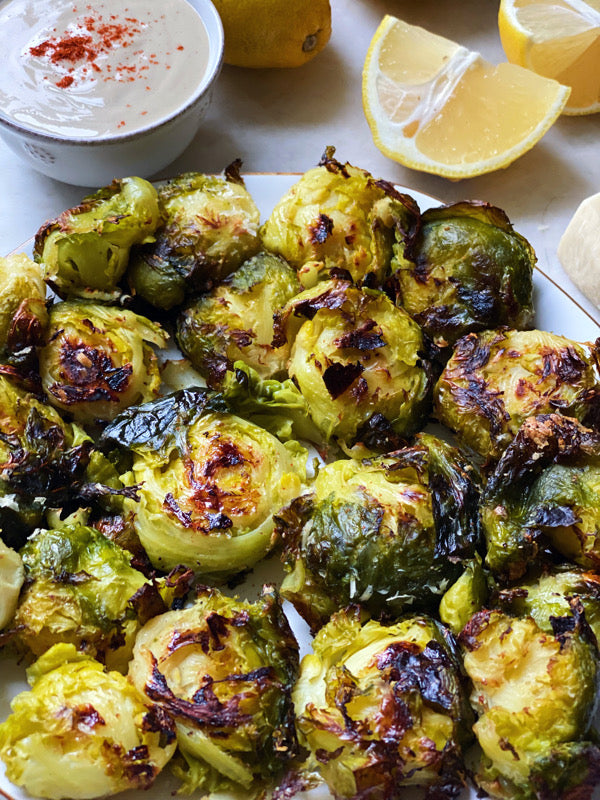 Crispy Parmesan Smashed Brussels Sprouts
We are well into Brussels season and they happen to be one of my favorite vegetables to roast.  This 'Parmesan Smashed Brussels' recipe is not one to overlook. Boyd and I ate the whole pan while I was prepping dinner. We were slightly obsessed and slightly addicted.
They are crispy on the outside and tender on the inside with the perfect caramelized parmesan coating. 
This is one of those dishes that is easy to impress with.
Save and share for your holiday feasts!
EQUIPMENT
Roasting sheet 
oven 
pasta pot 
INGREDIENTS
1 lb brussel sprouts 
1 tbsp olive oil 
1/2 tsp garlic powder
1/3 cup shredded vegan parmesan cheese ( I use this brand!) 
2 tsp Himalayan sea salt (divided) 
MAPLE TAHINI DRESSING (optional ) 
1/3 cup runny tahini
2 tbsp fresh lemon juice
1-2 tbsp maple syrup ( preference)
1/2 tsp fresh ginger, grated
1 garlic clove, grated
½ tsp sea salt
3 tbsp cold water
Preheat oven to 450F. 
Start by rinsing your Brussels sprouts. If any leaves come off just set them aside! 
Bring a pot of water plus 1 tsp sea salt to a boil. Once boiling, add your Brussels sprouts and boil for about 15 minutes. 
You want them tender enough to smash but not fully cooked. 
Once done, drain them in a colander and rinse with very cold water until they have fully cooled down. 
Dry your Brussel as well as you can. This will help them get crispy. 
In a large mixing bowl, add your Brussels, olive oil, garlic powder, shredded parmesan, and the remaining 1 tsp Himalayan sea salt. Mix well. 
Lay them directly onto your baking sheet and carefully smash your Brussels by using the bottom of a glass or plate. 
Spread your sprouts out on the baking sheet in a single layer, making sure they have room to crisp up. 
Feel free to sprinkle a little extra parmesan on top of each one. 
Roast them for about 35 minutes, flipping them over at the halfway mark. 
While your Brussel sprouts roast, prepare your dressing, 
Whisk all dressing ingredients together. Taste and adjust your salt and sweetness! 
Store in a sealed container in the refrigerator.