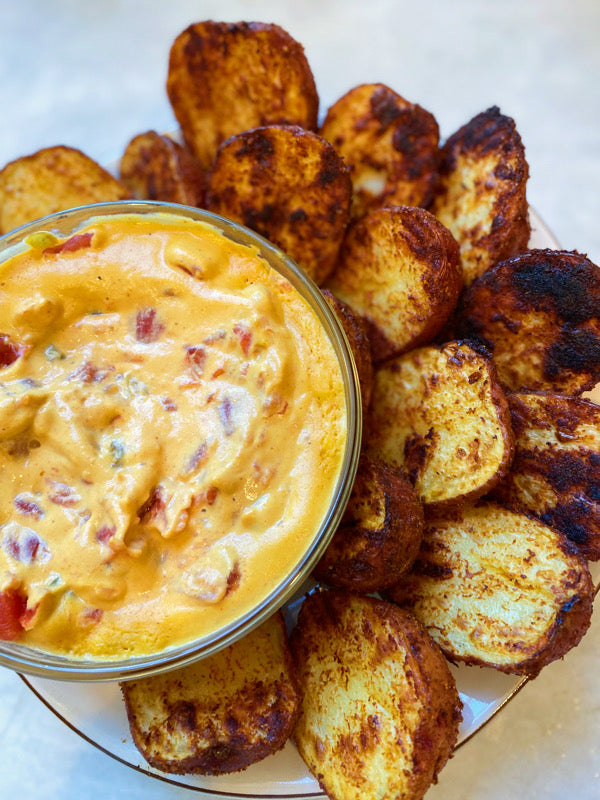 Crispy Potatoes & Nacho Cheese Sauce
Go ahead and file this one under, "recipes that will impress my man & I want to eat too." I get It, those are hard to find! 
Crispy roasted tomatoes paired with a fire nacho cheese sauce  ( that you could also convince him to eat steamed broccoli with-- it's that good ) is all that you need to know. 
The rest is in the details. Quite literally -- details below. 
Equipment Needed
High Speed Blender 
Steamer / Steam Pot  
Oven 
Large baking sheet 
Crispy Potatoes 
1 lb red potatoes
2 tbsp olive oil 
1 tbsp arrowroot starch
1 tbsp smoked paprika 
1 tbsp nutritional yeast
1.5 tsp chili powder 
1 tsp cumin 
1 tsp garlic powder 
1 tsp onion powder 
salt to taste 
Nacho Cheese Sauce  
1.5 cup raw cashews ( soaked for 4-6 hours in chilled water) 
1 large carrot , peeled and quartered 
1/2 large sweet onion or 1 small 
2 cloves garlic ( 3 if like super garlicky) 
3/4 cup unsweetened cashew yogurt ( I used Forager Project, any unsweetened non-dairy yogurt should work) 
2 tbsp ghee or vegan butter (do not sub this, enhances cheesy flavor ) 
1 tsp smoked paprika (extra for sprinkling on top) 
1 tbsp sriracha
2 tsp lemon juice 
1/2 tsp chili powder
3/4 tsp sea salt 
Other:
1 can rotel tomatoes , drained 
Let's start with the potatoes! Rinse and clean them first. Slice the potatoes in half or in quarters, you want to go for evenly sized slices so that the cooking time is consistent throughout! 
Add your potatoes to a large bowl of cold water for one hour or overnight — this really helps them crisp up in the oven! 
Preheat your oven to 425 and line a large baking sheet with parchment paper or coat your sheet with olive oil if you prefer no parchment paper. 
In a small bowl mix your seasonings from arrowroot - onion powder ( do not add the salt. ) 
Rinse your potatoes. Pat them dry with a paper towel and then transfer back into your large bowl
Drizzle your potatoes with your olive oil and then evenly coat with with your seasoning mix — you may not use all of your seasoning mix! Mix well. 
Spread your potatoes onto your baking sheet, ensuring none are touching. 
Bake for 20 minutes.  Remove your pan from the oven and flip the potatoes over with a spatula.  Make sure your potatoes are still spaced out , and then bake for 10-15 minutes, or until the potatoes are fork tender and have begun to caramelize a bit around the edges.
Remove your potatoes from oven when ready and sprinkle them with sea salt . Allow to slightly cool on a cooling rack so your potatoes continue to crisp up. 
While your potatoes cook , prepare your cheese sauce. 
Drain your soaked cashews and add them into a high speed blender.
Into your steam pot, add your carrot, onion, and garlic and steam until carrot and onion are fork tender.

Once steamed through add the steamed mix to blender with cashews. Add your cashew yogurt, water, lemon, ghee/ vegan butter and all spices into blender. Blend until smooth and creamy! Taste and adjust your seasonings...more salt, paprika, chili powder, etc. .

After draining your rotel tomatoes, pulse them into your cheese sauce ( do not fully blend ).

The sauce will thicken in the fridge. You can warm on the stove ( adding a little water if need be) and serve with your crispy potatoes
Store in a sealed container in refrigerator.