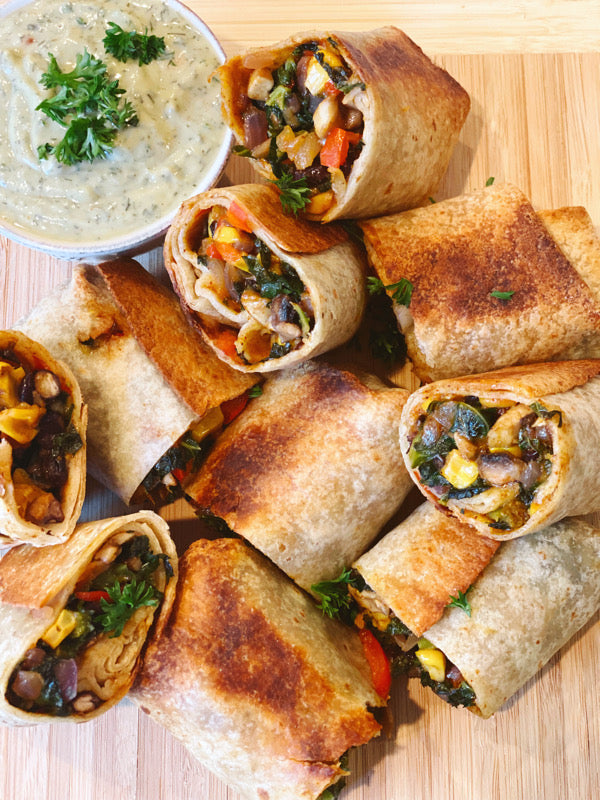 Crispy Southwest Spring Rolls
It's that time of year again. A time when appetizers reign supreme and entrees take a side seat – Super Bowl week. 
 I know fried and greasy food will be a part of your appetizer menu so I wanted to create something that could stand up next to the greasiest and hold its own, in flavor and appearance. 
These little crispy spring rolls deserve a spot at the table! They are light, crispy, buttery, golden, and filled with a chili veggie stir fry that will leave you feeling just right. 
Did I mention there is an avocado spicy ranch dipping sauce? If not, guys, there is an avocado spicy ranch dipping sauce. 
*This recipe was inspired by the appetizer goddess herself, Liz Moody!*
Equipment: 
Food Processor or Blender 
Oven 
Large baking sheet 
Large skillet  
Ingredients
Spring Rolls 
8, 9" tortillas 
olive oil for cooking 
1 red onion, diced
1 red bell pepper, diced
1 8 oz. mushroom, diced 
1 cup black beans, rinsed
1 cup corn, rinsed 
2 cups kale, shredded  
1 tsp cumin 
1 tsp chili powder 
1 tsp garlic powder
1 tsp onion powder
1/2 tsp smoked paprika
1/2 tsp sea salt 
1/2 cup vegan shredded mozzarella or any cheese of choice 
Ghee / vegan butter/ or olive oil for browning tortillas
Spicy Avocado Ranch 
1 ripe avocado 
1 1/4 cup cashew yogurt 
1/2 cup fresh parsley ( optional ) 
1 clove garlic, minced 
1 tbsp dried dill
1 tbsp dried chives
1 tbsp lemon juice 
2 tsp rice vinegar 
2 tsp sriracha
1 tsp raw honey
1 tsp onion powder
1 tsp garlic powder
3/4 tsp sea salt 
To make the dressing:
Blend all ingredients in a high-speed blender or food processor. Blend until smooth and creamy. Taste and adjust seasonings to preference – more salt, lemon, sriracha, etc. 
To make spring rolls: 
Preheat the oven to 400F and line a large baking sheet with parchment paper. 

In a large saute pan, warm a dash of olive oil over medium heat. 

Saute your onions and red pepper until slightly cooked down, about 5 minutes. 

Add in your mushrooms and saute for a few more minutes. 

Now add in your black beans, corn, shredded kale, and spices. Cook down for about 8 minutes more.

Turn off the burner and stir in your vegan cheese or cheese of choice. Taste your mix and adjust salt based on preference. 

Warm each tortilla individually by placing it in the oven for 30 seconds. This will make it easier to roll. 

Lay your tortilla on a flat surface and fill with roughly ⅓ cup filling. 
Roll your tortilla like a burrito. Place it on your parchment-lined baking sheet with the open seam down so your spring roll stays nice and tight. 

Repeat with each tortilla. 

Now brush the top of each tortilla with vegan butter/ ghee/ or olive oil. This is optional but will help the tortilla crisp up. 

Bake for 15 minutes or until the tops are golden brown. Flip and cook for an additional 7-8 minutes or until golden brown. 

Remove from the oven, allow to slightly cool, slice and serve.