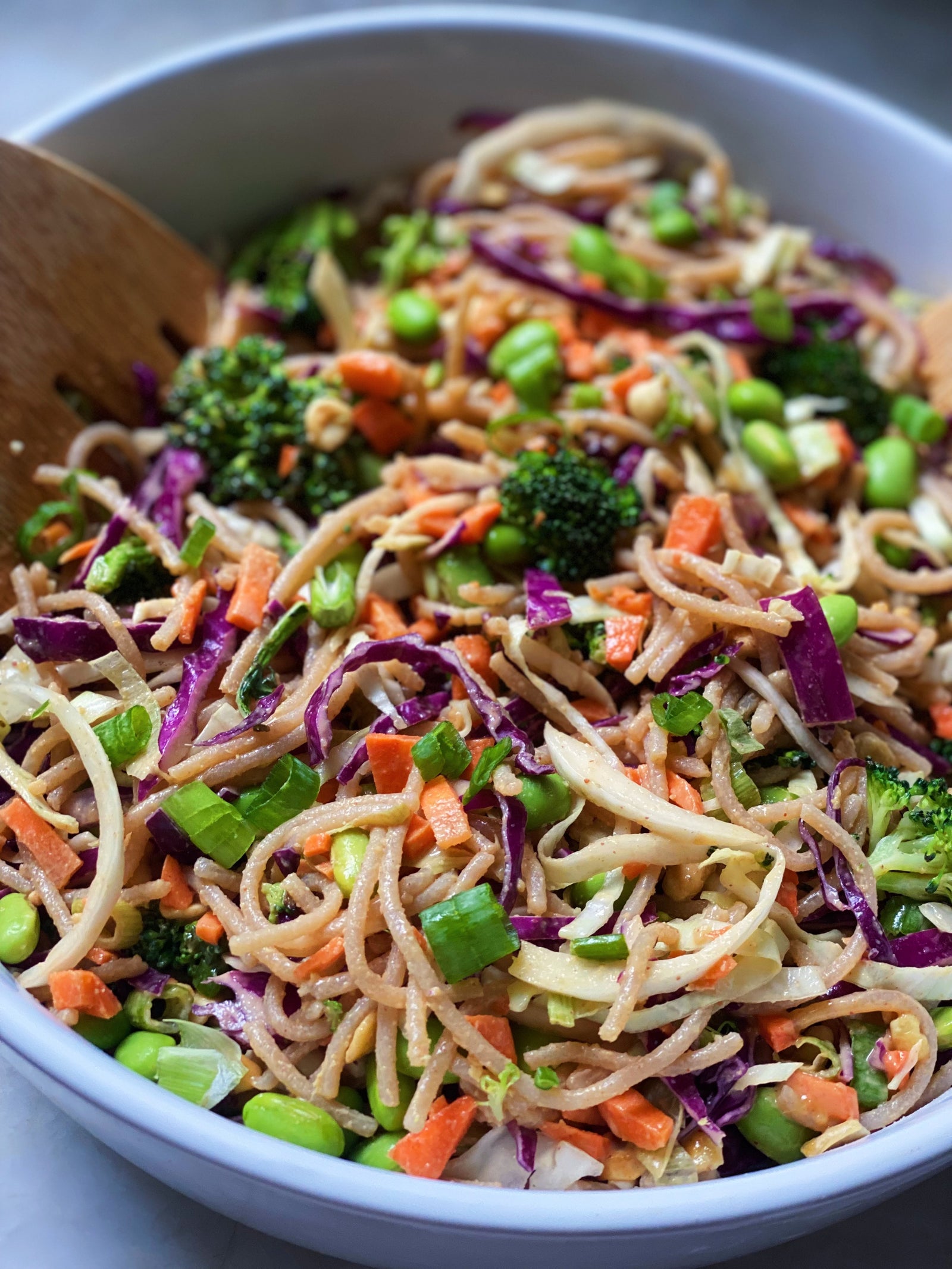 Crunchy Edamame Noodle Bowl
Noodle bowls are turning into my preferred love language. 

This 'Crunchy Edamame Noodle Bowl' is a really delicious spin off the kale salad I posted a few weeks back! We love a carb around here. 
Boyd typically entertains a salad at dinner and usually moves on quick, but throw in some warm noodles and the man is asking for seconds.

Serve this baby hot or cold and customize to your liking!
NOODLE BOWL 
1 box pasta of choice, boiled to package instruction
1/2 red cabbage, sliced very thin
1/2 green cabbage, sliced very thin 
1 large carrot, peeled and diced
1 cup edamame beans 
1 head broccoli, chopped into florets, lightly sautéed or raw if preferred 
1/2 cup green onions, sliced 
optional topping: 1/2 cup peanuts or cashews, chopped 
DRESSING
1/4 cup creamy peanut butter
1 tbsp toasted sesame oil 
1 tbsp rice vinegar
1 tbsp lime juice 
2 tbsp raw honey
1 tbsp low sodium tamari
1 tsp ginger, grated 
1 garlic clove, grated 
1 tsp sriracha
1/4 tsp sea salt ( to start ) 
water to thin 
Whisk together all dressing ingredients into a large mixing bowl. Taste and adjust salt/lime/rice vinegar. 
On top of your dressing add in your boiled noodles and all remaining salad ingredients ( sliced cabbage, carrots, edamame, sautéed broccoli, and green onions . ) 
Mix your noodle bowl with salad tongs until everything is evenly coated. Taste and add any more salt or lime necessary. 
Top with chopped cashews or peanuts
Allow noodle bowl to marinate for 30 minutes before serving. Serve hot or cold!