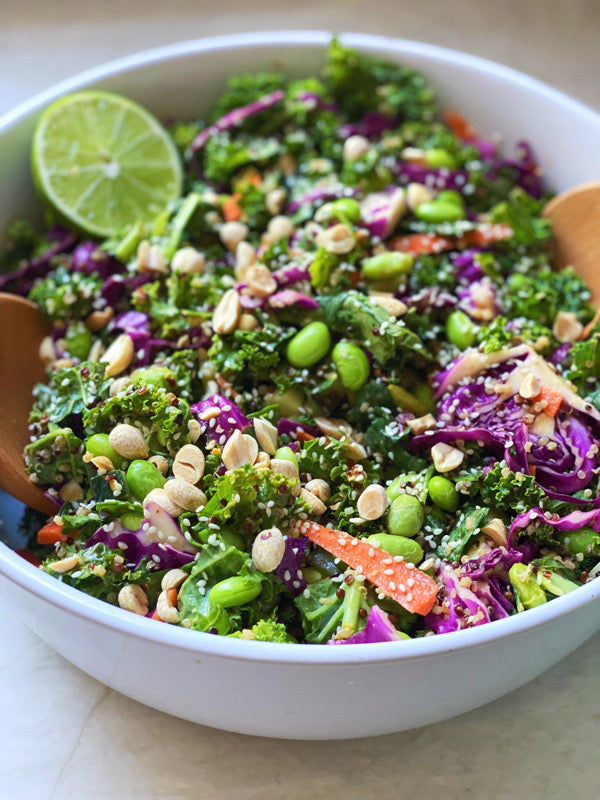 A week of vacation and these warm temps has my body craving all things green, light, and crisp. This salad delivers on texture and flavor and is the perfect hydrating combo to help combat all those cocktails I had last week. No regrets.
 ...
Go ahead and file this one under "weeknight dinner rotation." It's super simple, incredibly tasty and can be modified for any type of eater you have living in your household! 
...
Serves: 5 large servings 
Crunchy Edamame Salad 
6 cups greens ( I used shredded kale & chopped spinach 
2 cups red cabbage, shredded 
1 cup cooked quinoa 
1 cup shelled edamame 
1 large cucumber, chopped
1 large carrot, sliced or chopped 
1 cup parsley or cilantro , chopped 
1/2 cup peanuts, rough chopped
1/4 cup sesame seeds 
optional: green or red onion 
Dressing
1/4 cup creamy peanut butter
1 tbsp toasted sesame oil 
1 tbsp rice vinegar
1 tbsp lime juice 
2 tbsp raw honey
1 tbsp low sodium tamari
1 tsp ginger, grated 
1 garlic clove, grated 
1 tsp sriracha
1 tsp red pepper flakes ( optional ) 
1/4 tsp sea salt ( to start ) 
Add all dressing ingredients into a small mixing bowl. Whisk until all combined. Taste and adjust salt /sweetness/ acidity. Set aside. 
Add all salad ingredients into a large mixing bowl. Add desired amount of dressing and work into the salad with your hands or salad tongs. Allow dressing to marinate on salad for twenty minutes prior to serving. Salt to taste. 
Serve with lime wedges!