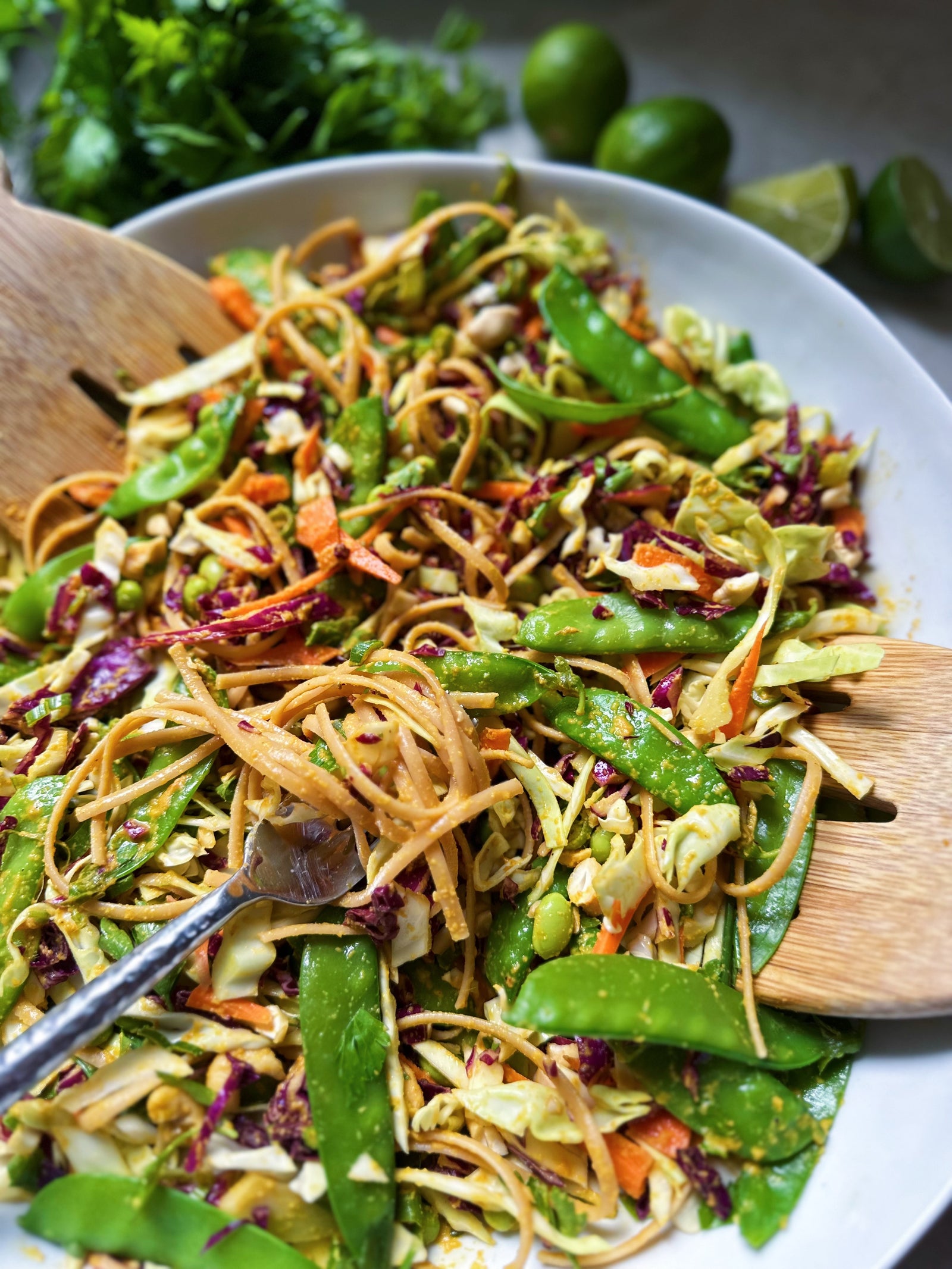 Spring Roll Noodle Bowl w/ Carrot Ginger Peanut Dressing
A rainbow spring roll... but let's deconstruct it!  We swapped out the rice paper for rice noodles ( sub any noodle here)  but kept all the fresh and vibrant flavors of the crunchy vegetables. 
This 'Carrot Ginger Peanut Dressing' is about to blow your mind and can be made by throwing all ingredients into a blender. 
Dinner in 10 minutes? This one is for you! 
Equipment 
Blender
Steamer ( optional ) 
Serves 4+ 
Spring Roll Bowl
1 package, pasta of choice cooked to package instruction— you can use a rice noodle here or a chickpea spaghetti like I used
1/2 red cabbage, shredded or finely chopped
1/2 green cabbage, shredded or finely chopped
1.5 cups snap peas, lightly steamed or raw 
2 large carrots, peeled & thinly sliced or shredded 
1/2 cup cooked edamame 
1/2 cup green onion, thinly sliced 
1/2 cup raw cashews, roughly chopped ( add at the end so they stay crunchy!) 
Carrot Ginger Peanut Dressing
3 large carrots, peeled and chopped 
5 tbsp peanut butter, unsweetened & unsalted 
1/4 cup chopped onion 
1/4 cup rice vinegar 
3 tbsp fresh lime juice 
3 tbsp neutral oil ( I used avocado oil ) 
3 tbsp low sodium Tamari 
3 tbsp maple syrup 
1 tbsp, peeled and chopped ginger 
1 tsp peeled and chopped turmeric 
1 tsp toasted sesame oil 
1/2 tsp sea salt 
Pinch ground pepper 
Directions 
Add all salad vegetable ingredients into a large bowl. Add your personal desired amount of pasta or skip the pasta completely. 
In a high-speed blender, blend all dressing ingredients until smooth and creamy. Taste and adjust sweetness with maple syrup and tanginess with more lime juice or rice vinegar.
Add desired amount of dressing and toss salad. Add your cashews and lightly toss. Taste and adjust — add any salt / pepper to taste!