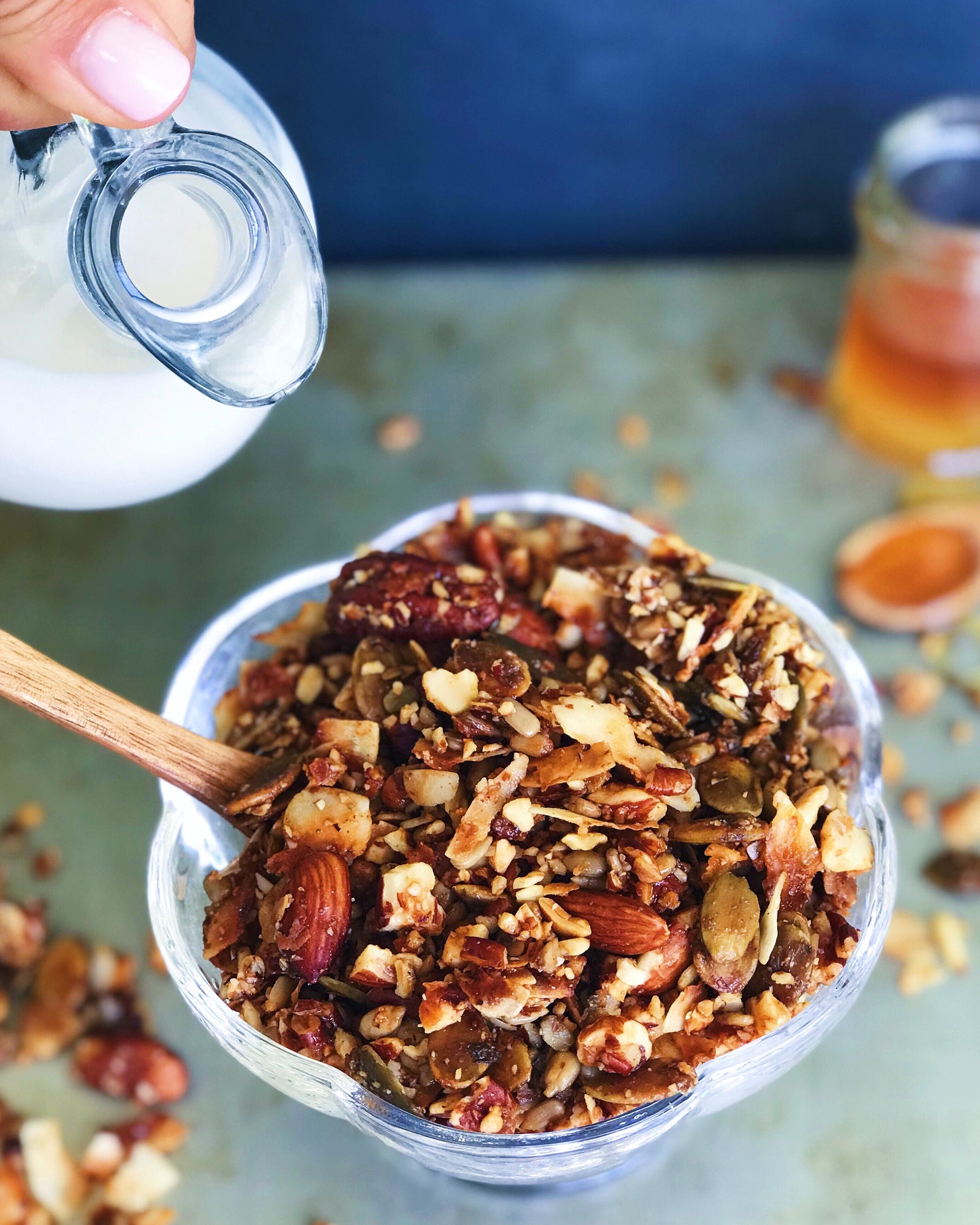 The only name that seemed right.

I have a confession...I have a longstanding obsession with granola. Always have. I would choose a good granola over (most) cookies or cakes or muffins--unless they have a granola crumble topping which in that case I would be at a tragic fork in the road. Something about the sweet, salty, crunchy, honey kissed clusters that have forever sent my tastebuds into a happy dance.

Whats my new obsession? This grain free 7 ingredient granola. . I would suggest baking this granola (if you choose the slow cook method) during a Sunday cleaning or movie watching session or whenever you have some time at home. It took me 5 minutes to assemble and then I threw It in the oven and didn't think about It until the timer went off. However if you don't care to wait, the quick method should produce yummy results!

Either way, get ready for your happy dance.

I n g r e d i e n t s 

1 cup raw almonds, rough chopped by hand or blender

1 cup pecans, rough chopped by hand or blender

1/2 cup pumpkin seeds
1/2 cup raw sunflower seeds

1 cup coconut shavings

3 tbsp coconut oil, melted

1/4 cup raw honey, melted

1.5 tsp vanilla extract

1/4 tsp sea salt.
D i r e c t i o n s:
Preheat your oven to 225F. Line a large baking sheet with parchment paper. In a large bowl add all of your nuts and seeds + salt + coconut. Mix well. Add your honey, vanilla, & coconut oil. Thoroughly mix. Spread granola mix onto your parchment paper making sure not to overcrowd the pan. After about 45 minutes, mix around the pan with a spatula. Cook for another 45+ minutes or until coconut shreds and nuts have a slight golden brown color.   Allow to completely cool.

Total bake time: 1.5 - 2 hours. All ovens are calibrated differently so cook time will vary! 


Enjoy!