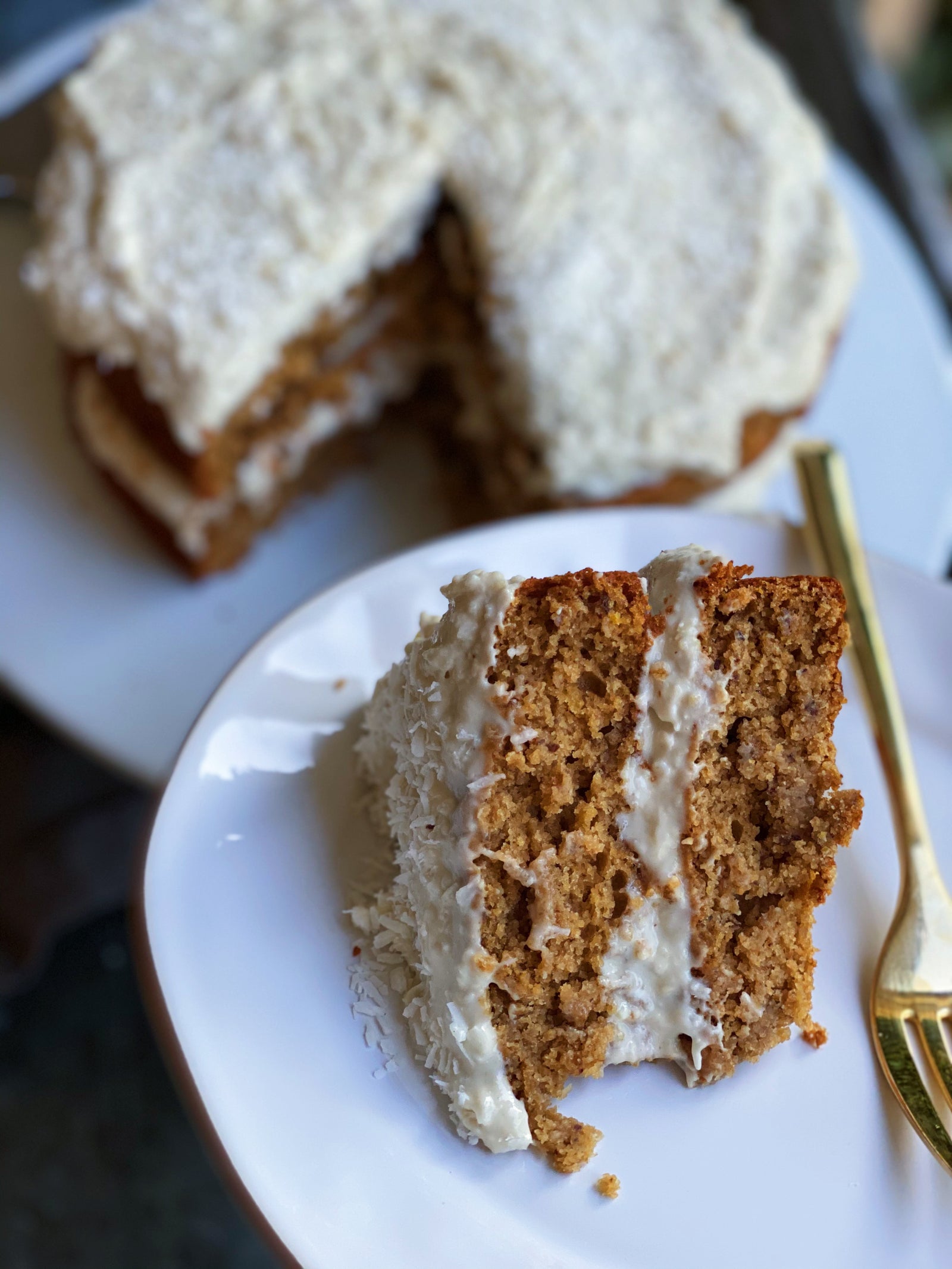 Double Layer Coconut Cake
Cake, cake, cake. Do you have a favorite?.
Fun fact- I have never been a cake girl, always opted for ice cream at my birthday parties instead of the typical birthday cake. Often too sweet, too dry, or too loaded with icing for me..... BUT you put the word coconut in front of cake, well that's something I cant deny. 
Moist.
Golden. 
Perfectly Sweet.
Fluffy icing. 
& SO much flavor. 
Shes a coconut masterpiece! Cant wait to see what celebrations you choose to make It for ! 
ICING 
I n g r e d i e n t s 
**Note: This icing needs 3 hours to set. Make ahead of time. 
2 cups cashews ( soaked overnight )
1 can full fat coconut milk ( refrigerated for AT LEAST 24 hours)
1/3 cup liquid remaining from coconut milk can after scooping out "cream" 
2 tbsp lemon juice ( fresh squeezed)
2 tbsp maple syrup
1.5 tsp coconut extract
1.5 tsp vanilla extract 
1/4 tsp sea salt
1/2 cup desiccated coconut 
D i r e c t i o n s
Drain and rinse your soaked cashews. Add cashews to blender. Turn over your coconut milk can and open from the bottom. Pour into a measuring cup 1/2 cup of the liquid, and add into blender. Either discard the rest or freeze into ice cube trays for smoothies. Scoop out all remainder coconut cream and add into blender. Add your lemon juice. Maple syrup, coconut and vanilla extract, and sea salt. Blend on high for a few minutes — should be extremely thick and creamy. It will continue to thicken in fridge! Now pulse in your 1/2 cup coconut a few times. Transfer icing to a large container, seal, and allow to set in fridge for at least 4 hours. 
COCONUT CAKE
I n g r e d i e n t s
WET
2 flax eggs ( mix 2 tbsp flax meal + 4 tbsp water)
1.5 cup full fat coconut milk from can ( blended together before measuring)
1/2 cup unsweetened applesauce
1/4 cup raw honey
2 tbsp maple syrup
1.5 tbsp lemon juice
1 tsp lemon zest
1.5 tsp vanilla extract
2 tsp coconut extract ( do not leave out ) 
DRY
2 cups oat flour
3/4 cup brown rice flour
1 cup dessicated coconut ( blended into a flour)
1/2 cup + 3 tbsp coconut sugar
2 tsp baking powder
1 tsp baking soda
1/2 tsp sea salt
Optional: Extra coconut for topping cake
Be sure icing is made ahead of time so It can set in fridge!
D i r e c t i o n s 
Preheat oven to 350F. You will need two cake pans for this recipe. Cut 4 thick pieces of parchment paper strips to lay into your cake pans like a cross ( you will use 2 strips per cake pan). Make sure the ends poke out far enough so that you can use them as tabs to pull out cakes once cooled. Now , with strips placed, grease (with avocado or coconut oil spray ) your two cake pans, pressing down the strips with your fingers so they stay set, and set aside.
Prepare your flax eggs in a small bowl and allow to set.
Blend your shredded coconut into a high speed blender so that It becomes a flour. Add the coconut and the rest of your dry ingredients into a mixing bowl and stir until all combined.
Blend your can of coconut milk to make sure all is cohesive and measure out your 1.5 cup. Add to a large mixing bowl. Add your applesauce, honey, maple syrup, zest, ( NOT JUICE YET) , vanilla and coconut extract. After about 10 minutes of "setting" add your flax eggs into other wet ingredients and whisk until all combined.
Add your dry ingredients into your wet and mix. Now mix in your lemon juice and fold into batter.
Add half of your batter into each cake pan ( divide evenly) and place in oven. Allow each to cook for 28-30 minutes or until tops are golden brown and sides have slightly pulled away from edge of cake pan.
This is important— cakes must cool COMPLETELY before you take out of the cake pan — they need time to set. Once cakes are cooled, allow them to chill in refrigerator for at least 30 minutes.
Once they are completely cooled and icing is set , have ready what you will be serving your cake on!. Carefully remove cake # 1 from its pan, slowly, using your tabs, to ensure no cracking. Place cake on stand or serve tray. Layer a thick layer of your icing on top of cake #1. I added some extra shredded coconut to this layer, but optional!
Repeat these steps with cake #2, carefully placing It right on top of cake #1 and layer of icing. Layer the top of cake # 2 with icing and extra coconut! If you have enough icing , icing the sides of your cakes too! Place back in fridge for 30 minutes, and It will be ready to slice and serve!