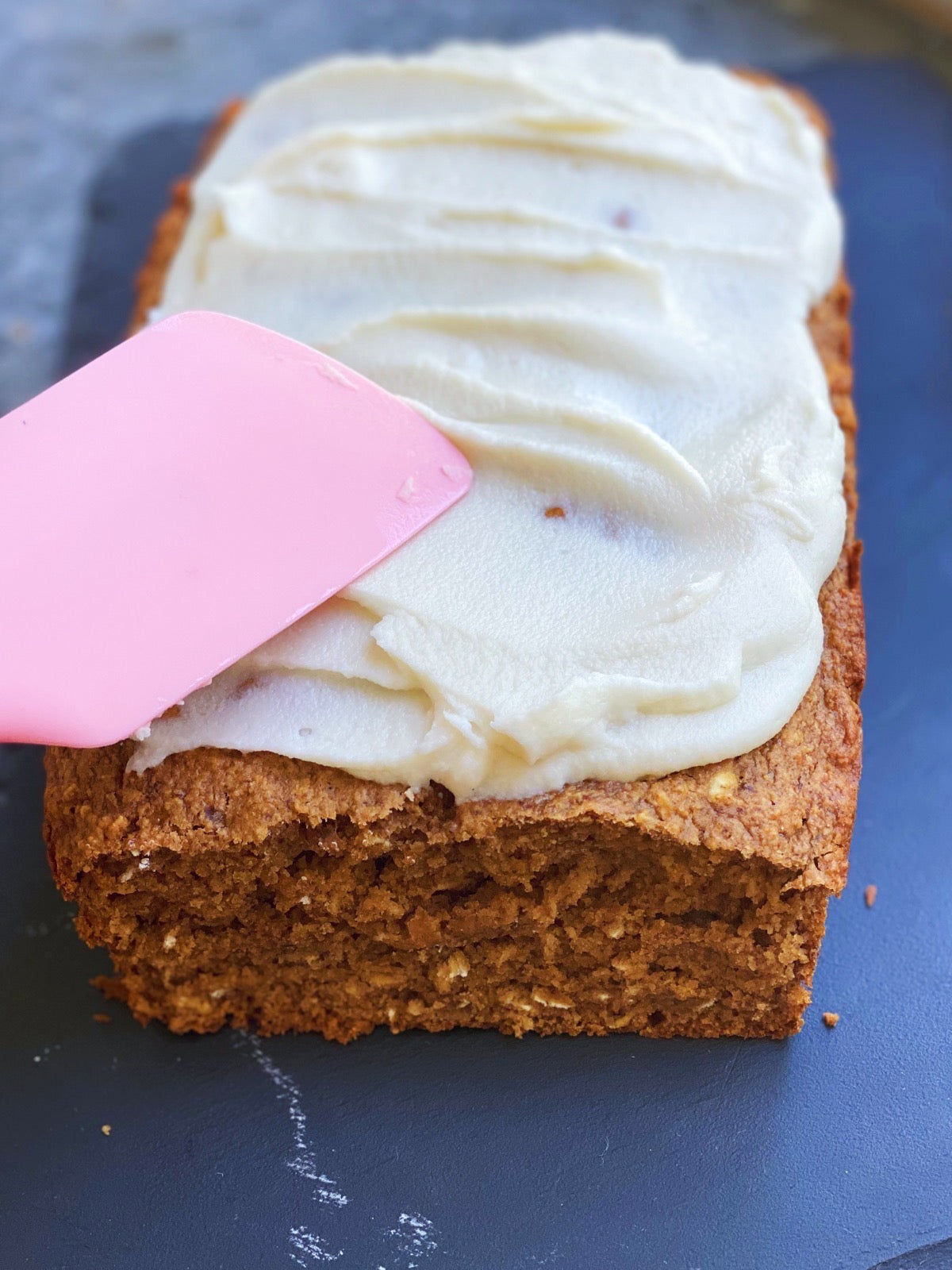 Just feeling like everyone needs a little taste of happiness on this Wednesday... and my new Fall Spice Banana Bread should do the trick. I polished this baby off in less than 48 hours, and I'm ready for round two. 
Cooler temps, fall flavors,  I'm ready for ya! Ps. The coconut butter icing is certainly optional , but also not really. 
Ingredients
DRY
2 cups gluten free oat flour
1/2 cup gluten free oats
2 tsp baking powder 
1 tsp baking soda
1 tsp cinnamon 
1/2 tsp sea salt 
1/2 tsp ground cloves 
1/8 tsp all spice
WET
2 flax eggs ( 2 tbsp flax meal + 4 tbsp water , mixed ) 
2 large brown spotty bananas 
1/2 cup unsweetened applesauce 
1/2 cup coconut sugar
1/3 cup nut butter
3 tbsp maple syrup 
1 tbsp melted coconut oil 
1.5 tsp vanilla extract 
2 tsp apple cider vinegar
Coconut Butter Icing 
1/2 cup coconut butter 
1/4 cup ( + )  nut milk 
Directions
Preheat your oven to 350 F. Line a loaf pan with parchment paper.
Prepare your flax eggs in a small bowl. Set aside.
In a large bowl add all dry ingredients, mix well. 
In a separate bowl, mash your bananas, whisk or stir in all other wet ingredients EXCEPT apple cider vinegar. Stir in your flax eggs.   
Fold your dry ingredients into your wet. Add your apple cider vinegar in last and stir well. 
Pour batter into your loaf pan and bake for 30-35 minutes or until cooked through. 
Allow to completely cool while making your icing. 
In a small saute pan add your coconut butter over low heat. Once the butter gets a tad warm add your nut milk. Work the nut milk into the coconut butter with a bakers spatula / or spoon. As It starts to warm through and as you continue to stir, the mixture will begin to look more like icing. Keep adding dashes of milk as your whisk to reach the icing consistency you prefer! 
Once bread is completely cool, add your icing. Place in fridge for 15 minutes to harden! Store leftovers in refrigerator.