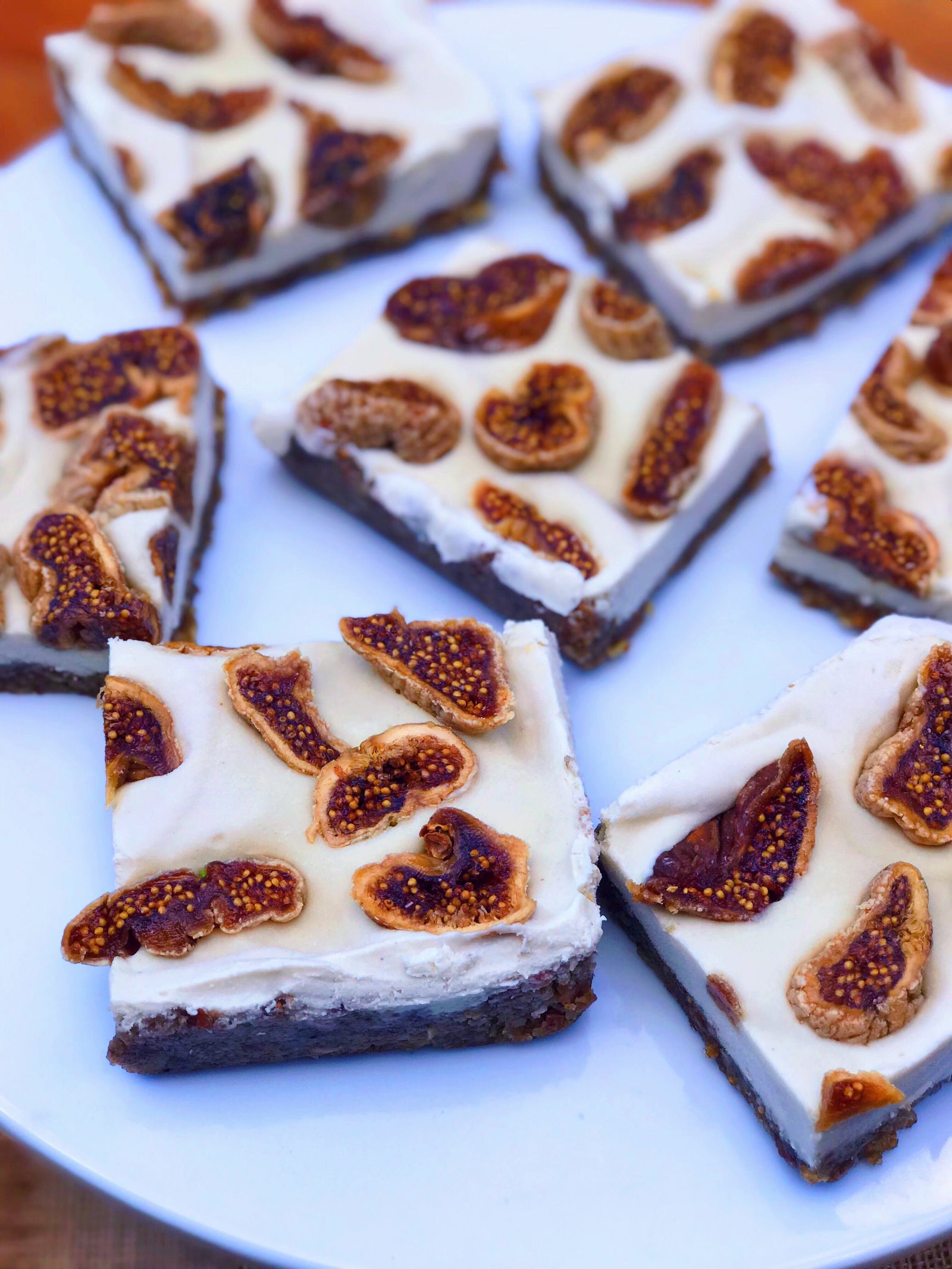 FIG & SEA SALT CHEESECAKE BARS

I love figs & I love cheesecake. That was about the extent to which I debated over the creation of this decadent dessert.

Make these with caution because their creamy texture, salty/sweet combo, & granola-like crust will have you reaching for seconds, well lets say thirds to be safe.
Did I mention no-bake? Did I mention oil-free + dairy-free + gluten free? Well now you know. 

Hump day always needs to end with something sweet. Get to It! 
I n g r e d i e n t s 
CRUST
1 1/3 cup walnut
1 1/3 cup pecans
5 medjool dates ( you can use figs here too)
5 dried smyrna figs (soaked in hot water for 10 minutes)
1/2 tsp salt
1/2 tsp vanilla extract.

FILLING
1 3/4 cup cashews ( soaked minimum 4 hours)
2/3 cup + a tbsp full fat coconut milk
3-4 tbsp lemon juice (tangy preference)
2 tsp vanilla
1/3 cup desiccated coconut
1/4 cup honey or maple syrup
1/2 tsp sea salt.
D i r e c t i o n s 
Line a 8X8 baking dish with parchment paper. Grind your nuts in a food processor until they are crumbly. Drain your figs + dates (depitted) and add in. Add all other crust ingredients. Process until a sticky crumble forms. If you need a little stickier add a teaspoon hot water. .
Using your hands press crumble into baking dish, molding with your hands so that It forms a crust. I like to pinch the crust up slightly on the sides. Place in freezer.

In your blender or food processor add in all filling ingredients. Blend until NO clumps and mix is super thick and creamy! You might have to scrape down the sides a few times. Taste and adjust flavorings!

Remove crust from freezer and pour on your filling, smoothing out with a knife or spoon. Add your sliced figs to top. Cover with saran wrap and freeze for a minimum of 4 hours. Allow to thaw for 5 minutes before slicing! Store in freezer in an airtight container.