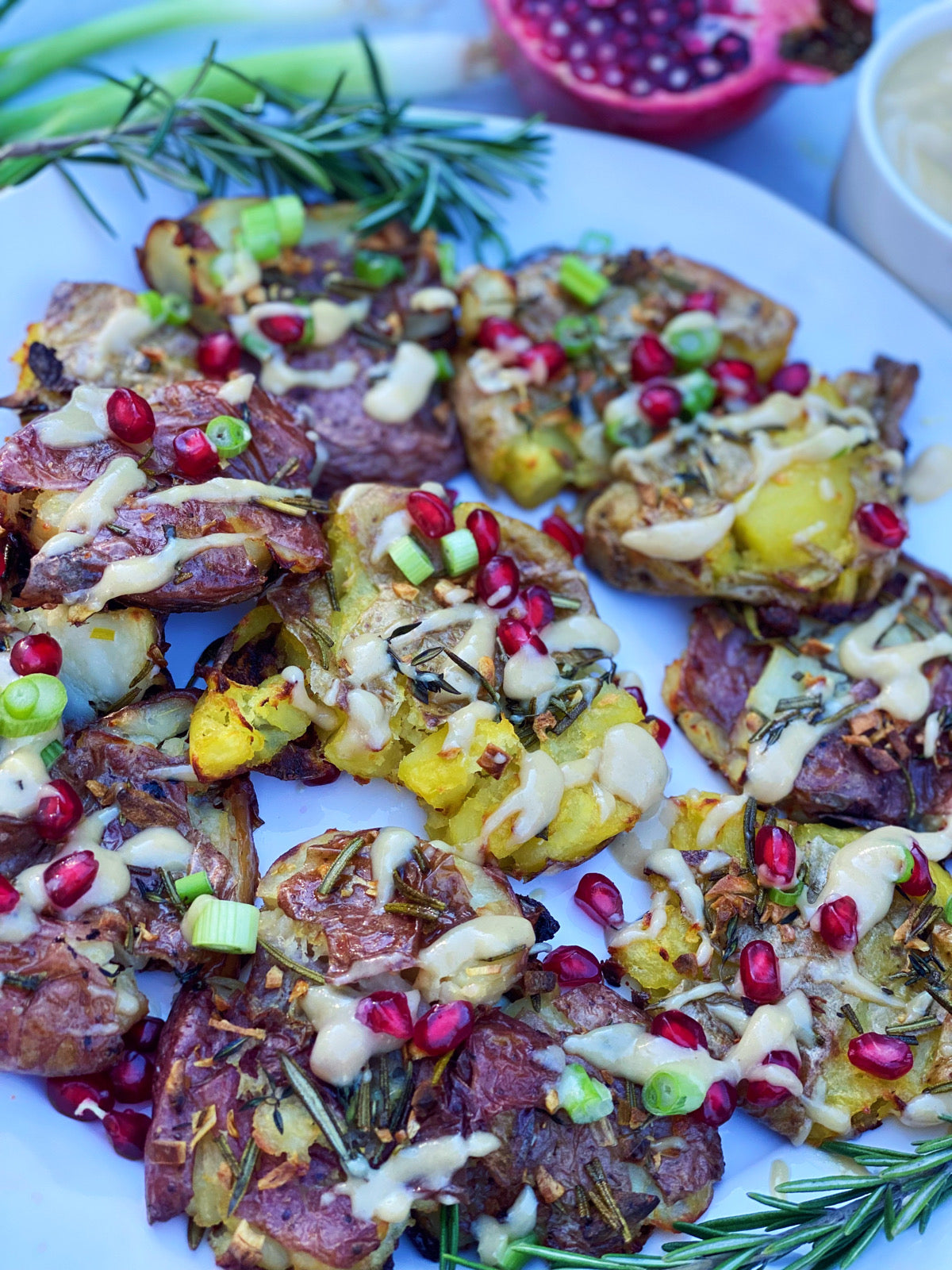 Garlic Parm Crispy Potatoes + Maple Tahini Dipping Sauce
Since it's been a solid 36 hours post Halloween festivities, I think it's time to dive into the important things in life -- like Thanksgiving menu. 
After last year's many cancelled events, I'm hoping you get to bring family back to your table with new perspective and maybe some new and improved dishes? I'm all about the traditional holiday spread -- but nothing wrong with spicing things up too--pun intended. 
Toss out the old baked potato bar and add these crispy guys to your menu! These are doused in olive oil, garlic, fresh rosemary, fresh thyme, sea salt and then crisped up to golden perfection in the oven. Making them the perfect and EASY side dish for any meal. 
Yall know I like a dipping situation, and these fall right into that category -- this maple tahini sauce takes these potatoes to a whole new level. But I wont judge if you opt for ketchup , or both. Sauce game strong. 
I hope you enjoy these!  
Maple Tahini Dipping Sauce
½ cup runny tahini
2 tbsp fresh lemon juice
2 tbsp maple syrup
1/2 tsp grated fresh ginger
1 garlic clove, minced
½ tsp sea salt
1/4 cup cold water
Directions
Whisk your runny tahini and maple syrup in a bowl. Add your lemon juice , garlic, and ginger, and whisk. Your tahini will start to seize up – so start by adding 1/4 cup cold water and vigorously whisk in.  Keep adding 1 tbsp water until you reach the thinness you want. Taste and adjust salt, maple syrup or lemon.
 Crispy Potatoes
12 mini red or mini golden/yellow potatoes
1 tbsp Himalayan sea salt
1/4 cup olive oil
4 garlic cloves, minced
1.5 tbsp fresh rosemary , rough chopped
3 sprigs thyme, stripped
1/2 tsp Himalayan sea salt
Few pinches pepper
Toppings:
Optional: shredded vegan parmesan ( I use this vegan brand!)
Green onions
Pomegranate seeds
Directions
Preheat your oven to 450F and line an extra large baking sheet with parchment paper.
Add your whole potatoes to a large pot or Dutch oven and cover potatoes with cold water and 1 tbsp sea salt. Bring your potatoes to a boil.
Once water reaches a boiling point, reduce heat to a simmer and allow potatoes to soften for 15-25 minutes. Drain your potatoes when you can easily pierce with a fork. You want them smashable but not too soft!  *Cooking time here will vary based on the size of your potatoes so continue checking every few minutes.
While you are boiling your potatoes prepare your olive oil mix.
Whisk together your olive oil, minced garlic, fresh rosemary , fresh thyme, sea salt and pepper.
Once your potatoes are done , drain them in a colander and pat off any excess water.
Spread out your potatoes onto your baking sheet, you do not want any close to touching — this will help them crisp up.
Use the bottom of a drinking cup or measuring cup and *slowly* mash each potato into the baking sheet — being very careful , they can easily fall apart! You are looking for about 1/2 " thickness!
Using an oil brush or a spoon, evenly distribute your olive oil marinade onto each potato, covering the entire surface of the potato ( again, this helps to achieve crispiness.)
Roast your potatoes for 20-22 minutes or until they have crisped up.
Remove the potatoes from oven and top with shredded parmesan if using.
To serve drizzle on your tahini sauce , green onions, and pomegranate seeds.
These are best when fresh out of the oven but can be saved ( without sauce or toppings ) for up to 3 days in a sealed container in the refrigerator.