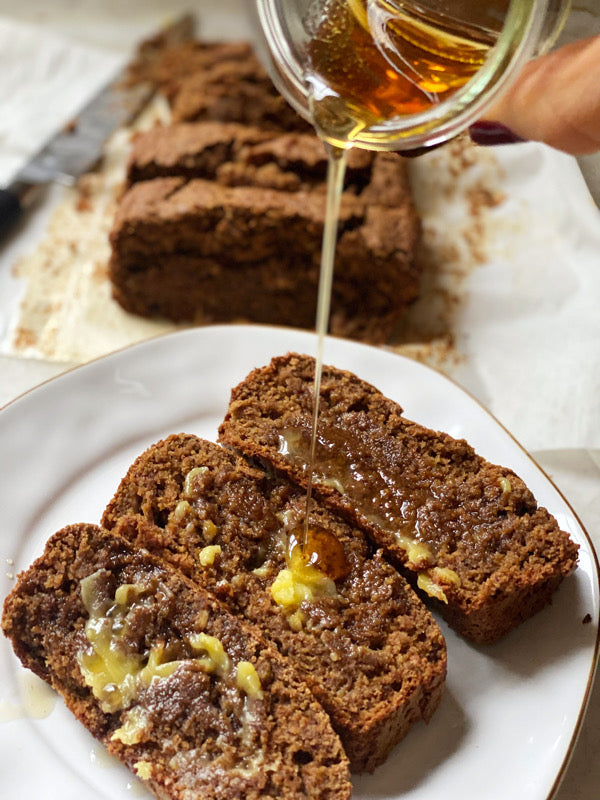 When gingerbread + banana bread collide, something really delicious happens. In reality, this bread happens and it is all things a holiday bread should be. 
Golden
Moist
Decadent
Subtly sweet 
A warming ginger spice mix and blackstrap molasses help to hide any banana flavor, so the bananas really are just the moistening agent in this bread. 
Serve with coffee or enjoy as an after-dinner treat. You will come back to this one in all seasons! 
Equipment
brean pan
oven 
parchment paper 
mixing bowls 
Serves 8
Gingerbread Loaf 
Wet 
1 flax egg ( 1 tbsp flax meal + 2 tbsp water) 
2 medium bananas (about 1 cup mashed) 
1/3 cup coconut sugar 
1/4 cup nut milk
1/4 cup maple syrup 
3 tbsp unsweetened cashew yogurt 
2.5 tbsp blackstrap molasses 
2 tsp vanilla extract 
2 tsp lemon juice 
Dry 
1.5 cup oat flour 
1/2 cup almond flour 
2 tbsp arrowroot powder 
1.5 tsp baking powder 
1/2 tsp baking soda 
1/2 tsp Himalayan sea salt ( less if using table salt ) 
Gingerbread Spice Mix  
1 1/2 tsp ground ginger
1 tsp ground cinnamon
1/8 tsp nutmeg
1/8 tsp cloves
Make the Cake: 
Preheat your oven to 350F. Line a cake pan with parchment paper. 
In a large mixing bowl mix your flax and water together. Stir and let It coagulate for a few minutes. 
Once your flax egg has coagulated, mash in your bananas with the back of a fork until no clumps remain. Add all other wet ingredients *EXCEPT LEMON* into the bowl and whisk well. 
In a separate large bowl, whisk all dry ingredients. 
Slowly add your dry ingredients into your wet, mixing as you pour. Next, stir in your lemon. 
Pour your batter into your loaf pan and bake for 45-50 minutes, or until the top of your loaf is golden brown and a toothpick comes out clean. 
Allow your bread to cool completely before slicing.