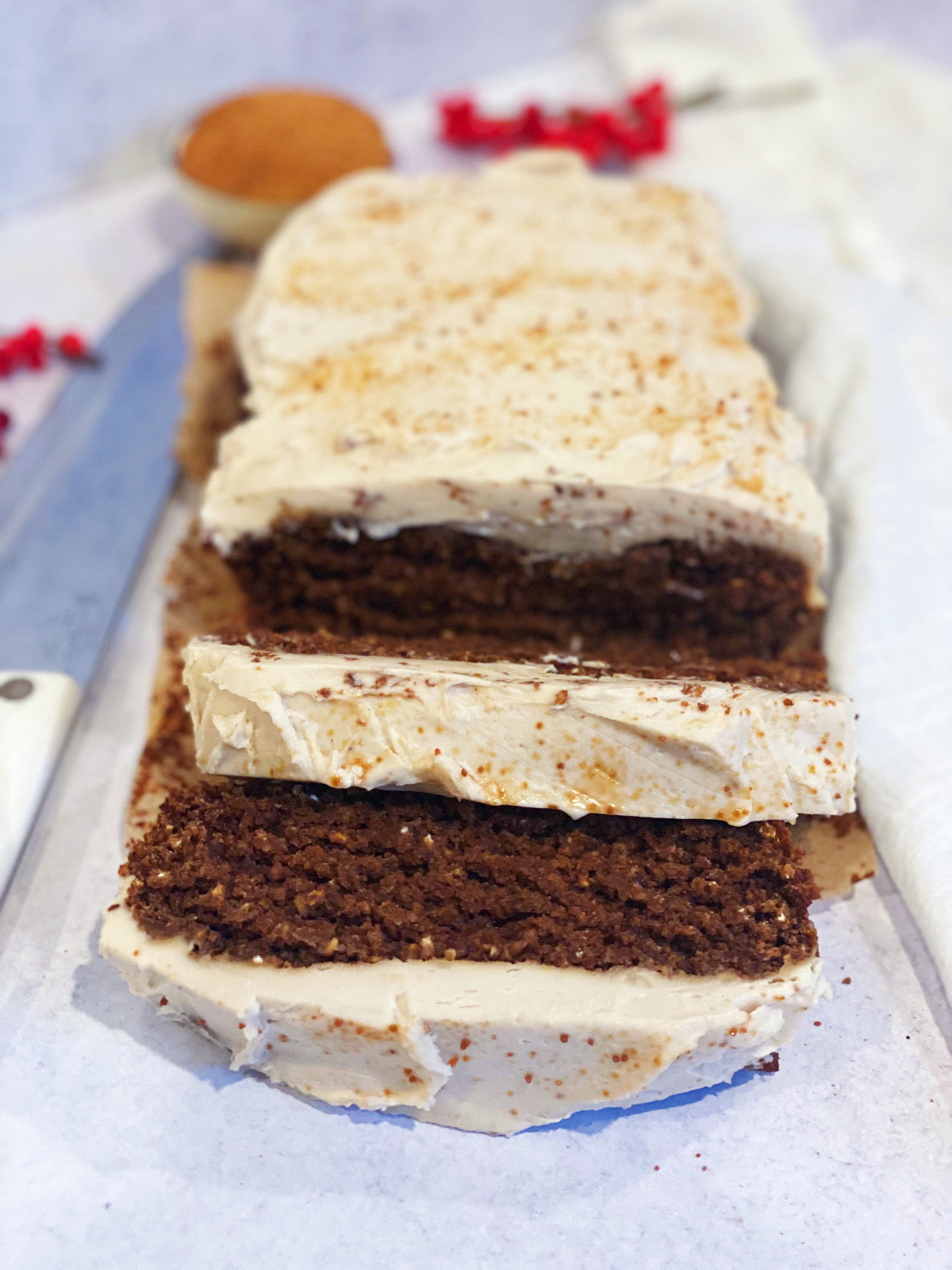 Tis the season for all the gingerbread things, and you won't hear one complaint out of me!
I'm going to be honest, this loaf is a wow recipe. From the gooey middle, to the thick whipped icing, to the nostalgic aroma of gingerbread goodness baking in the oven. Im telling ya, bring her to a party and listen for the "mmmm's."
This would make the perfect neighbor or coworker gift! Happy Baking!
Ingredients
2 flax eggs (2 tbsp flax meal + 4 tbsp water)
1.5 cups gf oat flour
½ cup cassava flour
1/3 cup coconut sugar
1 1/2 tsp ground ginger
1 tsp ground cinnamon
1/2 tsp cardamom
1/4 tsp nutmeg
¼ tsp cloves
2 tsp baking powder
1 tsp baking soda
½ tsp sea salt
1/3 cup cashew yogurt
1/3 cup molasses
1/3 cup unsweetened applesauce, room temperature
3 tbsp maple syrup
1 tsp vanilla extract
Maple Cashew cream frosting
1 cup raw cashews, soaked in chilled water
½ cup coconut cream, yielded from a full fat coconut milk can that has been refrigerated overnight or 24 hours.
¼ cup maple syrup
½ tsp vanilla
Pinch sea salt
Directions:
Tip: Prep your icing first, so It has time to set in the fridge while your loaf bakes! 
Preheat oven to 350F and line a loaf pan with parchment paper.

First prepare your flax eggs in a small bowl – stir your flax meal + water. Allow time to set, about 10 minutes.

In a large bowl whisk your dry ingredients (oat flour - sea salt ). 

In a separate bowl whisk all of your wet ingredients together( cashew yogurt - vanilla extract). Stir in your flax eggs to your wet ingnredients once coagulated.

Add your dry bowl to your wet ingredients and stir well.

Pour the batter into the prepared loaf tin, and place into the oven.

Bake for 40-45 minutes, or until the toothpick comes out clean.

Remove from the oven and allow the loaf to cool in the tin for 15 minutes, when cooled enough, transfer the bread to a cooling rack to cool completely before slicing.
 
Icing: 
Blend together cashews, coconut cream ( scrape out the cream from the separated can, either discard liquid or save for smoothies!) and maple syrup until smooth.
Refrigerate for at least an hour to thicken. Smear onto the loaf before slicing.