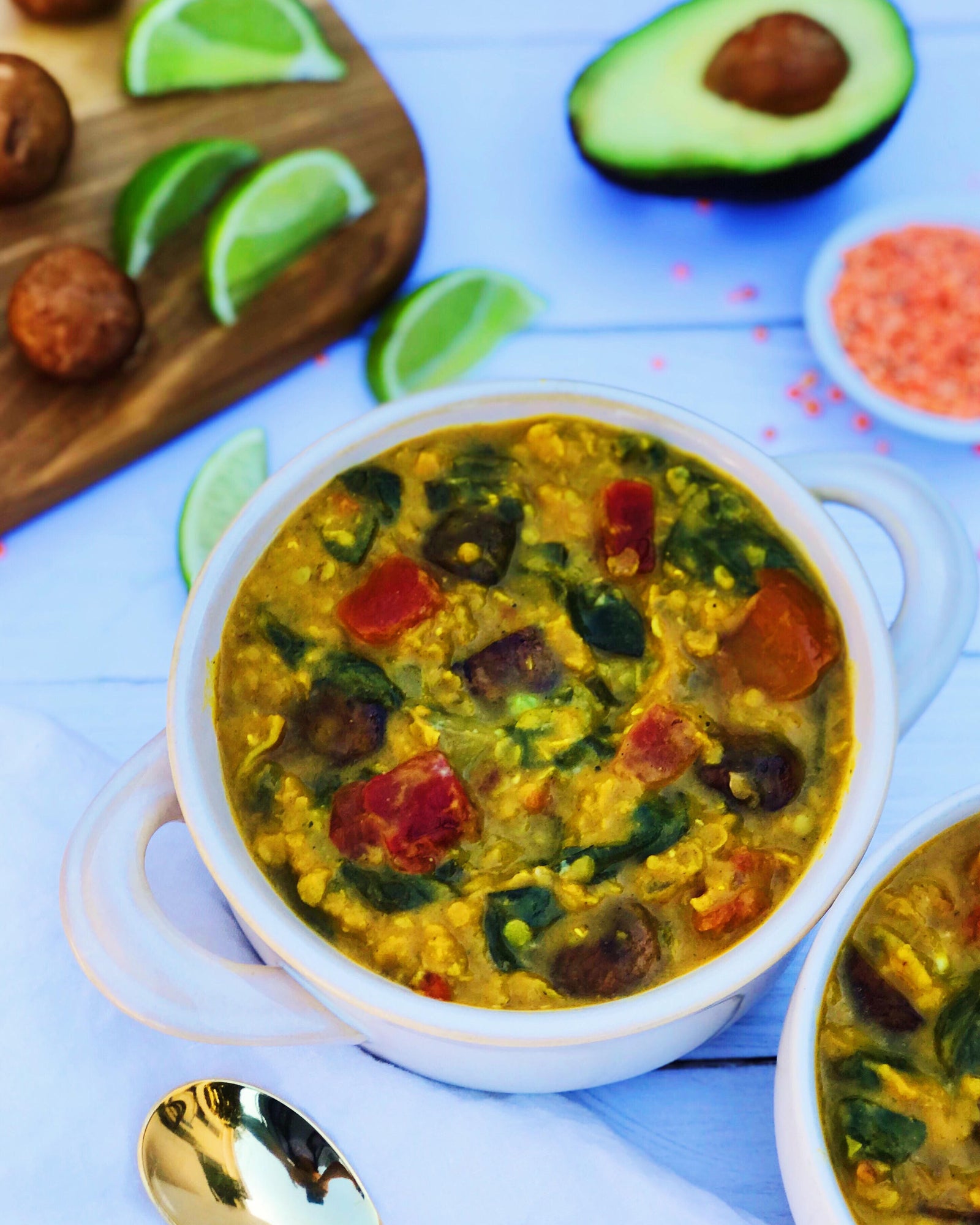 This. Soup. Is. EVERYTHING. Every bite tastes (and feels) like you are "treating" your mind, body, and soul. And well, technically you are— hence the name. The combo of spices like turmeric, cumin, cinnamon, and cardamom act as an anti-inflammatory agent, aid in digestion, boost immune system, regulate blood sugar, AND most importantly, love on your taste buds.

This recipe was inspired by a soup from one of my favorite food bloggers, Oh She Glows, and I decided to tweak it the TAF way! I hope you enjoy as much as I have ...everyday this week.
I n g r e d i e n t s 
1-2 tbsp EVOO
1 large yellow onion
2 large garlic cloves, minced
2 teaspoons ground turmeric
2 teaspoons ground cumin
1/2 teaspoon cinnamon
1/4 teaspoon ground cardamom ( optional but delicious)
1 (15-ounce) can diced tomatoes, with juices
1 (15-ounce) can full-fat coconut milk
1 cup uncooked red lentils, rinsed and drained
2 cups mushrooms, quartered
2 tbsp tamari
2 tbsp siracha (optional: you could also use cayenne or red pepper flakes for heat, a little goes a long way with those two!)
2 tbsp coconut sugar
1 32 oz. vegetable broth
1/2 lime, fresh squeezed
3 cups baby spinach or kale
1/2 teaspoon fine sea salt, to taste
Freshly ground black pepper
D i r e c t i o n s 
In a large pot, heat your olive oil over medium heat. Add onion and stir for a minute. Add your garlic. Cook until translucent, about 4-5 min. Add your turmeric, cumin, cinnamon, and cardamom-- cook until fragrant, about 1 minute.

Add your can tomatoes ( +juices), coconut milk, veggie broth, lentils, mushrooms, coconut sugar, siracha, salt, few shakes pepper and stir. Taste and adjust seasonings-- I added a little more cumin, coconut sugar and salt! .
Bring soup to a boil, stirring occasionally, and once boiling reduce to medium heat. Let soup cook, uncovered for about 20 minutes. Once lentils are cooked through add your spinach and lime juice. Again taste and adjust!