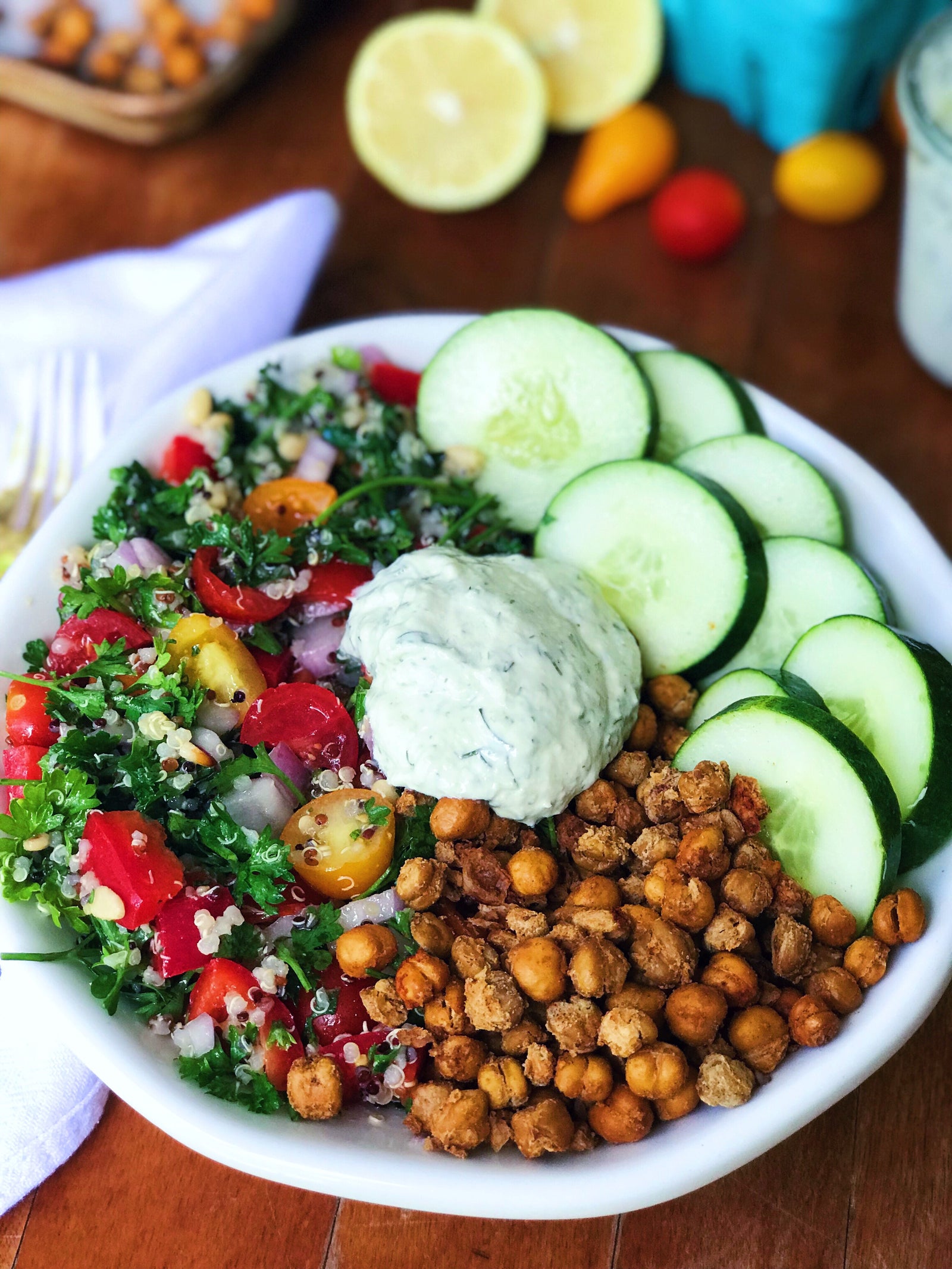 There are a few words that can accurately sum up the Mediterranean diet: fresh, simple, and delicious. Thankfully, this bowl hits all three, and thats not all it hits.


On a lazy Sunday, when your body is in need of a little TLC but also cant be bothered with any hassle, this bowl will be sure to hit the spot. .
And don't worry if you don't have time for everything in the bowl, this tabbouleh is an absolute star on its own!
I n g r e d i e n t s 
TAF Tabbouleh
1 cup cooked quinoa
1 large bunch fresh parsley, finely diced
1 red pepper, diced
1/2 large red onion, finely diced
1/2 cup tomatoes, halved or diced
1/4 cup pine nuts
1/4 cup lemon juice
3 tbsp-1/4 cup olive oil
1/2 tsp sea salt
Mediterranean Roasted Chickpeas
(you can half this recipe I just prefer to make a lot)

2 cans organic chickpeas
1/2 tbsp olive oil
1 tsp cumin
1/4 tsp paprika
1/4 tsp cinnamon
1/2 tsp sea salt
few shakes cayenne.

Toppings:
1/4 cup homemade tzatziki (recipe here) 
1 small cucumber sliced
1/2 cup kalamata olives (optional) .
D i r e c t i o n s 
Preheat oven to 400F. Line a baking sheet with parchment paper. Drain, rinse, and pat dry chickpeas. In a large bowl drizzle with 1/2 tbsp olive oil + all your spices. Mix well.

Add to baking sheet, spreading out to allow them to get crispy. Cook for 40-50 minutes, stirring about halfway through. Once they turn golden brown and are hard to the touch, remove from oven and let cool! They will continue to crisp.

Rinse out that bowl and dry. Add your diced parsley, onion, tomatoes, red pepper, and cooked quinoa. Mix well. In a small dressing jar or container mix your olive oil + lemon juice + sea salt.

Massage dressing into salad for a few minutes. Taste & adjust! Let sit at least 30 minutes before serving!

To assemble your bowl: Add 1 cup tabbouleh, 1/4 cup chickpeas, sliced cucumber, and olive. Scoop a dollop of tzatziki on top!