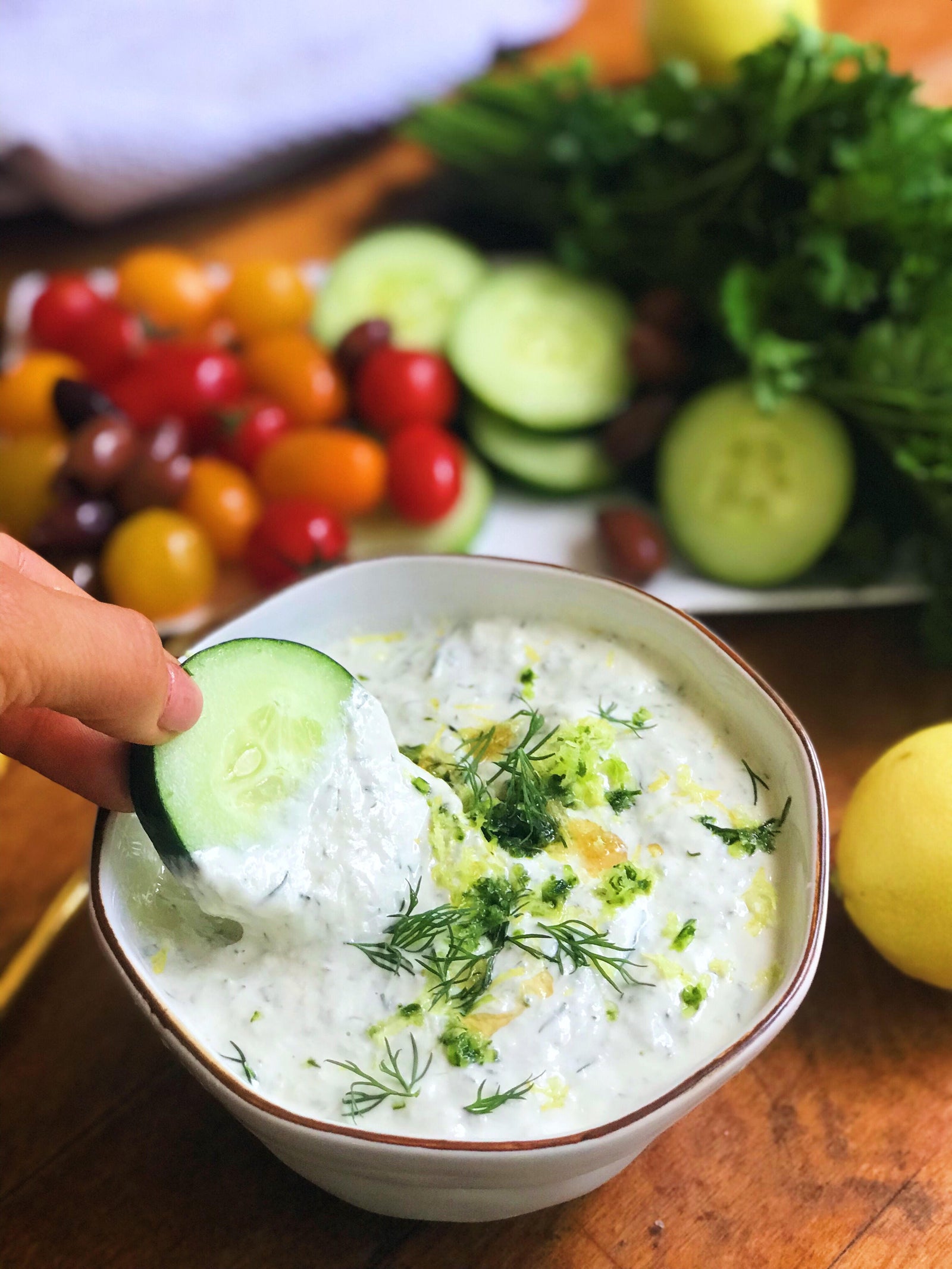 HOMEMADE DAIRY-FREE TZATZIKI SAUCE
What can I say, the Greek Festival in Columbia had me feeling nostalgic. What took me so long!!!

Tzatziki used to be a staple in our household growing up. Tzatziki, feta cheese, hummus, olives, windex... jk on the windex. Maybe. .
We would put It on EVERYTHING -- salads, sandwiches, pita, ugh is your mouthwatering yet??

Seeing that I stopped eating dairy a few years ago, It was about time I rekindled our old flame--- and let me just say, craving SATISFIED.

Fresh squeezed lemon, grated cucumber, chopped dill... you might as well be dining water front in Santorini. Ok now Im getting carried away, but you get It. Take yourself to Santorini with your tastebuds!!!


I n g r e d i e n t s 
1.5 cup cashews (soaked overnight -should be about 2 cups once soaked)
2 tbsp olive oil
2 large garlic cloves
1/4 cup fresh lemon juice
1 cucumber, grated skin on (see below instructions)
1/4 cup (+ more to taste) fresh dill, chopped
1/2 tsp sea salt, (to start)
3/4 cup water ( to start)
toppers: extra grated lemon zest and dash olive oil 
D i r e c t i o n s 
Drain your cashews and add to blender. Add your lemon juice, water, garlic, olive oil, and sea salt. Blend until completely creamy and thick. If you need more water, add a tbsp at a time! You don't want It to be overly thin.

Grate your cucumber into a fine strain mesh bag or into a cotton dish rag. Squeeze out all excess water, should yield about 1/3 cup!
.
Pour the sauce into a large mixing bowl. Stir in your chopped dill and cucumber. Once well mixed taste and adjust! I added a tad more salt and lemon. Grate a little lemon zest and drizzle of olive oil to top! .