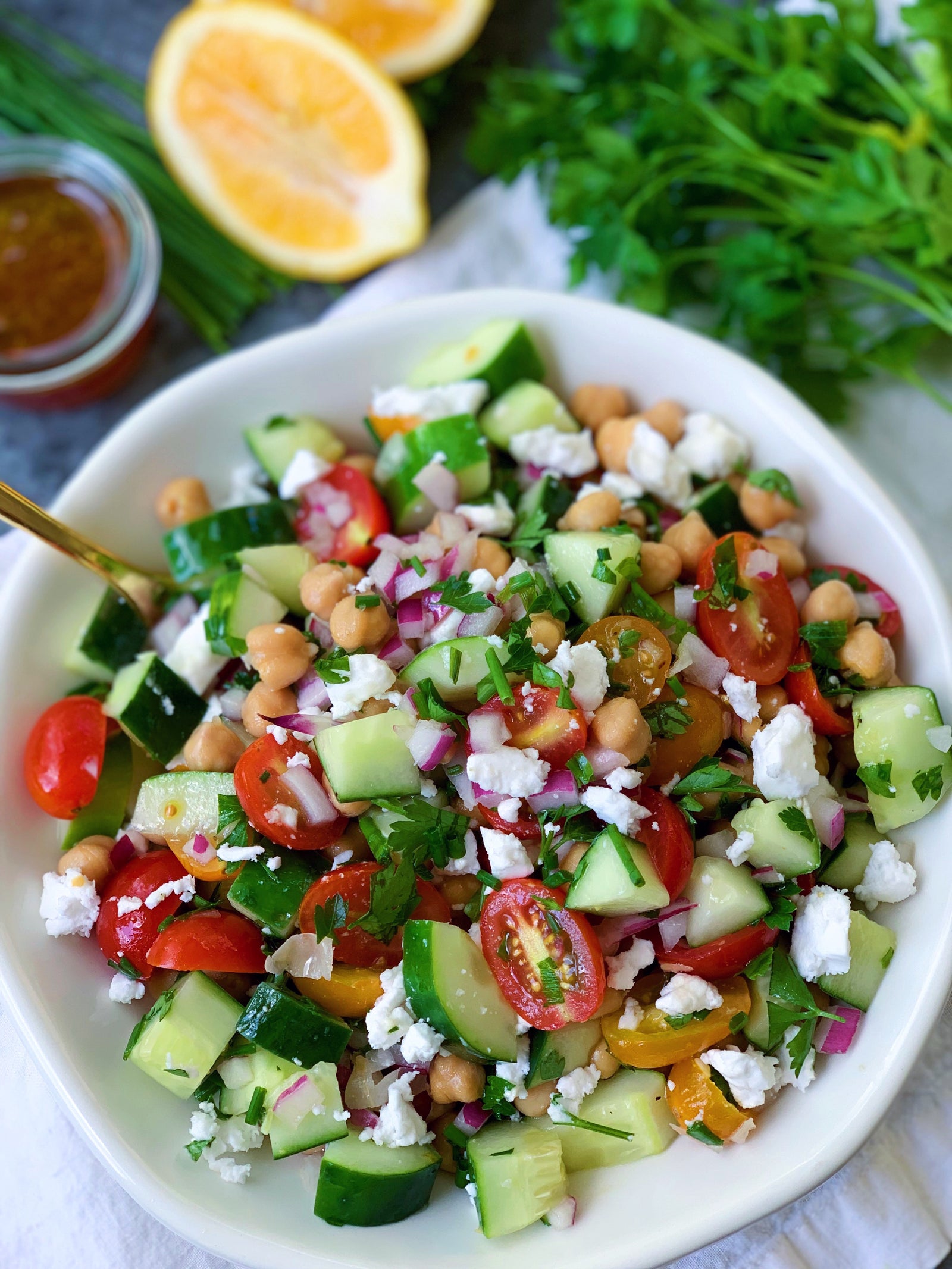 I could probably count on one hand the amount of times growing up we did *not* have a Greek salad at our dinner table. And feta? Well, in some way shape or form, It worked its way into our nightly meals. So when this dairy intolerance snuck up on me in my late twenties, you can imagine my only concern-- WHAT ABOUT GREEK SALAD. Weird I know, I was ok with everything else but like.. feta. 
For years I have been ordering Greek salad sans the best part of the salad, but now, well now I just cant get enough. Thank you Violife for this amazing dairy free sub!!!
Yall, Im telling you, this salad will please all. Need to bulk It up? Add in some orzo or serve over chopped romaine! Say hello to your entertaining SAVIOR and your meal prep champion. 
And just in time for those summer tomatoes!
Enjoy! 
 I n g r e d i e n t s
1.5 cups chickpeas (or one can chickpeas) 
1 large cucumber, chopped (skin on or off works) 
1 heaping cup cherry tomatoes, halved
1/2 small red onion, diced
1/2 cup sliced almonds 
1/4 cup parsley, chopped
3 tbsp chives, chopped 
1/2 cup @voilife dairy free feta cheese , crumbled 
Optional additions: sliced avocado, kalamata olives, lemon wedges , chopped romaine or spinach as a base. Top with more chives or parsley
D r e s s i n g :
1/4 cup extra virgin olive oil (good quality makes a difference 
3 tbsp red wine vinegar
1/4 tsp himalayan sea salt to start 
2 pinches pepper
Add all salad ingredients into a large bowl. Mix well. Set aside while you prepare the dressing. 
Add all dressing ingredients into a sealed container and shake really well. Taste and adjust... add a pinch or so more salt! You do not want to under salt the dressing, It will balance out when poured and mixed into  salad.
Lightly drizzle half of the dressing onto the salad. Mix really well. Taste and add more as needed!