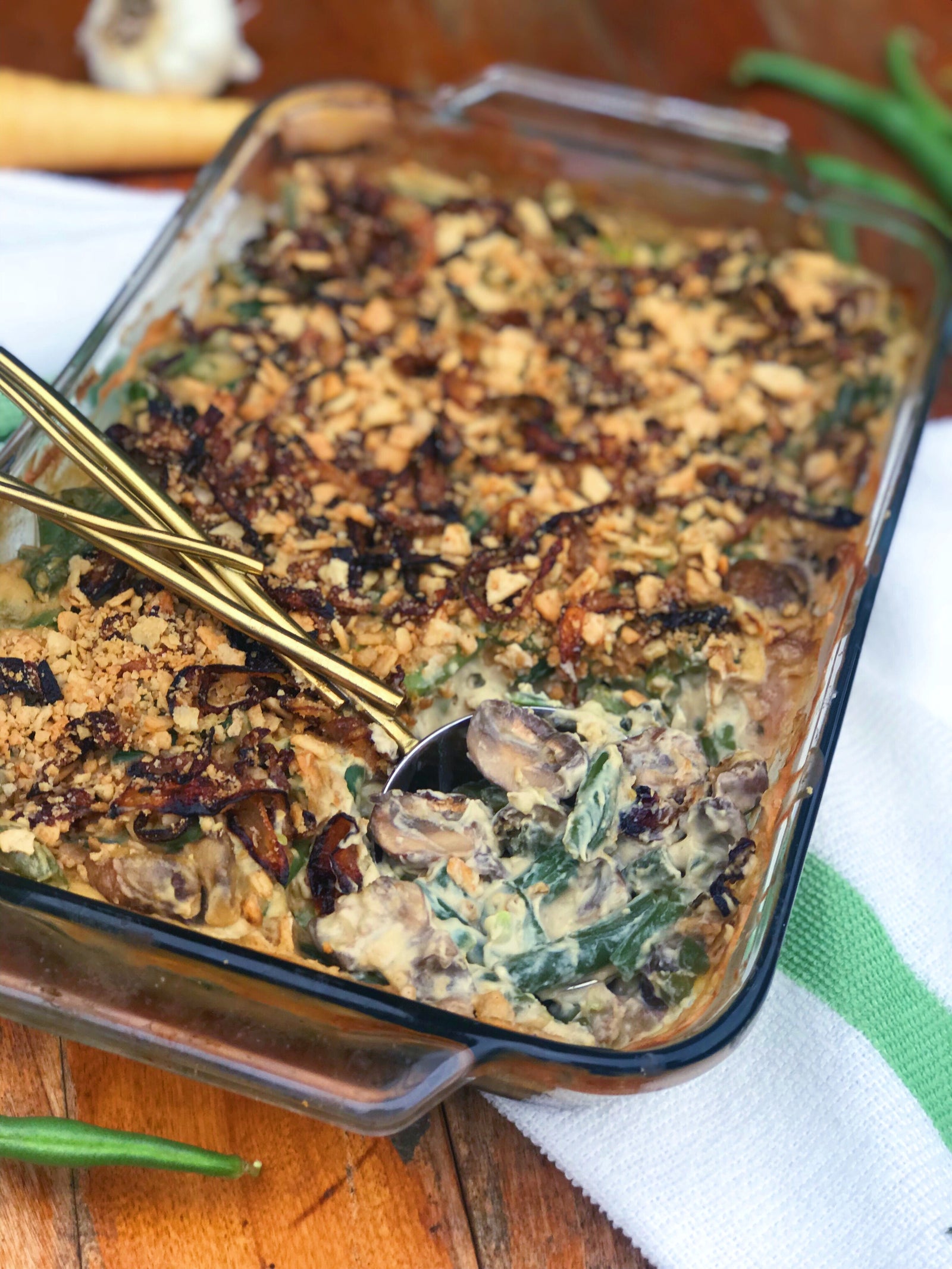 I don't love the word casserole and I'm not sure why. Maybe it's because we didn't really grow up eating them. Casseroles have just never been a source of inspiration... until now. 
For my Thanksgiving round up, Green Bean Casserole was something almost everyone responded with, which I found a bit surprising. But then I realized… clearly Im the one missing out. And I must say, yall were right.
My goals for this casserole were as follows:
no mushiness
no bland colors
no slop sound when you scoop It onto your plate
But most importantly, I wanted you to be able to taste all the flavor-- from the crunchy green beans, to the creamy sauce, to the sautéed mushrooms, to the  caramelized onions-- it's party in your mouth this casserole. Two things you probably never thought you would read in the same sentence. 
After FIVE rounds of testing ( yes I know that's a lot of green bean eating) I think I just might have done it. Definitely not your traditional green bean casserole, but in the best way possible!
I n g r e d i e n t s 
5 cups green beans, ends trimmed chopped into 1" bite size pieces
5 cups cremini mushroom, de stemmed and quartered
.
1 cup cashews, soaked overnight or quick soak method*
1 parsnip, peeled and rough chopped ( about 1 cup )
1 large yellow onion, for caramelizing
½ large yellow onion ( for sauce) , halved once more
3 cloves garlic
1.5 cup vegetable broth/chicken broth/ or water
1 tbsp ghee ( highly recommend) 
2 tbsp nutritional yeast ( optional if you like this flavor ) 
1.5 tsp sea salt
Few shakes pepper
Olive oil /ghee for caramelizing onion
Optional: 1 cup @simplemills sea salt crackers, ground into breadcrumbs, or just 1 cup breadcrumbs of your choice 
.
**Quick Soak Method: Add your cashews to a large bowl. Bring 2 cups of water to a low boil and then turn off heat. Carefully pour water over cashews and let soak an hour. When ready drain and rinse!
D i r e c t i o n s  
Thinly slice your whole yellow onion for caramelizing. On a large skillet, melt a pat of ghee or tbsp olive oil over medium low heat and add your onion. Saute slowly for about 35-45 minutes, stirring frequently, until onion caramelizes. While the onion cooks down, prepare rest of dish!
Preheat oven to 350F. Bring out a 9X13 glass baking dish and a steam basket/pot.
Add about 2 inches of water into your steam pot and fit your steam basket on top. Add your other ½ yellow onion, cubed parsnip, and 3 cloves garlic into your steamer basket and secure with the lid. Allow to steam for about 7-8 minutes. Once all is tender, add into your blender. Rinse and drain your cashews, add to blender. If using nutritional yeast add now. Add your broth + sea salt and WAIT until mushrooms are done to blend.
Add your green beans to same steam basket and secure lid. Bring water back to a boil and allow the green beans to steam to your liking. This is where you will achieve desired level of crunch to your green beans, they will NOT cook much more in oven. So if you prefer super soft, allow to steam longer. When done, shake off excess water and add into your baking dish.
Once your onions are done transfer to a bowl and set aside. Use the same saute pan for your mushrooms. Add a touch more olive oil to the pan and saute your quartered mushrooms. When ready scoop HALF of the mushrooms (along with any good juices) into the blender. Add the other half to the dish with the grean beans.
Blend your mixture until smooth and creamy.
Slowly pour your sauce into the baking dish with the green beans and mushrooms, stirring through you pour. You will most likely have extra sauce that you could use for another green bean casserole or just save!
Once sauce is thoroughly mixed into green beans and mushrooms, flatten out mixture into dish. Spread your caramelized onions on top in an even layer.
Bake on 350 for 35-40 minutes or until bubbly and golden on top. With about 5 minutes left, add your bread crumbs on top (if using) and add back into the oven for the remainder of the time. 
Remove from oven when ready, and serve immediately!