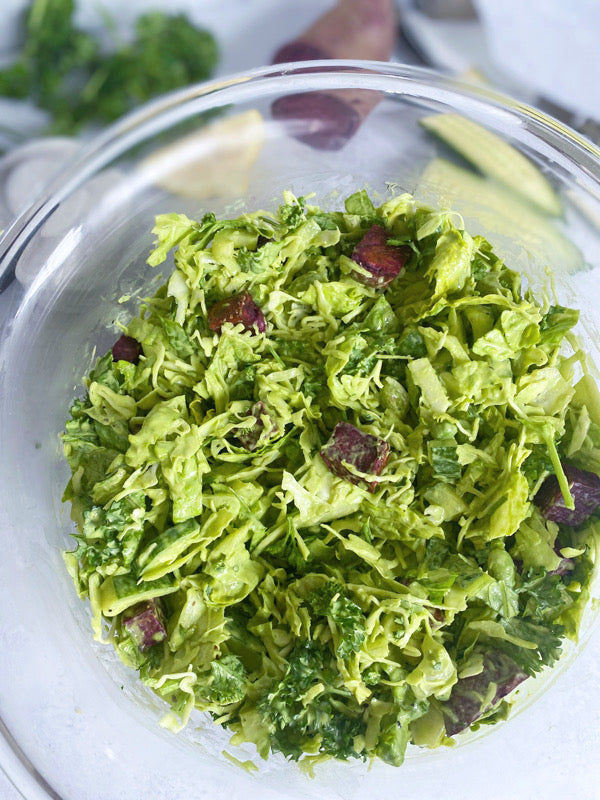 In full transparency, I was going to save this recipe for the store/cookbook, but the number of messages I received asking for it made me cave! We clearly all need some green goddess in our lives. 
This salad is crisp, light, flavorful, and packed with nurturing and alkalizing GREENS + a complete protein thanks to the edamame! Fun fact, edamame has all nine essential amino acids which makes it a complete protein source and an incredible addition to any plant-based salad. 
From one sauce lover to another ....go ahead and double this dressing so you can add to your salads all week or use it as a veggie dipping sauce…  you will thank me later! 
Equipment:
Oven 
Baking Sheet
Large Mixing Bowl 
High-Speed Blender
Green Goddess Dressing 
1/2 cup cashews, soaked overnight in cold water 
1/3 cup cashew yogurt ( Foragers is my favorite !) 
1/3 cup fresh dill, loosely packed
1/2 cup curly parsley, loosely packed
1 cup fresh spinach 
3 tbsp chopped chives
3 tbsp nutritional yeast 
1 garlic clove 
1/2 cup olive oil 
3 tbsp fresh lemon juice  
1 tbsp white wine vinegar 
½ tbsp raw honey or maple syrup 
½ tsp sea salt ( + more to taste ) 
Rinse your soaked cashews and add to the blender. Add all other dressing ingredients to the blender and blend until smooth and creamy. This may take a few minutes. Scrape down the sides of the blender as needed! Taste and adjust your salt and lemon! 
Green Goddess Salad 
1 purple sweet potato, diced into cubes (see roasting instructions below ) 
1 large romaine head, shredded or finely chopped ( about 5 loose cups ) 
3 cups green cabbage, shredded or finely chopped ( a bagged shredded cabbage works great here too) 
2 loose cups fresh curly parsley, finely chopped 
1 cucumber, diced
½  cup edamame 
½ cup celery, diced 
½ cup green onions, diced 
Directions 
Roasted Sweet Potato: Preheat oven to 375F. Add a dash of olive oil, salt, pepper, and garlic powder (optional) to your cubed sweet potatoes, mix well. Spread out your sweet potato onto a parchment paper-lined baking sheet. Roast for 25 minutes. They are done when slightly crispy on the outside and a fork can pierce through easily. Once done, remove from oven and allow to cool. 
In a large bowl mix all of your salad ingredients together, except the sweet potato. 
Add the desired amount of dressing and massage into your salad, with hands or salad tongs. Add the desired amount of salt and pepper. 
Lightly toss in the sweet potatoes. 
Serve!