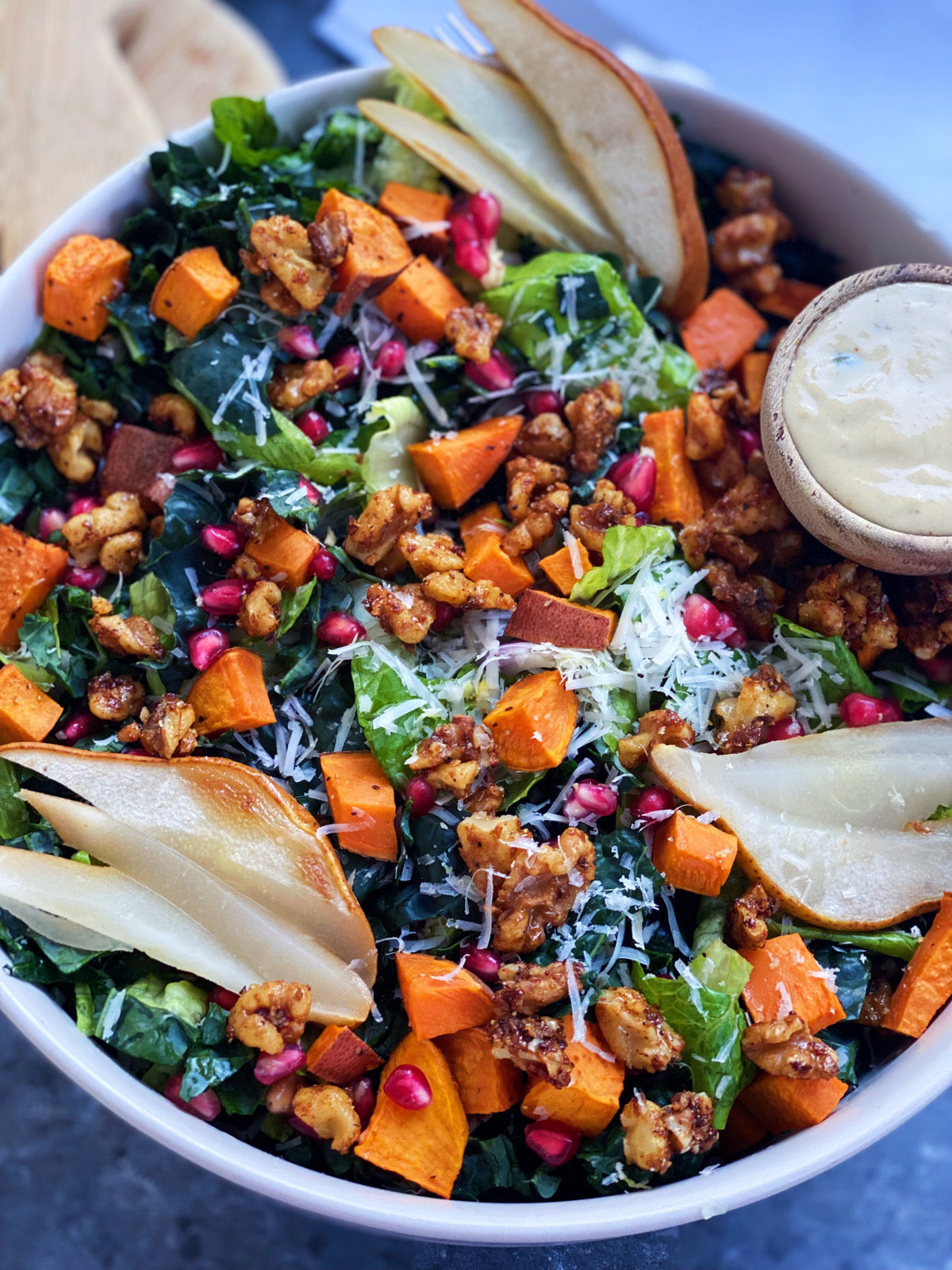 What is better than a classic caesar salad? I have now convinced myself with this harvest caesar !
Massaged greens, roasted sweet potato, roasted pear, and pomegranate seeds all topped with some smokey maple walnut clusters. It quite literally is a festive party in your mouth. 
This salad would be the perfect compliment to any holiday spread, and I promise you , there will be no leftovers! 
Harvest Caesar Salad
1 large bunch lacinato kale , destemmed and finely chopped 
2 cups romaine, finely chopped
1 small or 1/2 large red onion, diced 
1 /2 cup pomegranate seeds 
1 large sweet potato, cubed 
1 pear , quartered ( you want a firm pear ) , slice off hard core parts
dash olive oil 
salt and pepper 
Violife Parmesan Cheese ( about 1/2 cup shredded) 
Preheat your oven to 400F and line a large baking sheet with parchment paper. In a mixing bowl add your cubed sweet potatoes --add a dash olive oil and salt pepper.Mix well and then spread evenly across your baking sheet.
Add your quartered pears to the bowl. Add a touch more olive oil and salt /pepper. Mix and lay your quarters on the parchment paper.
Roast for 15 minutes and flip your pears/ stir your sweet potatoes. Check after another 15 minutes -- you want your pears to be easily pierced with a fork but not mushy. Remove when ready and allow to cool. 
In a large bowl toss your greens so that the kale and romaine combine. Add desired amount of dressing and a dash sea salt. Massage dressing into the greens. Now mix in your shredded parmesan.  Lightly toss in your onion, sweet potato, roasted pear, and pomegranate seeds. Top with smokey walnut clusters and toss once more. 
Taste and adjust dressing amounts,parm, and salt/pepper! 
Smokey Maple Walnut Clusters
1.5 cup walnuts, rough chopped
2 tablespoons maple syrup
1 tsp low sodium tamari 
½ teaspoon smoked paprika
1/2  teaspoon garlic powder
sea salt and ground black pepper, to taste
Heat your skillet to a medium heat. Add your walnuts, maple syrup, tamari, smoked paprika, garlic powder, salt, and pepper. Stir your walnute frequently, until the maple syrup is caramelized and the nuts have slightly browned, about 4-5 minutes.
Immediately remove the walnuts from the heat and transfer them off the hot baking sheet to cool completely. 
Tahini Caesar Dressing  
1/3 cup tahini ( super runny, not too thick) 
2 tbsp olive oil
2 garlic cloves ( minced if using mixing bowl)
1 tbsp maple syrup
1 tsp tamari
2 tsp capers + a dash of the brine/juice ( mince your capers if using mixing bowl
1 tsp spicy mustard
1.5 tbsp lemon juice
1 tsp lemon zest
1/2 tsp sea salt + more to taste
1/4 cup chilled water + more for desired consistency 
Prepare Dressing in a mini food processor: add all of your ingredients and process until a dressing forms. Slowly add more chilled water until you reach desired consistency -- taste and adjust salt and lemon juice!