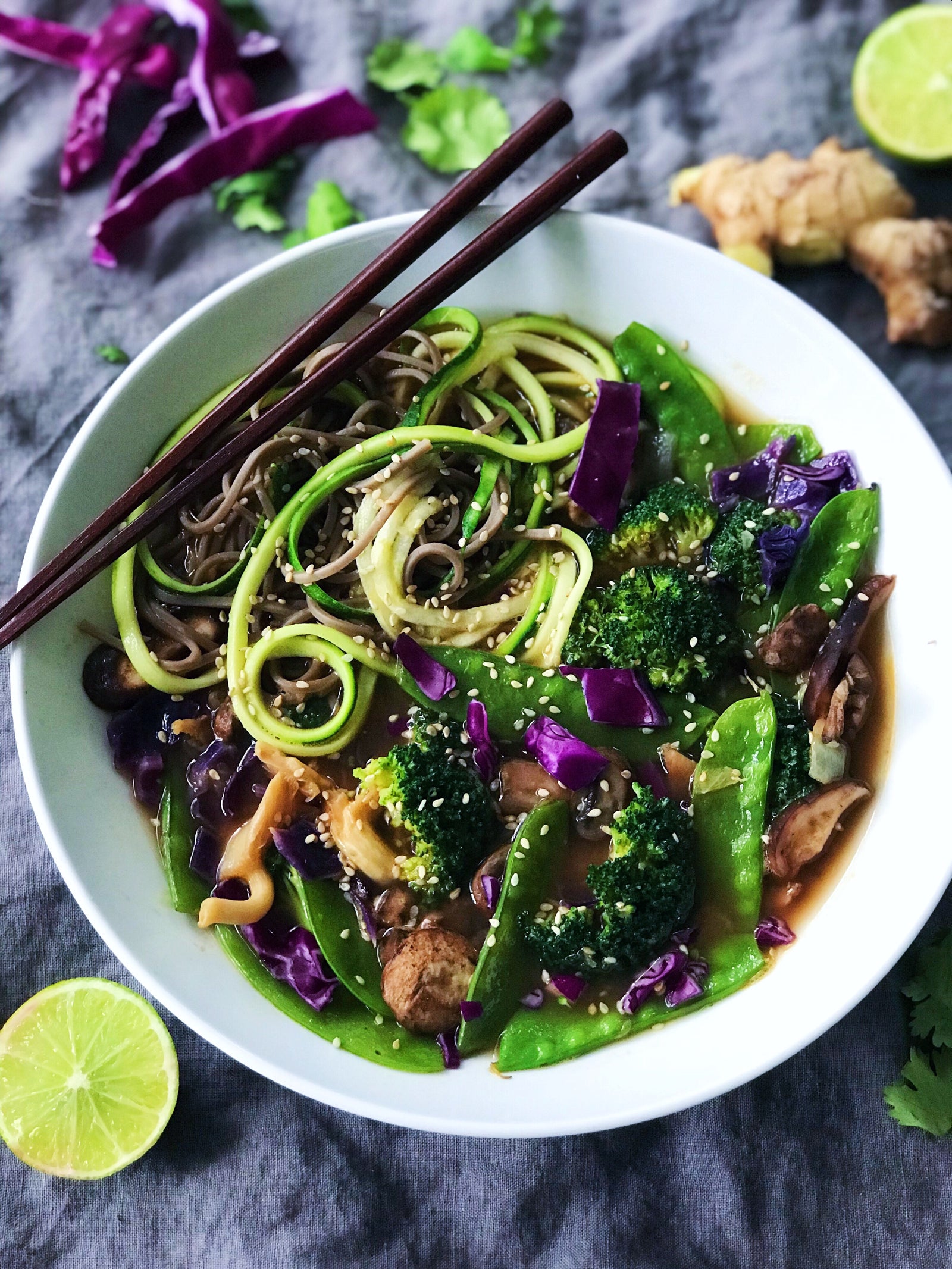 I n g r e d i e n t s 
Olive oil/ avocado oil 
1 onion (yellow or sweet), finely chopped 
2-3 small garlic cloves, finely minced (this is preference)
2 -3 tbsp grated ginger, I love ginger so I tend to go overboard 
8 cups bone broth, chicken or veggie broth 
3-4 tbsp miso paste ( I used chickpea miso to avoid soy, but any works!)
3 tbsp Tamari or coconut aminos 
2 tbsp toasted sesame oil 
1-2 tbsp gluten free siracha
1/2 tsp sea salt
1 pack @edenfoods soba noodles, OR 2 zucchini zoodled 
Veggies
2 cup cauliflower or broccoli florets
1/2  large cabbage, chopped 
1 8oz. shiitake or cremini mushrooms 
1 cup snow peas
Toppings: Thai Basil, Jalapeno, Sesame Seeds, lime 
D i r e c t i o n s 
Heat a tbsp olive oil in large soup pot on medium heat. Add your chopped onion, saute for 2 minutes. Add your ginger & garlic, continue to stir until fragrant, 3 minutes. 
Add broth, 
scraping bottom of pot, stirring as you pour to get all remaining flavor.
Add in Tamari, sesame oil, siracha, miso paste, 1/2 tsp sea salt, stirring to combine.  Let simmer. The longer this simmers the more flavorful It will be ( can simmer for hours if you have the time, if not 30 minutes will do) 
At this point bring another pot of water to a boil. Cook your soba noodles as directed on package. 
Bring your soup pot to a boil and then add in your veggies! Stir veggies in and then reduce heat to a simmer. Keep checking your veggies and once they are to your desired consistency, turn heat to very low or off. Add more salt if need. 
To serve put soba noodles in you bowl & pour the veggie miso soup on top! Add garnishes -- I like to squeeze lime & add sesame seeds.