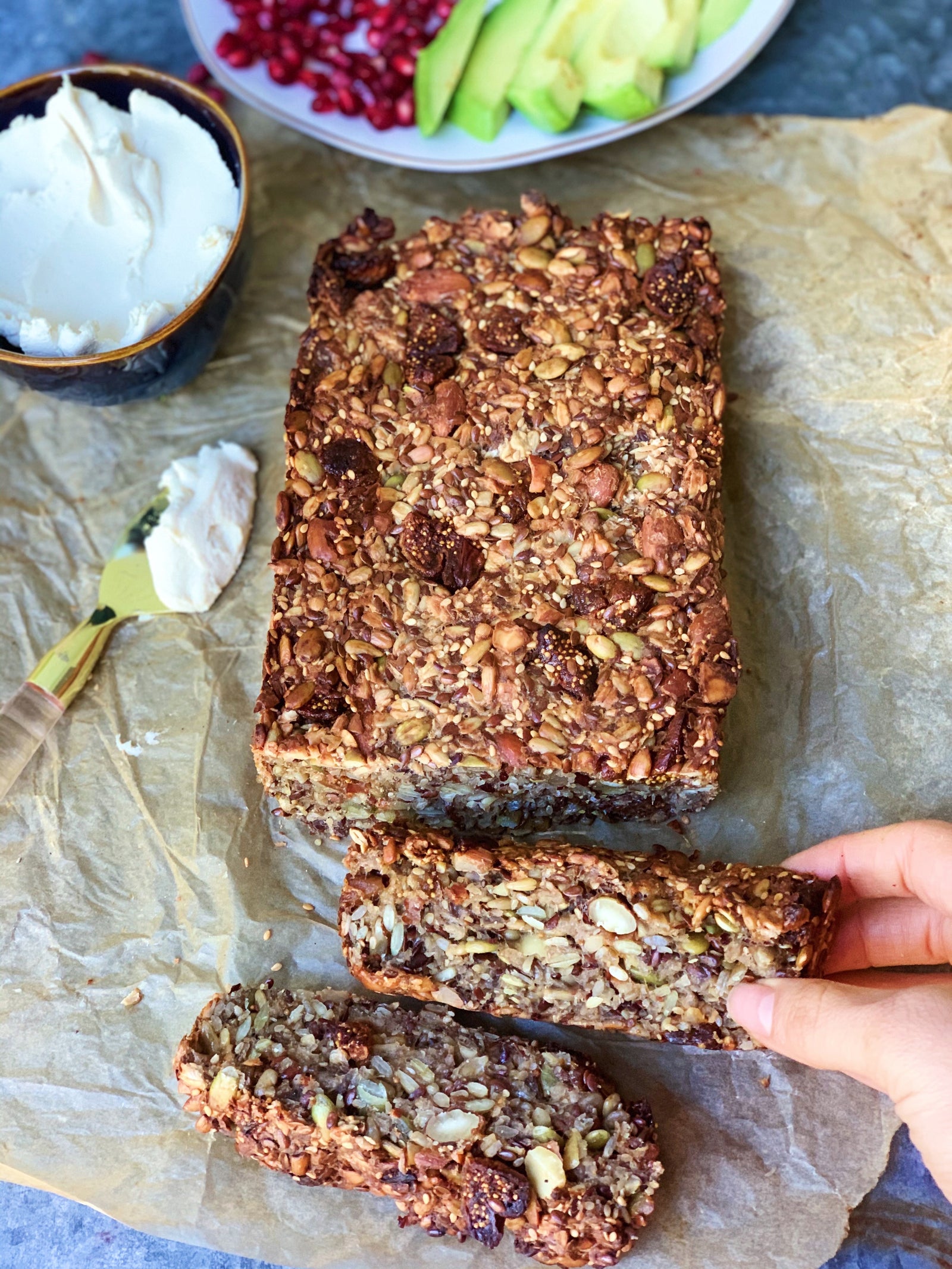 In the famous words of Oprah, I LOVE BREAD!!! To be honest though, I LOVE THIS BREAD. 
It's true, I have always been sweet over savory, never really phased by a bread basket or sandwich bread—I was always take it or leave it. 
But THIS I crave. I would reach for a slice of this warm, nutty, seedy, fibrous, thick, delicious, hearty goodness over a dinner roll ANY day of the week.
There really is something so comforting about spreading your favorite jam, avocado mash, cream cheese, or vegan butter onto a golden toasty slice.  
This bread is packed with so much goodness, and it is the perfect addition to your fall favorites.
I n g r e d i e n t s 
1 cup Gluten Free Oats
1 cup Sunflower Seeds
1/2 cup Almonds
1/2 cup Pumpkin seeds
1/4 cup Sesame Seeds
1/2 cup Flax Seeds ( whole)
3 tbsp Psyllium Husk Powder ( cannot sub this )  
1 1/4 tsp sea salt
2 tbsp Coconut Oil, melted
1 tbsp Honey
1.5 cup Water 
1/2 cup dried figs, chopped
*Allow for the 5 hour minimum "set time" of the dough, when calculating making or serving this bread
D i r e c t i o n s 
To Prep: Line a loaf pan with parchment paper and set aside. Add all your ingredients from 'oats through sea salt ' in a large mixing bowl. Mix well.
Add your water, honey, and coconut oil. Quickly stir and mix until bread dough is completely combined. Stir in your dried figs. It should be a thick dough.
Using your hands or a large mixing spoon spread batter evenly into the loaf pan. Smooth and pat down with the back of the spoon or your hands to ensure all is even. 
Let bread sit on the counter for a minimum of 5 hours. I tend to let sit overnight.
To Bake: Preheat oven to 350F. Once oven is properly heated add your loaf pan and bake for 25 minutes.
Now, very carefully, remove bread from loaf pan using the parchment paper for leverage. Turn bread over and lay it directly (face down) onto the oven rack to continue cooking for another 30-35 minutes.
Your bread is ready when golden brown and sounds hollow when tapped.
Carefully remove bread from the oven and place on cooling rack, right side up. Allow bread to COMPLETELY COOL before slicing.
*This recipe was adapted from the genius My New Roots "Life-Changing Bread" recipe.