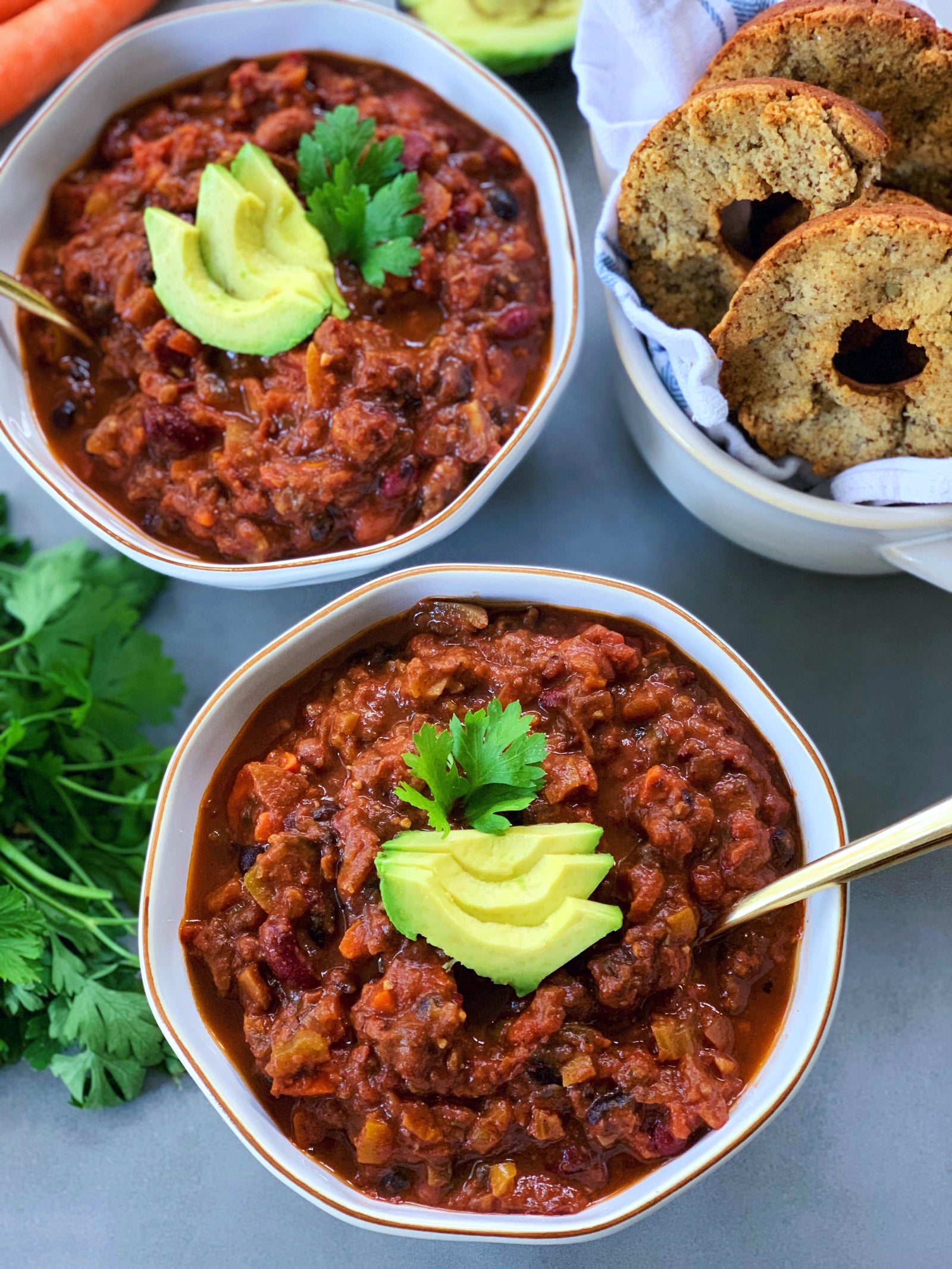 Ill be eating this chili falllllll season long.
Is there anything more perfect than snuggling up to a warm bowl of chili and cornbread on a cool Fall night? Well the "cool fall night" part we are going to have to wait on, but the perfect vegan chili? Now we can enjoy that right away.
The spices in this chili provide such a depth of flavor and each bite will feel like a warm hug going down.
Get your soup pots ready, its chili season
I n g r e d i e n t s
1 red onion, diced
2 jalapeños, diced (with seeds) - Omit if dont like spicey
1 red pepper, diced
1 yellow pepper, diced
3 ribs celery, diced
2 large carrots, peeled and diced
4 cloves garlic, minced
2 tbsp fresh parsley, chopped
3 tbsp chili powder
3 tsp ground cumin
1 tsp smoked paprika
1/2 tsp ground coriander
3 tbsp tomato paste
2 cans diced tomatoes
1 can kidney beans
1 can black beans
1 can pinto beans
2 cups cremini mushrooms, chopped ( 1 8 oz container)
2.5 cups vegetable broth
3 tbsp coconut sugar
3 tbsp tamari
2 tbsp nutritional yeast ( optional)
3/4 tsp sea salt
Few pinches pepper
1-2 tsp lime juice ( optional) 
2-3 tsp hot sauce or siracha  (optional) 
D i r e c t i o n s 
Warm two tbsp olive oil in a large soup pot over medium heat. Add your onion, jalapeños ( if using) , peppers, celery and carrots into the pot.
Saute the mix until the onions are translucent, about five minutes. Add your minced garlic and fresh parsley saute another two minutes.
Next add your chili powder, cumin, smoked paprika, and coriander. Stir the spices into the mix so that their aromas release, about 30 seconds. Now stir in your tomato paste.
Add your diced tomatoes, beans, and mushrooms and stir until all is coated.
Add your broth, coconut sugar, tamari, nutritional yeast, salt and pepper. Stir.
Bring your soup to boil. Once It reaches a boil, reduce heat to simmer and cover. Allow to simmer for 35 minutes. 
For the best chili texture, transfer about 2 cups of the chili into blender, making sure to get some of the broth as well. Fasten the lid and pulse for about 10 seconds. Pour the blended mixture back into the pot. Stir in the lime juice if using and hot sauce/ siracha. Taste , adjust seasonings, and serve. Tip: This chili is even better the next day!