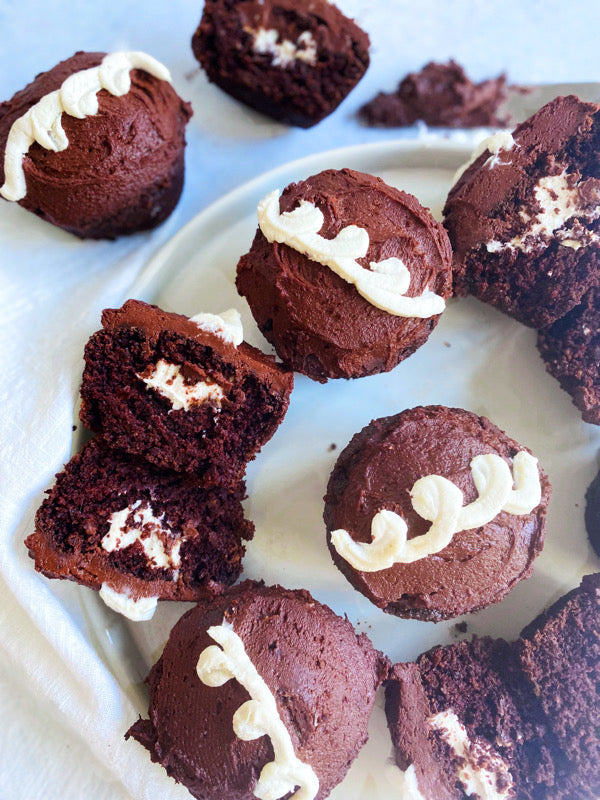 "Hostess" Chocolate Cupcakes
I'm going to be completely honest with you ... I have never in my life had a  Hostess cupcake before. Not sure why or how, but let me tell you, I cannot imagine them to be as good as the ones I created for you here! 
These taste absolutely and divinely SINFUL, yet I managed to hide a vegetable in there. I bet Mrs. Hostess couldn't use that teaser.
With Valentines Day right around the corner, I thought these would be such a fun surprise for your kids or your significant other -- you can feel the love ( and a dollop of creamy goodness ) in each bite! 
Filling & Swirl 
1 cup raw cashews, soaked in cold water minimum 4 hours 
1 full fat can coconut milk, refrigerated minimum overnight ( best if 24 hours) 
3 tbsp maple syrup 
3 tbsp melted coconut oil
1 tbsp fresh lemon juice
1 tbsp almond milk 
1 tsp vanilla extract
¼ tsp Himalayan sea salt 
Little Hostess Cupcakes 
WET
1.5 tbsp flax meal
3 tbsp water
1/2 cup maple syrup
1/4 cup unsweetened applesauce
3/4 cup sweet potato puree, canned
2 tbsp coconut oil, melted
1.5 tsp vanilla extract
1/3 cup almond milk
 Other: 
1/2 cup chocolate chips
2 tsp coconut oil
DRY
1 cup gluten-free oat flour ( note** measure once in flour form)
1/2 cup cacao powder
1/2 cup coconut sugar
1/2 cup almond meal
1/4 cup white rice flour  
2 tbsp arrowroot flour / powder
2 tsp baking soda
1/2 tsp sea salt
ICING
¼ cup almond butter
¼ cup cashew butter
1/2 cup cacao powder 
5 tbsp almond milk
3 tbsp maple syrup
1 tsp vanilla extract
¼ tsp sea salt
Equipment :
Muffin Tray 
Oven
Mixing Bowl
Microwave Safe Bowls
High-Speed Blender
 Prepare your filling first, so it has time to set in the fridge. 
Rinse your cashews and add to a high-speed blender. Add in all other filling ingredients and blend on high until smooth and creamy. This will take a few minutes, as well as pausing to scrape down the sides of your blender. If you need more liquid add a dash of almond milk at a time. Taste and adjust sweetness or lemon. Should be thick and creamy! Pour into a container and place in the fridge to set.NOTE: this is a great step to do the day before or the night before making! 
Now for the cupcakes: 
Preheat your oven to 375 F and grease your muffin tray with coconut oil or olive oil. Optional: Lay cut strips of parchment paper into each mold to use as tabs to pull out each cupcake when done. 
Add your flax meal + 3 tbsp water into the bowl you will be using for your wet ingredients. Stir and set aside, allowing time for your flax egg to coagulate.
 In a separate bowl whisk all of your dry ingredients. Set aside.
Once your flax egg has solidified, add in ingredients 'maple syrup – almond milk.' Whisk.
In a small microwaveable bowl add your chocolate chips and 2 tsp coconut oil. Microwave the bowl in increments of 30 seconds, stirring in between each time, to ensure the chocolate does not burn.
Repeat until completely melted.
Add your dry mix into your wet and stir well. Pour in your chocolate and whisk until your batter is cohesive, no clumps.
Fill each cupcake mold about ¾ of the way full. 
Bake for 18 - 25 minutes or until the toothpick comes out clean – allow your muffins to completely cool. 
While cooling … 
PREPARE YOUR ICING.
In a large microwave-safe bowl add your cashew butter and almond butter. Microwave for 20 seconds to help loosen your nut butter. Whisk in the rest of the icing ingredients.  Whisk vigorously until no more lumps remain.
To prepare your Hostess Cupcakes:
Take a sharp knife and cut a circle out of the middle of each cupcake. Save the topper of each. I used a spoon to scoop out each little divot. 
Once your filling has thickened, scoop about ¼ at a time into a small Ziploc bag, you will use this as an icing piper. 
Press out all of the air and then seal your bag. Trim the corner of the Ziploc bag ever so slightly to create a small hole for the filling to come out of. Squeeze the filling into each little divot and then press the saved scooped cupcake back on top to cover it up.  
Repeat this step with each. Save your Ziploc bag to do the swirly trim on top! 
Now frost each cupcake so you cannot see where you scooped anything out. 
The last step is using the rest of your filling in your Ziploc bag to draw the swirl on top.