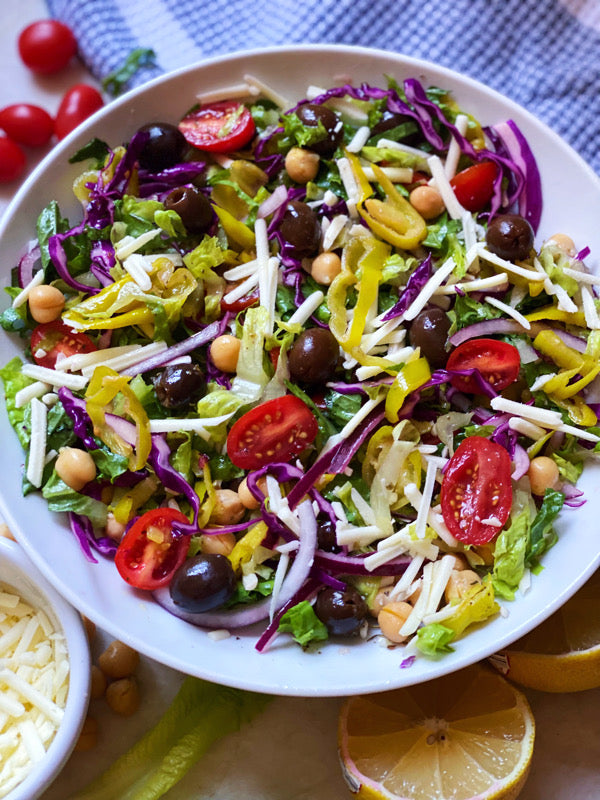 There is something about a chopped salad that's hard to argue with, especially when you go Italian style!
All your favorite flavors in one meal, one bowl, and one bite. 
I created this recipe when I was craving a salad with some zing. The pepperoncini, black olives, and Italian dressing really help to take It over the top in flavor. 
This would be the perfect dinner party salad because comes together in less than 15 minutes and comes to impress. Throw It all in a bowl and enjoy! 
Ingredients 
1 head romaine, shredded 
1 small head radicchio or 1/2 small red cabbage, shredded
1 can chickpeas, rinsed and drained 
1 cup cherry tomatoes, sliced in half
1 cup black olives, whole or sliced in half 
1/2 large red onion, sliced thin 
1/2 cup vegan mozzarella 
1/3 cup pepperoncini slices 
Dressing
3 tbsp olive oil 
2 tbsp fresh lemon juice ( juice of 1 lemon) 
1 tbsp red wine vinegar 
1 garlic clove, grated 
2 tsp Italian seasoning 
1/2 tsp sea salt
Fresh ground pepper to taste 
Add all your salad ingredients to a large bowl. 
In a small bowl whisk together your dressing ingredients. Taste and adjust any flavors to your preference. 
Pour the desired amount of dressing over the salad and toss. Add more salt or pepper to taste.