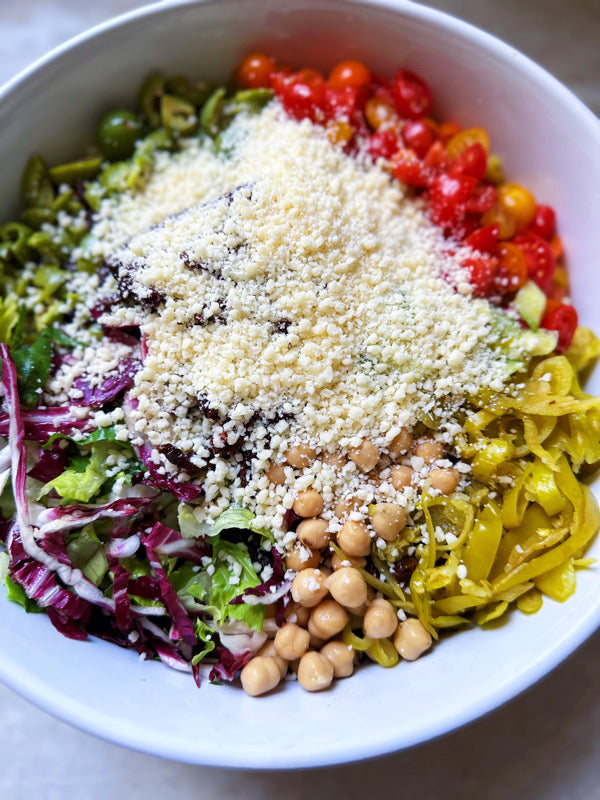 Italian "Za" Chopped Salad
I love a loaded pizza, and my salads are no different. All your favorite pizza toppings tossed together in an Italian chopped salad! I could eat this salad every. single. night. All the different flavors pop with each bite and the vibrant colors are almost too stunning to eat. 
.
And I have to mention this homemade dressing is so good it is drinkable. 
.
All topped with a mound of grated parmesan cheese, because this is a pizza salad after all. 
.
Enjoy!  
.
Equipment 
Small food processor 
Large Salad Bowl 
Serves 
5+ 
Salad 
1 head romaine, shredded 
1 small head radicchio, shredded
1 English cucumber, peeled and diced  
1 cup cooked chickpeas
1 cup cherry tomatoes, quartered
1 cup green olives, pitted and roughly chopped 
1/2 cup sun-dried tomatoes, roughly chopped 
1/2 cup pepperoncini peppers, drained
1/2 small red onion, sliced or diced 
1/2 - 3/4 cup grated dairy-free parmesan cheese ( I used Violife Parmesan and ground it in a food processor) 
Dressing
3 tbsp red wine vinegar 
1 fresh tbsp lemon juice 
1 tbsp Dijon mustard 
1 tbsp raw honey 
1 clove garlic, roughly chopped 
1.5 tsp Italian seasoning 
1/2 tsp sea salt 
1/4 tsp pepper 
1/4 cup extra virgin olive oil 
Add all salad ingredients into a large salad bowl and lightly toss. 
To make the dressing add all ingredients, except olive oil, in a small food processor or blender. Process for 30 seconds. Now, slowly add in olive oil as you process the dressing. Taste and adjust seasonings. 
Add desired amount of dressing and toss well. Salt and pepper to taste!