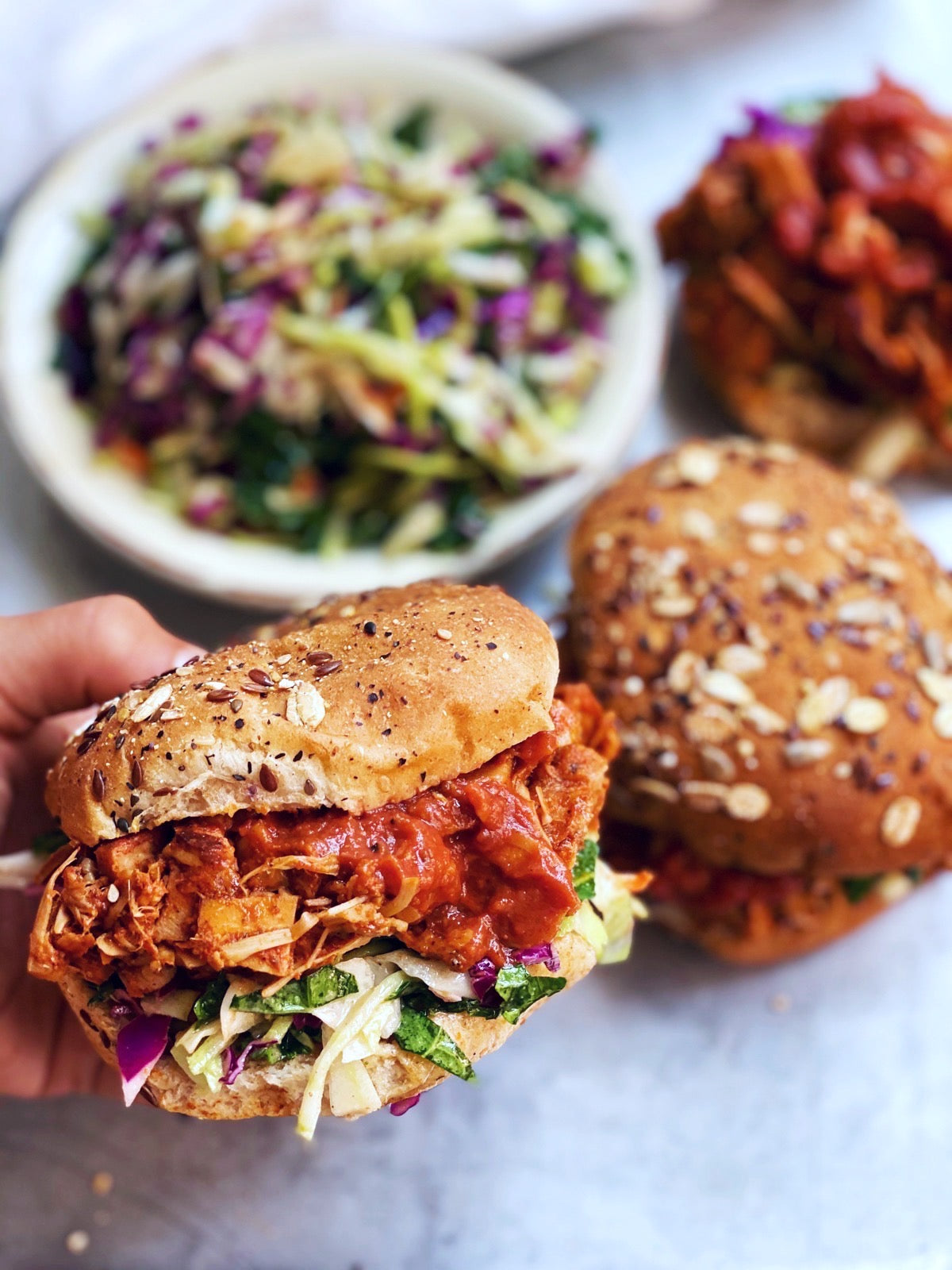 Closing out summer with a classic -- stacked BBQ Sandwiches! 
Jackfruit is the perfect substitute for pulled pork in this recipe. Saucey, seasoned and ready to be stacked with a heaping serving vinegar based coleslaw. You will fool any meat lover with this one! 
Serve on a toasted bun, as a taco, or make into a salad! 
*You can get jackfruit in a can from most grocery stores!  
**This recipe was inspired by the one and only Minimalist Baker!** 
BBQ JACKFRUIT
2 , 14 - ounce Jackfruit Cans ( I used Native Forest brand. Make sure you buy IN WATER, *not* syrup or brine) 
Seasoning Mix 
1 tbsp coconut sugar, 1 tsp smoked paprika, 3/4 tsp garlic powder, 1/2 tsp chili powder, 1/2 tsp sea salt,  1/4 tsp pepper 
3/4 cup vegan BBQ Sauce ( I used this one from whole foods !) 
1/2 cup water
FOR SERVING
Coleslaw ( below ) 
Grain Free Buns 
Extra BBQ Sauce/ 
Toasted Cash
Directions: 
Drain your jackfruit in a mesh strainer and rinse, thoroughly pat dry. Slice off any "core" parts of your jackfruit pieces -- they will be hard. 
Shred your jackfruit with your hands or a fork and add to a large mixing bowl. 
Add your seasoning ingredients into a small bowl and mix. Add to bowl with jackfruit and toss to coat. 
Add 1 tbsp olive oil to a large saute pan and warm over medium heat. Add in your shredded seasoned jackfruit and stir. Saute for 5-7 minutes over medium-high heat.  
Add in your BBQ sauce and stir in. Saute for 2 minutes to coat through. Add in your water and mix so that you have a "sauce". Bring sauce to a bubbling simmer, and then cover. Simmer on low heat, covered, for 15-18 minutes. 
While your jackfruit cooks down prepare your slaw below! 
Turn off burner and remove lid. Taste and adjust any salt/seasoning you need. 
CLASSIC SUMMER SLAW 
1 cup red cabbage, shredded
1.5 cup kale chopped, shredded 
1.5 cup coleslaw mix 
1/2 cup green onions
DRESSING
1/4 cup olive oil 
1/3 cup rice vinegar 
2 tbsp dijon mustard 
1/2 tsp salt 
2 tsp celery seed 
1 tbsp raw honey
Few shakes pepper
Optional : toasted cashews OR sesame seeds
Add all your slaw ingredients into a large mixing bowl. In a separate small bowl, whisk salad dressing ingredients. Taste and adjust dressing. Pour 1/2 amount of dressing over coleslaw and massage with your hands or salad tongs for a few minutes. Add more dressing as needed!