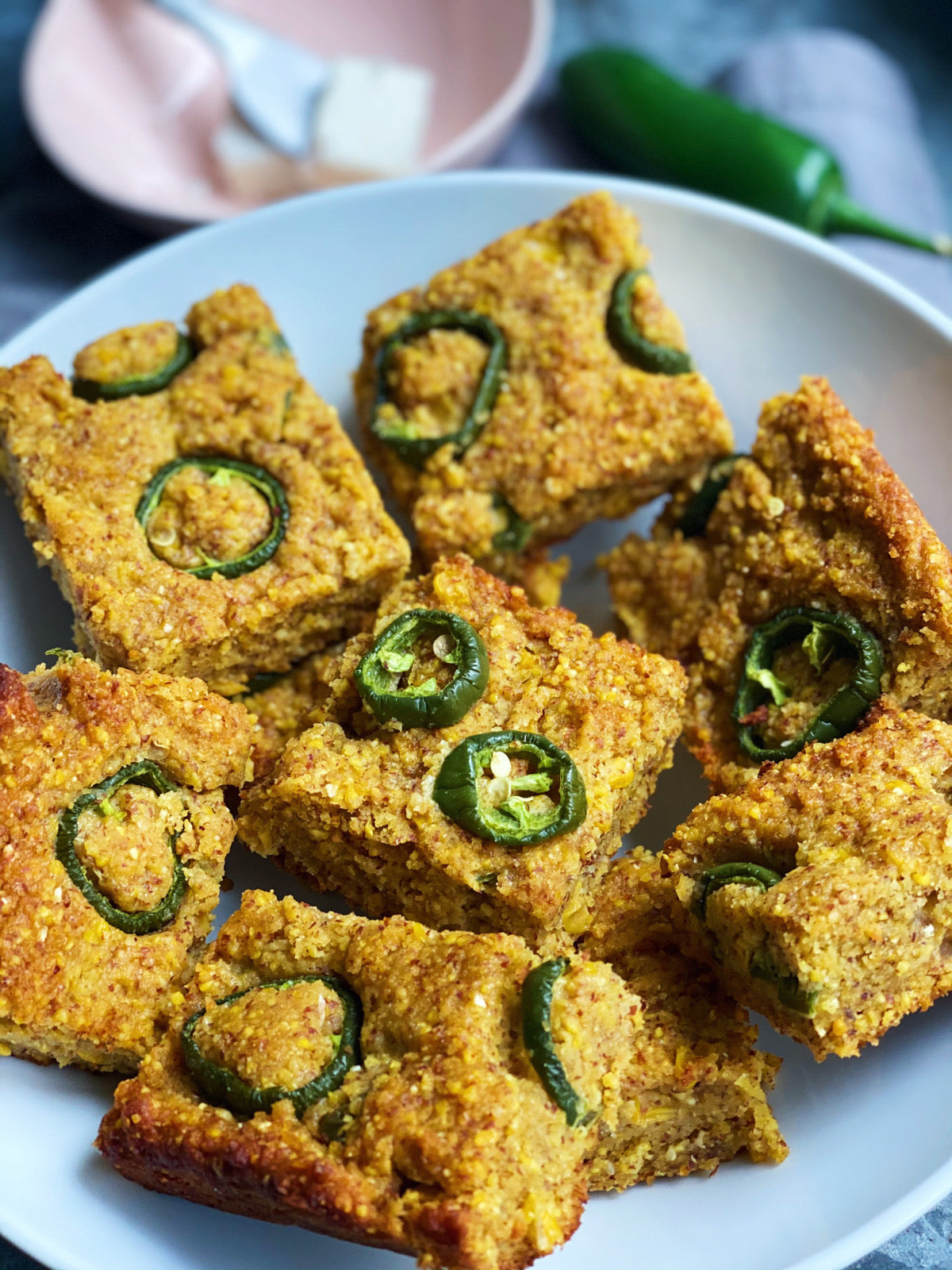 Jalapeno Pumpkin Cornbread
The last Thanksgiving test of the season, and leave It to me to perfect It the day before the BIG day. Sorry for the timing, but not sorry for this incredible side dish! 
It didn't take me long to realize this would make It on our table every year -- the seasonal from the pumpkin, the sweet from the honey, the spicy from the jalapeno -- I dont think It will take you long to realize It either!
Happy Thanksgiving friends, may your bellies get full, and your hearts grow happy! 
I n g r e d i e n t s
Dry
1 cup almond meal
1 cup almond flour
3/4 cup fine cornmeal
1/2 cup tapioca flour
1 tsp baking powder
1/2 baking soda
1/2 tsp sea salt
Wet
1/2 cup pumpkin puree
1/4 cup ghee / coconut oil/ vegan butter, melted
1/4 cup yogurt
1/3 cup honey
2 tsp apple cider vinegar 
Separate
3/4 cup sweet corn, drained and rinsed from can
5 jalapeños, divided
 
Preheat oven to 350 F & line a 9x9 baking dish with parchment paper. 
Mix all dry ingredients in a large bowl. In a separate bowl whisk all your wet ingredients EXCEPT apple cider vinegar.
Slice two of the five of your jalapeños into circles for topping, removing the seeds if prefer less heat , and dice the other three, removing the seeds. 
Fold your dry ingredients into your wet, and mix until well combined. Add your chopped jalapeños and corn. Stir. Add your apple cider vinegar and mix once more.
Lay your jalapeño coins on the top of the batter, slightly pressing them in with your finger tips. 
Bake for 30- 34 minutes or until golden brown on top  and toothpick comes out clean.